D.C. Area Still Recovering From Rare Derecho Event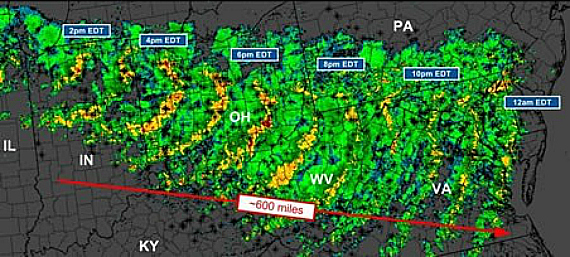 As you've most likely heard by now, on Friday night, the Washington, D.C. area was hit with a massive rain and wind storm that ended up causing trouble for a good part of the Mid-Atlantic coast:
WASHINGTON —  With temperatures expected to soar on Sunday, over a million people remained without electricity after a deadly string of thunderstorms whipped through the mid-Atlantic region, downing trees and power lines, and killing at least 12 people, including a 90-year-old woman who died when a tree fell on her house as she slept

The damage was most severe in the Washington suburbs of Northern Virginia and Maryland, where some residents huddled in their basements as the storm ripped through the area, blowing down trees, upending lawn furniture and tearing off roof shingles.

"It came on very suddenly," said Laurie Singer, a resident in a heavily wooded area of Potomac, Md. Her home has large plate-glass windows, and she spent 45 minutes huddled in the bathtub, listening as the huge oak trees outside slapped against the glass.

"It was a very short burst of heavy rain and then you heard this swooshing sound, and it was the wind," she said. "I actually felt the house shaking."

Utility crews were able to restore electricity by Sunday morning to many of the more than three million customers who had lost power, though officials said it could take up to a week before all residents have their power back. About 770,000 people remained without power in Virginia alone. With temperatures expected to reach the triple digits again on Sunday, emergency workers across the affected region were opening air-conditioned shelters and urging residents keep tabs on neighbors, especially the elderly, who are most susceptible to the heat.

"You could draw a line from Denver to St. Louis to Washington, D.C. All those areas are in the hundreds right now," said Daniel Porter, a meteorologist with the National Weather Service, saying the heat was hurting the recovery effort.

Some sought refuge in movie theaters, coffee shops and malls. On Saturday afternoon, Mont-gomery Mall in Bethesda, Md., was jammed with people seeking air-conditioning and working lights. Dozens camped out on the floor, with laptops, iPads and cellphones plugged into sockets on the walls.

President Obama telephoned the governors of Ohio, West Virginia, Maryland and Virginia, all of whom declared states of emergency. Gov. Bob McDonnell of Virginia said his state had suffered the largest "non-hurricane power outage" in its history.

"This will be a multiday restoration effort," the governor said on his Twitter feed Saturday afternoon, "very much like a hurricane restoration."
As of now there remain some three quarters of a million people without power in the area, most of them in the Virginia and Maryland suburbs around Washington, D.C. and utilities are saying that it could be well into next week before power is fully restored.
The photo above is a time-lapse image of the storms radar loop as it slammed through the D.C. area Friday night and was a storm that meteorologistscall a derecho:
 Derechos are most common in the Midwest and Great Lakes between May and July. The National Weather Service indicates they occur about once every four years in the D.C. area.

They often form along the northern boundary of a hot air mass, right along or just south of the jet stream – where upper level winds zip along at high speeds.

During summer, the jet stream atop a sprawling heat dome is sometimes called a "ring of fire" due to the tendency for explosive thunderstorms to form along this weather front separating hot, humid air to the south and cooler, drier air to the north.

On Friday, a historic, record-setting heat wave covered a sprawling region from the Midwest to the Southeast. All-time high temperatures records of 109 were established in Nashville and Columbia, South, Carolina and tied in Raleigh and Charlotte which hit 105 and 104. Here in Washington, D.C., the mercury climbed to an astonishing 104 degrees (breaking the previous record set in 1874 and 2011 by two degrees),our hottest June day in 142 years of records.

As this stifling air bubbled northward, clashing with the weather front draped from near Chicago to just north of D.C., thunderstorms erupted. They grew in coverage and intensity as they raced southeast, powered by the roaring upper level winds and fueled by the record-setting heat and oppressive humidity in their path.
Here's a video of the formation of the storm all the way from Chicago on Friday afternoon to the D.C. area that evening:
The National Weather Service may say we get these things once every for years, but I can't say that I've ever seen a wind storm like the one we had Friday night. Fortunately, I was one of the lucky ones who didn't lose power, although we were without Internet access for the better part of the day. Hopefully we won't see something like this any time again soon.