D.C. Metro Bans All Political Ads Rather Than Run Mohammed Cartoon Poster
The agency that runs Washington D.C.'s mass transit has banned all political ads after Pamela Gellar attempted to run an advertisement featuring a drawing of Mohammed.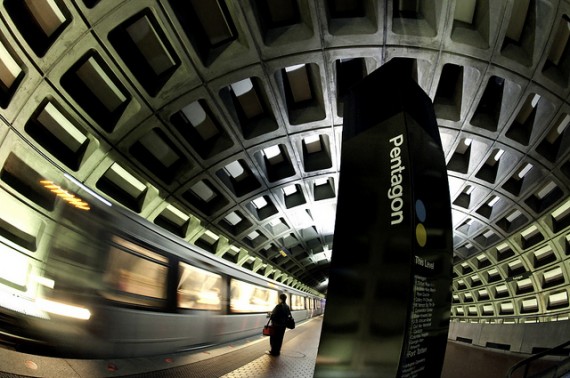 In response to an effort by blogger Pamela Gellar to place an advertisement connected to the "Draw Mohammed" contest in Garland, Texas that was attacked by two gunmen last month, the authority that runs Washington, D.C.'s subway and bus lines has decided to ban all political advertising:
WASHINGTON — Officials in Washington said on Friday that they had suspended all issue-oriented advertising in the public transit system because of fears that granting a request to display a cartoon of the Prophet Muhammad would make the region's buses and trains "a target."

The ban, which will remain in effect through the end of the year, came a month after New York officials put a similar prohibition in place. Both transit systems acted after ads were submitted by the American Freedom Defense Initiative, a pro-Israel group that has placed provocative ads critical of Islam on buses and trains across the country.

The ad that the group sought to display in Washington featured a cartoon originally drawn for a contest this month in Garland, Tex., where two gunmen were shot and killed after opening fire on the police. The image shows a cartoonist drawing a sword-brandishing Muhammad who says, "You can't draw me!"

"That's why I draw you," the cartoonist responds. The words "support free speech" are written in red block letters at the top of the ad.

Jack Evans, a City Council member who is also on the board of directors of the transit system, said that buses or trains with images of Muhammad could present a danger to passengers.

Pamela Geller, the president of the American Freedom Defense Initiative, called the actions in Washington "cowardly" and said she planned to pursue legal action.

"They are rewarding terror with submission," Ms. Geller said. "The message is, terror works."

Ms. Geller said that the decision in New York in April most likely inspired Washington's step. "The New York move was chilling," she said. "You see Washington literally followed suit."
The ad in question is connected to the Garland shooting in that it happens to be the winning ad from the contest that was being held on the day of the shootings: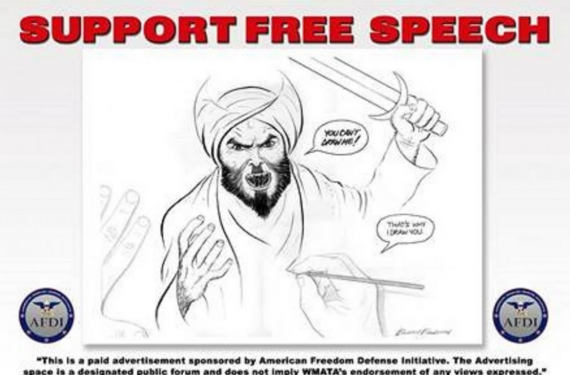 This isn't the first time that Gellar has found herself in the middle of a dispute like this. In the past, she has been involved in litigation with authorities in New York, Philadelphia, Seattle, and elsewhere when they refused to run advertisements that can be described as "anti-Muslim." In each case, Gellar was successful simply because the authorities in question were banning her ads based solely on the content and, since they generally accepted political advertisements from other organizations, meaning that their refusal to accept Gellar's ads were an impermissible content-based ban on speech. If these transportation authorities were privately run, of course, this would not be an issue but because they are government entities the First Amendment quite simply forbids them from banning speech such as Gellar's based solely on its content.
Washingon, D.C. believes that it has found a way around this restriction, though, by issuing a blanket ban on all political speech. While this does make their action different from what we've seen in other jurisdictions, I'm not sure that they will fare very well in Court should Gellar decide to challenge it. A ban on all issue-oriented speech doesn't really strike me as being functionally different from a decision not to run Gellar's ad while allowing other political advertisements. In both cases, WMATA is banning speech based on content, it just happens to be the case that they are now banning a broader category of speech than they otherwise would have been had they just refused to run Gellar's advertisement. If the decision had been to get rid of all advertising, then perhaps the authority would be in a a stronger position legally, but a ban on one form of speech is still a content-based ban on speech, and it's unlikely to get a good reception from a Federal Judge.
Asked about the reasoning behind the decision, one District of Columbia political leader specifically cited alleged threats to safety that Gellar's proposed would represent as one of the reasons the board did what it did:
Former D.C. Council member Jim Graham, who served 12 years as a member of the Metro system's board of directors and twice as its chairman, says he can't recall a similar advertising suspension.

"It's obviously a way for them to avoid this very challenging issue," Graham says. "By stopping all ads they're able to say they're doing it in a way that doesn't [target] this one ad."

Graham says he instinctively supports people's freedom to advertise controversial messages, recalling his fight to place HIV awareness ads in the D.C. system in the early days of the AIDS pandemic in the 1980s.

But he says current board members are "obviously in a bind because we know what happens when you criticize Muhammad, we know how some people react to that. I don't think we ever had a situation [in the past] where someone threatened to blow up a bus."

Graham says he's not aware of any credible threat in response to the ad, but that, "We know worldwide what has happened to others who have gone down this path."
Eugene Volokh  found Graham's words to be alarming:
I sympathize with the Metro officials; they have responsibilities to their passengers, and their employees, and they're trying to keep them safe. That's a natural and often laudable human reaction.

But the consequence is obvious: We have come to the point, as Americans, that "we know what happens when you criticize Muhammad, we know how some people react to that" — and therefore the thugs get to veto what images get displayed in public places. And of course the danger of attack is potentially present in all public places, not just buses but university campuses, bookstores, and pretty much anywhere else. Our birthright as Americans is being slowly blocked, by institution after institution, because of the reaction (individually reasonable as it might seem) to those who are willing to use violence to suppress speech they dislike.

And of course there's little reason to think such a thug's veto would stop with this speech.
Volokh is, of course, absolutely right. The fact that some fanatics might be tempted to do something because WMATA ran the ad that Gellar is proposing really ought to be irrelevant. Giving in to threats like that would be establishing the "heckler's veto," and as Volokh notes it would inevitably lead to a ratcheting up of the situation to the point where the lunatics are the ones who have control over what people can say and where they can say it. Moreover, the ad that Gellar was proposing to run here is fairly mild and less provocative compared to some of the ads that she has sought to run in other cities over the past several years. Arguably, the ad is exactly what Gellar and the cartoonist are saying it is, a statement about freedom of speech and freedom of expression rather than an attack on Islam itself. In that sense, it's directly comparable to the Danish Mohammed cartoons, the death of Theo Van Gogh, and the attack on Charlie Hebdo. Moreover, as I've said before, even if this proposed ad cover be considered "hate speech," there is no distinction between "hate speech" and freedom of speech. Giving in to threats that haven't even been made like WMATA did is nothing short of cowardly, and if they're sued they deserve to lose spectacularly.