There Is No Distinction Between "Freedom Of Speech" And "Hate Speech"
Some people in the media can't seem to get it through their heads that speech they consider hateful is entitled to as much protection as speech that they support.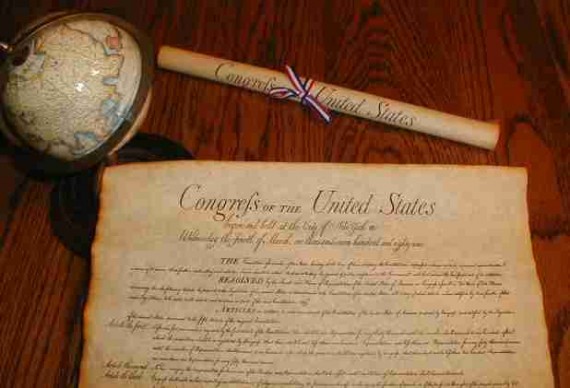 As I noted in my initial post about the attempted attack on a community center in Texas by two men with apparent Islamic Jihadist sympathies, at least some members of the media felt the need to respond to the attack not by talking about the attackers, but by questioning the motives of the people holding the event they wanted to attack. The main argument appears to be that Pamela Geller and those who took part in the event were not holding a free speech event, they were holding an anti-Islam event that was designed to mock the Muslim faith. Along those lines, Lindsay Wise and Jonathan Landay at McClatchy openly wonder whether the lesson to draw from the thankfully failed attack should be whether or not there should be limits on so-called "hate speech":
Organizers of the Muhammad Art Exhibit in Garland, Texas, knew violence was a possibility.

They shelled out $10,000 for extra security to patrol the controversial event, which featured a speech by a Dutch politician who's on al Qaida's "hit list" and a contest for the best cartoon of the Prophet Muhammad. Local law enforcement was on the alert. A SWAT team and a bomb squad patrolled.

The two gunmen who opened fire with assault weapons outside the exhibit on Sunday were killed by a police officer. They have been identified by law enforcement as Elton Simpson and Nadir Soofi, both of Phoenix. They appear, from social media posts, to have been motivated by a desire to become mujahedeen, or holy warriors.

The attack highlights the tensions between protecting Americans' treasured right to freedom of expression and preserving public safety, and it raises questions about when – if ever – government should intervene.

There are two exceptions from the constitutional right to free speech – defamation and the doctrine of "fighting words" or "incitement," said John Szmer, an associate professor of political science and a constitutional law expert at the University of North Carolina at Charlotte.

"Fighting words is the idea that you are saying something that is so offensive that it will lead to an immediate breach of the peace," Szmer explained. "In other words, you are saying something and you should expect a violent reaction by other people."

The exhibit of cartoons in Texas might have crossed the line, Szmer said.

"I don't think it is unreasonable to expect what they were doing would incite a violent reaction," he said.

Organizers knew, he said, that caricatures of the Prophet Muhammad, which many Muslims consider insulting, have sparked violence before. In a recent case that drew worldwide attention, gunmen claiming allegiance with the self-described Islamic State killed 12 people in an attack on the Paris offices of the French magazine Charlie Hebdo, which was known for satirical depictions of the Prophet Muhammad.

On the other hand, "fighting words can contradict the basic values that underlie freedom of speech," Szmer said. "The views being expressed at the conference could be seen as social commentary. Political and social speech should be protected. You are arguably talking about social commentary."
As Ken White points out in his detailed deconstruction of the argument that Wise and Landay appear to be making here, the article doesn't even get the law right when it comes to very basic issues like incitement and so-called "fighting words":
Moreover, "incitement" and "fighting words" are not the same thing. "Incitement" is urging others to break the law, and only falls outside the First Amendment when it is intended and likely to produce imminent lawless action. "Fighting words" are, in effect, a direct challenge to fight.
As to the claim that the exhibit that was the subject of the attack constitutes incitement, it's clear that this isn't the case. As White notes, incitement for First Amendment purposes refers to speech that is intended to convince someone to do an illegal, typically violent, attack. The most recent time that this issue came up was back in November after a St. Louis County Grand Jury declined to indict Darren Wilson in the death of Michael Brown, and event that was met with protests in Ferguson that quickly became violent. During the course of that evening, Brown's stepfather allegedly said something in the crowd that some interpreted could be construed as encouraging the crowd to commit violence. Because of that, police were reportedly investigating to determine if the stepfather could be charged with incitement based on his words. As I argued at the time, the law clearly stated that charges would have been completely inappropriate based on the facts alleged. While the Supreme Court has interpreted "incitement' more broadly in the past, its most recent pronouncement has been that law of the land since 1969. In that case, Brandenburg v. Ohio, the Court struck down the conviction of a Ku Klux Klan leader in Ohio who had been convicted  based on a speech in which had allegedly called for some unspecified action against African-Americans, Jewish-Americans, and others. In that case,, the Court established a three part test that stands to this day as the standard for when speech crosses the line from protected speech to something that can potentially be punished. In short, the Court ruled that such speech is protected by the First Amendment "except where such advocacy is directed to inciting or producing imminent lawless action and is likely to incite or produce such action." Leaving aside the fact that the speech represented by the event in Garland was not even directed at the gunman, it's obvious that it would not meet this test in even the slightest degree, and indeed that it does not fall under the type of speech that is typically considered "incitement."
Similarly, the distinction that their supposed expert, who I will point is neither a Law Professor nor an Attorney, attempts to make between "political and social speech" and "social commentary" is not supported in the law and makes no sense from a logical point of view. The "fighting words" doctrine, for example, is a very narrow exception to the First Amendment that, as White points out, generally only applies in a face-to-face confrontation where one person says something to another person that goads that person into a physical altercation. That wasn't even the situation in this case since the event, whatever it can be called, most certainly cannot be called a face-to-face confrontation between Geller and her supporters and either of the two gunman killed on Sunday evening. Additionally, the distinction between "political and social speech," which apparently would be exempt from the "fighting words" doctrine and "social commentary," which potentially would not. There isn't a single case where the Supreme Court makes that kind of distinction among types of speech, and it's unclear exactly what Professor Szmer believes would be the distinction between those two forms of speech, and why one should be protected but the other should not.
The effort to analogize Geller's event to either "incitement" or "fighting words"  simply cannot be logically sustained.
Beyond the law, though, the attack in Garland has revived the old debate about offensive or "hate" speech and the question of how it ought to be responded to. Max Fisher seems to be hitting on this argument when he argues at Vox that the Garland event should be referred to as a "anti-Islam" or "hate" event rather than a "free speech" event. In the end, though, it strikes me as a distinction without a difference. Even if you consider the things that Geller has to say and what Sunday's event represented to be offensive or hateful, that should not be an excuse to treat the speech in question as if it is somehow inferior to other forms of political speech. Hence we get pieces like the McClatchy article, as well as numerous segments on cable news over the past two days raising the question of what the Los Angeles Times called the "fine line" between freedom of speech and "hate speech." There's only one problem with that argument, and it's the fact that, in the end, there is no distinction between "free speech" and "hate speech."  So-called "hate speech," a concept with is quite often entirely subjective depending on the speaker and the listener, is protected by the First Amendment  and it does not in any sense justify violence. If someone chooses to respond to something they consider "hateful" with violence, then they are the ones who are wrong, not the speakers themselves. As I said yesterday, one would think that people who work in a business that depends on the First Amendment and upon an ethos that encourages freedom of expression for its very existence would understand that.
As I've said, I find pretty much all of Pamela Geller's rhetoric to be both utterly offensive and idiotic. Many would consider it bigoted as well, and I can't say that I would disagree with that assessment. That being said, the First Amendment and the ethos of Freedom of Expression that it enshrines in the law, protects her as much as it protects any of us. More importantly,  a discussion about two guys who were thankfully stopped before they could commit mass murder should not turn into a discussion of how bad the speaker they were trying to attack is, because that concedes that they had some cause for the attack.