The New Republican Orthodoxy On Israel
More than ever before, even mild criticism of Israel seems to be verboten among Republicans.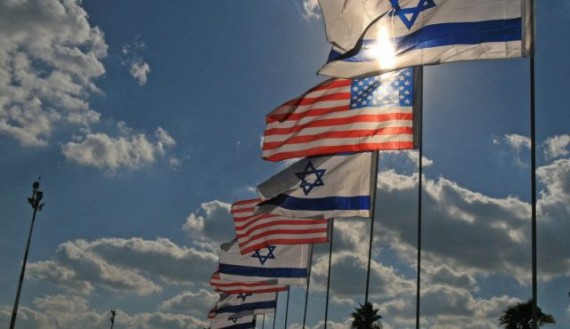 More than it ever has in the past, uncompromising support for Israel has become an article of faith inside the Republican Party, to the extent that dissenting opinions are being squashed:
WASHINGTON — When former Secretary of State James A. Baker III accused Israel's leader this week of undermining the chances of peace in the region, he said nothing more than the kinds of things he had said at times when he was in office a quarter-century ago.

But the instant backlash from fellow Republicans that prompted Jeb Bush, the son of Mr. Baker's best friend, to distance himself underscored just how much their party has changed on the issue of Israel. Where past Republican leaders had their disagreements with Israel, today's Republicans have made support for the Jewish state an inviolable litmus test for anyone aspiring to national office.

"If you're a Republican and you hedge on your support on Israel, it's viewed as having a flawed foreign policy," said Ron Bonjean, a party strategist who has worked for Republican leaders in Congress. "It's a requirement for Republicans these days to be very strong on Israel if they're going to be taken seriously by primary voters." Any deviation on that, he said, leads to inevitable questions: "If you're not supporting Israel, then who are you supporting? Are you supporting Iran?"

The Republican support coalescing behind Israel, and particularly its hawkish prime minister, Benjamin Netanyahu, has been on display in recent weeks as President Obama has neared a nuclear agreement with Iran that critics call dangerous. The House speaker, John A. Boehner, invited Mr. Netanyahu to address Congress on the matter while 47 Senate Republicans signed an open letter to Iran warning against making a deal with the president.

The shift in the party's attitude toward Israel stems from several factors, according to Republicans – a greater sense of solidarity in the fight against Islamic extremism since the attacks of Sept. 11, 2001, increased support for the Jewish state among evangelical Christians and the influence of wealthy donors like Sheldon Adelson, the Las Vegas casino magnate. And the more Mr. Obama feuds with Mr. Netanyahu, the more Republicans feel motivated to come to the Israeli leader's defense.

"It is remarkable," said William Kristol, editor of The Weekly Standard, a conservative magazine and one of the leading voices promoting Israel's cause in the United States. Mr. Netanyahu, who goes by the nickname Bibi, has become a rallying point for Republicans, he said. "Bibi would probably win the Republican nomination if it were legal," he said.

Mr. Kristol, emailing from Israel where he was meeting with Mr. Netanyahu, described the shift as a result of broader underlying trends in American politics as the political left grows more "European" and the political right grows more "Reaganite." He added that "the conservative belief in American exceptionalism is akin to Zionism." And he said the contrast between Mr. Obama's friction with Mr. Netanyahu and former President George W. Bush's strong support for Israel "is pretty dramatic."

Jeremy Ben-Ami, founder and president of J Street, the liberal pro-Israel advocacy organization that hosted Mr. Baker at its convention in Washington this week, said the Republican Party had grown more radical, leaving behind the former secretary of state and others like Brent Scowcroft, who was national security adviser under the first President George Bush, and Colin L. Powell, another former secretary of state.
The most recent example of this shift inside the GOP can be seen in what happened with former Secretary of State Baker:
In his speech on Monday night, Mr. Baker said he had "been disappointed with the lack of progress toward a lasting peace" between Israelis and Palestinians and recalled that Mr. Netanyahu had once spoken out in favor of a Palestinian state as part of an eventual solution.

"Since then, his actions have not matched his rhetoric as settlement construction has continued unabated and last week, under intense political strain, he announced his opposition to a two-state solution," Mr. Baker said. "Now even though he attempted to back away from his statement two days after, I think we would all agree that the short term prospect for such a solution obviously remains quite bleak."

Mr. Baker added that the United States would "never, never, never abandon Israel" and criticized what he called the "political gamesmanship" that has turned the issue into a political football lately. Clear thinking on the difficult issues in the region, he said, "should not be muddled by partisan politics."

Within minutes, conservatives on Twitter blasted Mr. Baker, who served under Mr. Bush, and who had just been listed as an adviser to Jeb Bush, the former Florida governor now poised to run for president. By the next morning, Jeb Bush authorized his spokeswoman to publicly differ.
The Baker incident is just the most prominent example of the new Republican orthodoxy on Israel, though. It manifests itself in big ways and small on a regular basis, especially in the extent to which conservatives in the U.S. will jump up to reflexively attack anyone who utters a criticism of Israeli policy in general and Prime Minister Netanyahu in particular. It's not uncommon to see the charge of anti-Semitism hurled on such occasions although this is admittedly not a charge that one sees from the more prominent members of the party. Even when the reactions are more muted than that, though, they do come fast and fierce and they are quite obviously meant to send the message that, at least inside the Republican Party, criticism of Israel and deviation from what has become an article of faith inside the party will not be tolerated. The result, of course, can be seen in the way that the Republican leadership seemed to deliberate thumb its nose at President Obama with the invitation to Prime Minister Netanyahu earlier this month and the "open letter" to Iran that was signed by nearly every member of the Senate Republican Caucus. Bill Kristol's suggestion that Bibi Nentanyahu may have been made mostly in jest but, based on the rhetoric one sees from Republican politicians, it honestly isn't very far from the truth.
It didn't always used to be this way, of course. There was a time when Republican Presidents and politicians were critical of Israeli actions and even openly defied the wishes of the Israeli government and its supporters in the United States. President Eisenhower put pressure on Israel, Britain, and France when those three nations invaded Egypt in an effort to seize the Suez Canal. President Nixon supported Israel during the Yom Kippur War, but was also critical of Israeli policy when it conflicted with his policy of currying favor with anti-Communist Arab nations that were also opposed to Israel. President George H.W. Bush's Administration was similarly critical of Israel and actively lobbied the nation against retaliating when Saddam Hussein began lobbing Scud Missiles toward Israel during the Persian Gulf War in an effort to break the multinational coalition that was, quite literally, on Iraq's doorstep. And, perhaps most significantly for contemporary Republicans, the policy of the Reagan Administration toward Israel in the 1980s was far from obsequious and often quite critical. For example, Reagan defied objections from Israel and its supporters in the U.S. and sold AWACS aircraft to Saudi Arabia, supported a United Nations resolution condemning Israel's attack on a nuclear plant in Iraq, and strongly criticized the Israeli invasion of Lebanon in June 1982. Additionally, both the Reagan and Bush 41 Administrations called on Israel to reach out to Arabs as part of Middle East peace initiatives.
None of that would be welcome in the modern Republican Party. Not only is criticism of Israel seemingly not allowed, but even questioning the assertion that Israel is "America's most important ally" or arguing that policies of the Israeli government vis a vis its neighbors or the Palestinians are wrong is met with attacks, derision, and the assertion that the person making the argument may be bigoted. This kind of attitude is as wrong when its applied to Israel as it would be when applied to the United States. Even accepting the notion that Israel is our "most important" ally, a debate assertion to be honest, must mean being willing to criticize that ally when they do something wrong. It also means recognizing that the interests of the United States and the interests of Israel, while often parallel are not identical. President Reagan recognized that fact, but one has to wonder what the new Republican orthodoxy on Israel would have to say about him today.