President Obama Was Against Unilateral Executive Action On Immigration Before He Was For it
If the President now believes he can act unilaterally on immigration reform, why did he spend the last five years saying that he couldn't?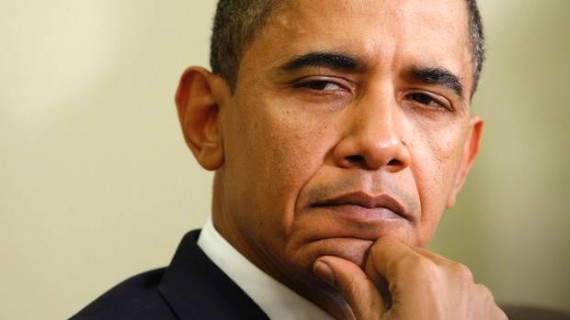 While President Obama appears on the verge of using executive authority to provide temporary administrative relief for as many as five million undocumented immigrants, there was a time when he seemed very intent on making clear that he didn't have the authority to do so:
WASHINGTON — President Obama is poised to ignore stark warnings that executive action on immigration would amount to "violating our laws" and would be "very difficult to defend legally."

Those warnings came not from Republican lawmakers but from Mr. Obama himself.

For years, he has waved aside the demands of Latino activists and Democratic allies who begged him to act on his own, and he insisted publicly that a decision to shield millions of immigrants from deportation without an act of Congress would amount to nothing less than the dictates of a king, not a president.

In a Telemundo interview in September 2013, Mr. Obama said he was proud of having protected the "Dreamers" — people who came to the United States illegally as young children — from deportation. But he also said that he could not apply that same action to other groups of people.

"If we start broadening that, then essentially I'll be ignoring the law in a way that I think would be very difficult to defend legally," Mr. Obama told Jose Diaz-Balart in the interview. "So that's not an option."

(…)

But Mr. Obama is set to effectively reverse position from that statement and now says he believes that such actions can be "legally unassailable," as a senior White House official put it last week. Mr. Obama is expected to announce plans soon to expand the program for Dreamers to shield up to five million people from deportation and provide work permits for many of them.

The president insisted over the weekend that he had not changed his position. During a news conference in Australia, he said that his earlier answers about the limits of his executive authority were prompted by people who asked him whether he could enact, by fiat, a bipartisan immigration bill that had passed the Senate, which would have provided a path to legalization for more of the 11 million unauthorized immigrants here.

"Getting a comprehensive deal of the sort that is in the Senate legislation, for example, does extend beyond my legal authorities," Mr. Obama said Sunday. "There are certain things I cannot do."

In fact, most of the questions that were posed to the president over the past several years were about the very thing that he is expected to announce within a matter of days: whether he could do something to reduce deportations and keep families together if Congress would not act.

The president was pressed on that very issue during a Google Hangout in February 2013. An activist asked whether he could do more to keep families from being "broken apart" while Congress remained gridlocked on immigration legislation.

"This is something that I have struggled with throughout my presidency," Mr. Obama said. "The problem is, is that I'm the president of the United States, I'm not the emperor of the United States. My job is to execute laws that are passed."

(…)

In an immigration speech in San Francisco last November, protesters repeatedly interrupted the president, yelling, "Stop deportations!" Mr. Obama told the protesters that he respected their "passion," but insisted that only Congress had the authority to do what they wanted.

"The easy way out is to try to yell and pretend like I can do something by violating our laws," he said. "And what I'm proposing is the harder path."

And at a Town Hall in March of 2011, months before taking action to keep the Dreamers from being deported, Mr. Obama said the nation's laws were clear enough "that for me to simply, through executive order, ignore those congressional mandates would not conform with my appropriate role as president."
Jazz Shaw found several instances where President Obama said essentially the same thing:
I believe it was the same one who said in 2010:

"I Believe Such An Indiscriminate Approach Would Be Both Unwise And Unfair. … This Could Lead To A Surge In More Illegal Immigration."

"With Respect To The Notion That I Can Just Suspend Deportations Through Executive Order, That's Just Not The Case…."

In September of that same year:

"I Just Have To Continue To Say This Notion That Somehow I Can Just Change The Laws Unilaterally Is Just Not True. We Are Doing Everything We Can Administratively."

And just in March of this year…:

"Until Congress Passes A New Law, Then I Am Constrained In Terms Of What I Am Able To Do."
Obviously, when President Obama was making these statements his main purpose was to try to explain to supporters, and principally Latino voters who support immigration reform and were frustrated by a long history of inaction on the part of the Obama Administration and Democrats in Congress to act. In that regard, it's worth remembering that there was no significant action taken on immigration from during the two years that of the Obama Presidency that Democrats controlled both Houses of Congress notwithstanding the fact that promises of such action had been made to Latino voters and others that there would be something done about the issue. Indeed, it wasn't until Republicans took control of the House and made significant gains in the Senate in the 2010 elections that we began to see any legislative action at all on the issue, and it that case it started in the Senate where Democrats and Republicans such as Marco Rubio began to work together to pull together a bill that, at the very least could pass the Senate and, possibly, pass the House of Representatives as well. In the meantime, rather than pushing immigration reform for the first four years of his time in office, the President immigration policy was more concerned with increasing deportations at a pace that far outstripped those of the Bush Administration than it was with providing any kind of relief for undocumented immigrants, children who were brought here illegally by their parents, or the parents of children born in the United States who are, of course, American citizens by birth.
Given all of that, one has to wonder why it is that the President and Democrats in Congress didn't try to move forward on immigration reform before 2013. Yes, it's true that the threat of Republicans invoking cloture on such a bill was a real concern in the Senate, but that seems like something of a disingenuous argument for two reasons. First of all, the filibuster issue is only relevant in the Senate and would have obviously not been an issue in the House had an immigration bill been introduced and debate at any point between 2009 and 2011, except there's no record of any significant bills on this issue being pushed by the Democratic majority or advocated by the Administration. Second, when the Senate finally did take up an immigration bill in 2013, it ended up passing that body with sixty-eight votes, meaning that it had the support of not only every member of the Democratic Caucus, but also thirteen Republicans, the majority of whom were also members of the Senate between 2009 and 2011. Given that, it's not too hard to believe that a similar bill could have passed the Senate of the 111th Congress with more than enough votes to avoid cloture. That bill would have ended up on the President's desk, and it would have been signed into law. None of that happened, of course, and it wasn't until Republicans took control of the House that we saw Democrats try to move forward on immigration.
Once the Senate passed its immigration reform bill in 2013, of course, there was already much water under the bridge when it comes to the relationship between the parties on Capitol Hill, and the relationship between the Republicans in Congress and the President. Additionally, the influence of the Tea Party over the GOP had increased significantly, and the Tea Party had largely transformed into an organization that seemed more concerned with immigration and opposing anything the President supports than it did with the economic issues that were supposedly its founding motivation. Whatever the reason, though, and despite the fact that groups like the Chamber of Commerce and even religious groups have been pressuring the GOP to act on immigration reform, the prospect of getting any kind of reform done in the House became next to impossible. Additionally, the 2012 Republican primary fights put on rather unfortunate display the extent to which anti-immigration positions had led even otherwise level headed establishment Republicans like Mitt Romney to take extreme anti-immigration positions. The result, of course, was that the GOP got one of its lowest shares ever of the Latino vote in 2012, and signs continued to grow that the GOP could lose the Latino vote for a generation because of its stand on immigration.
The lack of progress on immigration, though, began to put pressure on the President to do something other than increase the levels of deportations to help an increasingly important part of the Democratic coalition. In 2012, the White House responded with the Deferred Action for Childhood Arrivals program, which  provided relief for a relatively small group of people who had been brought by their parents the United States illegally as children. When asked, however, why he couldn't do more, the President responded in the manner set forth above for more than two years, and argued that only the Republicans in the House could truly act to fix what was wrong with the immigration system. Looking at the White House's strategy from a distance, it seems as though they were more interested in backing Republicans into a corner on immigration than they were in helping the Latinos that they keep telling to vote Democratic. Now, suddenly, the President has seemingly discovered that that he does have the executive authority that he spent most of his Presidency claimed did not exist. Viewed objectively, it seems clear that the authority the President now claims not only likely exists under the law, but has always existed from the moment he walked into the Oval Office on January 20, 2009. So, viewed equally objectively, one can only assume that his decision to continually tell his supporters in the Latino community that he could not do what they wanted him to do was nothing more than part of a plan to play politics with an issue that they care deeply about. One wonders how they might feel about being played for fools for the past five years.