Election Losses Lead To Debate Inside Democratic Party
Another round of election losses is leading Democrats to contemplate the direction they should take going forward.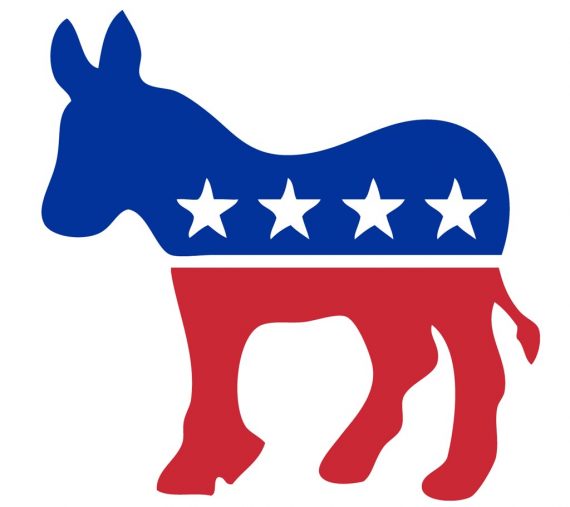 Perhaps inevitably, another round of losses in a midterm election appears to be leading to something of a conflict inside the Democratic Party over how to proceed forward:
WASHINGTON — The Democrats' widespread losses last week have revived a debate inside the party about its fundamental identity, a long-running feud between center and left that has taken on new urgency in the aftermath of a disastrous election and in a time of deeply felt economic anxiety.

The discussion is taking place in post-election meetings, conference calls and dueling memos from liberals and moderates. But it will soon grow louder, shaping the actions of congressional Democrats in President Obama's final two years and, more notably, defining the party's presidential primary in 2016.

"The debate will ultimately play out in a battle for the soul of the Clinton campaign," said Matt Bennett, a senior official at Third Way, the centrist political group.

Hillary Rodham Clinton, should she run, will face tension between the business-friendly wing of the party that was ascendant in the economic boom during her husband's administration and the populism of SenatorElizabeth Warren, Democrat of Massachusetts, that has gained currency of late.

"I want her to run on a raising wages agenda and not cater to Wall Street but to everyday people," Richard Trumka, president of the AFL-CIO, said of his expectations for Mrs. Clinton.

Straddling the two blocs could prove difficult. Progressives have been emboldened to criticize party leaders after the Republican rout, particularly given a lack of a coherent Democratic message to address the problem of stagnant wages.

Sifting through returns showing that lower-income voters either supported Republicans or did not vote, liberals argue that without a more robust message about economic fairness, the party will continue to suffer among working class voters, particularly in the South and Midwest.

Mr. Obama's wide popularity among activists and his attempt to transcend the traditional moderate-versus-liberal divide have largely papered over Democratic divisions on economic policy for the last six years. The party was also brought together by passage the health care law, a goal of Democratic presidents since Harry Truman. But with Mr. Obama's popularity flagging, and an economic recovery largely benefiting the affluent, Democrats are clashing anew.

Unlike the 1980s, when heavy losses prompted moderates to plead with the party to move away from liberal interest groups and toward to the middle, it is now progressives who are the most outspoken.

And they are seizing on the election results to reorient the party. "Too many Democrats are too close to Wall Street, too many Democrats support trade agreements that outsource jobs and too many Democrats are too willing to cutSocial Security — and that's why we lose elections," said Senator Sherrod Brown, Democrat of Ohio.

Mr. Brown said he had talked to over 60 Ohio Democratic leaders and activists since they got trounced in every statewide election and saw their state chairman quit. "The message I heard from all of them was: the Democratic Party should fight for the little guy."
Interestingly, one of the arguments that these new populists progressives are making is that Democrats spend too much time on social issues, which isn't all that dissimilar from the argument that many people trying to reform the Republican Party are making:
While overwhelmingly in sync on the substance of cultural issues, some of the populists believe Democrats placed too much emphasis on such matters and not enough on economic fairness, depressing voter turnout.

"Gay marriage, abortion and birth control are important," said Terry O'Sullivan, president of the Laborers International Union. "But people join our organization for their livelihood, and that's what our people vote on: their economic self-interest. I do think the party needs to re-examine what it stands for and get back to bread-and-butter issues."
Perhaps nothing going on in the Democratic Party right now epitomizes the debate that is developing better than the approach that the two sides are taking to the 2016 Presidential race. On the one side, there are the party insiders who are either explicitly or implicitly lining up behind Hillary Clinton even though she hasn't announced she's running yet. Indeed, there were many such insiders, including people who worked for President Obama's campaign against Clinton six years ago, who were already making their preference known months before Clinton herself embarked on the book tour that seems so obviously to be the precursor to a White House bid. On the other side, though, are those representing the more left wing parts of the Democratic Party who see Clinton as too closely tied to Wall Street and big business, and who have spent a good part of the last six years expressing sometimes muted, and sometimes quite open, disappointment with the Obama Administration, That disappointment has spanned the range from a foreign policy that is far closer to the Bush Administration than many of the President's early and most enthusiastic supporters likely expected they would ever see from someone like Obama, who was an early and vocal critic of the Iraq War and many of the Bush Administration's foreign policy, to the Administration's failure to take much action at all against bankers or Wall Street related to the 2008 financial meltdown. Additionally, there is the perception, expressed many times by some of the spokespeople for the more progressive point of view, that while the President himself has done a good job of talking about the policies they think are important he hasn't done much to actually promote those ideas or the see them enacted into law.
In the context of 2016, many of these critics on the left have often expressed open frustration with the apparent coronation that Hillary Clinton is likely to receive if she runs, and have tried to rally around another candidate who, even if they could not win the nomination, could at least serve as someone who could bring these issues up and force Clinton to address them as a candidate. The most obvious candidate that they've rallied around, of course, has been Massachusetts Senator Elizabeth Warren, whose ascent to office largely occurred due to the very populist progressive message that this group would like to advance. For her part, Warren has denied any Presidential ambitions, and the people who were her chief financial backers during her Senate campaign have said that they would not support her if she ran for President against Clinton. Despite these constant denials, though, Warren continues to maintain rock star status on the left, continues to be asked about running for President, and was just yesterday given a special role in the Democratic Senate leadership in what seems like an obvious effort to reach out to, and possibly placate, the people who have been supporting her. Beyond Warren, other candidates who have been mentioned as possible standard bearers for this wing of the Democratic Party have been former Virginia Senator Jim Webb, former Montana Governor Brian Schwietzer, and Vermont Senator, and avowed socialist, Bernie Sanders. None of these candidates has Warren's cachet on the left, though, and each of them has flaws that Warren presently doesn't largely because they have been in the public eye much longer than she has, That notwithstanding, though, it seems apparent that if Warren doesn't run in 2016, and I remain of the opinion that she will not, then one of these potential candidates, or perhaps someone else, will end up running against Clinton and attempt to push her to the left, or at least to address the "populist" issues that the progressive wing of the Democratic Party considers to be important.
Somewhat lost in the coverage of this ongoing debate between the progressives and what I suppose you can call the "establishment" Democrats, is the fact that the outcome of this debate holds within it some of the same dangers that the Republican Party faces in its own internal battles. Since the days of Bill Clinton's 1992 election victory, Democrats have succeeded nationally in no small part because they abandoned the course that the party took in the wake of the Vietnam War when it moved decidedly to the left. While this didn't have an immediate impact on their advantages in Congress and the states due in no small part to the power of incumbency, at the Presidential level it led to a series of losses at landslide levels in 1972, 1980, 1984, and 1988 that led many to wonder whether Republicans had developed some kind of a "lock" on the White House that would lead to a long string of Republican Presidents headed into the future. In addition to factors such as the economy and mistakes by the Bush 41 campaign, Bill Clinton succeeded in 1992 in no small part because he followed the playbook of groups such as the Democratic Leadership Council that were calling on Democrats to move more toward the center, That strategy has succeeded quite nicely for Democrats, of course, especially when you consider the fact that they have won the Presidency in four of the six Presidential contests since then, and won the popular vote in five of those contests. Now, it's the Republican Party that seems on the ropes at the Presidential level.
All of that success could fall apart, though, if the Democratic Party is seen as moving too far to the left, and the obsession that some Democrats have with Elizabeth Warren is one example of how that could happen. For all the talk about how her message of economic populism won the day in the 2012 Senate race, the fact of the matter is that Elizabeth Warren was a Democrat who was running for election in Massachusetts in a Presidential election year. Notwithstanding Scott Brown's record, it's likely that anyone could have won that race with a "D" after their name, so assuming that what happened in that race is a lesson for how to win nationwide would be as mistaken as Republicans assuming that Ted Cruz's victory in Texas in 2012 was a guide for how to win a national election. Even in the best of years, it seems unlikely that Warren would play as well as a national candidate as her progressive boosters seem to think she would, or even that she'd have the kind of success against Clinton that would actually force Clinton to move to the left more than she might be comfortable with. More importantly, though, just as the GOP has endangered itself by moving to the right in ways that put it out of step with the middle of the road voters who actually decide national elections, a Democratic shift to the left could do exactly the same thing.
As I said, it's not surprising that Democrats would be having a debate like this in the wake of the kind of loss they suffered on Election Day, a loss that is likely to get worse after the Louisiana runoff on December 6th. However, progressive Democrats hoping to use this as an opportunity to push their party to the left ought to by careful of what the wish for, because  they could end up making the same mistakes Republicans have, to the detriment of their party and even partial success on the issues they care about.