Daily Caller Reporter Neil Munro Heckles President Obama During Immigration Statement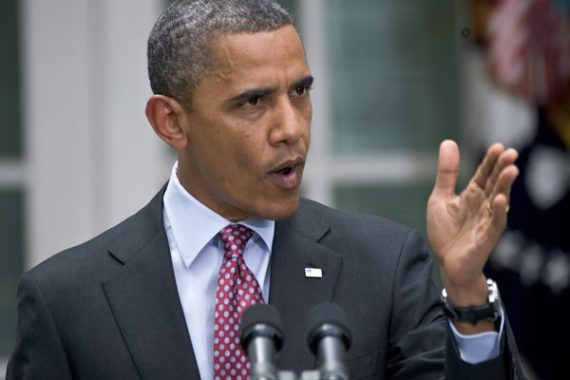 President Obama was about a half hour past schedule for his remarks in the Rose Garden this afternoon announcing the immigration policy changes that James Joyner wrote about earlier, which have generated quite the discussion in the comment thread by the way, but when he got there the announcement itself soon became overshadowed by a reporter from Tucker Carlson's Daily Caller:
President Obama was heckled in the Rose Garden today by a reporter from the Daily Caller, the conservative political website.

While announcing a new change in immigration policy, The DC's Neil Munro yelled, "Why'd you favor foreigners over Americans?"

"Excuse me, sir, but it's not time for questions," Obama said.

"Are you going to take questions?" Munro asked.

"Not while I'm speaking." Obama said.

Tucker Carlson, the editor of the Daily Caller, did not immediately respond to a request for comment, though he confirmed the news via Twitter.

"Yes, that was TheDC's Neil Munro who dared question the president in the Rose Garden," he wrote. "Everyone's defying precedent today, it seems."
Mediaite's Tommy Christopher identifies the pass Munro is wearing as a temporary press pass, as did CBS's White House Reporter Mark Knoller. My guess is that it will be very temporary.
Here's the video, as you can see the President became visibly, and I think understandably, upset with Munro:
It's really quite astounding actually. I can remember Sam Donaldson shouting questions at President Reagan as he was headed to Marine One, or leaving the Presidential Limousine, and when reporters would try to get the Presidents attention by calling out during a press conference so he'd pick them (in the days before Presidents picked reporters by name), but never a reporter interrupting a President in the middle of a speech. In the White House Rose Garden no less. I'm sure Munro is getting a good old slap on the back from Carlson and all the other Daily Caller people, not to mention most conservatives. In reality, he revealed himself to be nothing more than a rude jerk.
Update: Neil Munro is now saying this:
"I always go to the White House prepared with questions for our president. I timed the question believing the president was closing his remarks, because naturally I have no intention of interrupting the President of the United States. I know he rarely takes questions before walking away from the podium. When I asked the question as he finished his speech, he turned his back on the many reporters, and walked away while I and at least one other reporter asked questions."
Believable? Watch the video and decide on your own.
Photo via Getty Images