"Shocking" Obama Video Turns Out To Be Not So Shocking
A five year old "shocking" video of President Obama speaking to a group of African-American ministers proves to be not very shocking at all.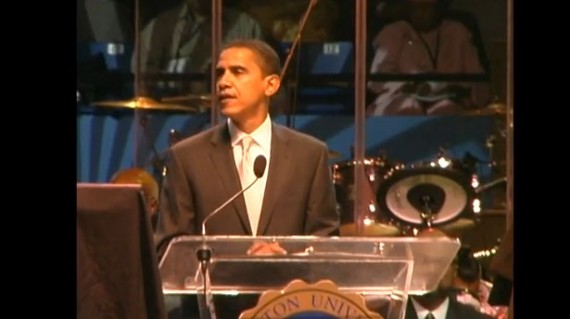 Late yesterday afternoon, The Drudge Report went into full-blown Breaking News mode with a huge font headline promising a "Blockbuster" video that would change the campaign for President that would be revealed later that night. Speculation quickly turned to what the tape could possibly be, although it seemed unlikely that it would be anything that would truly be a "blockbuster" as Drudge described it. Soon, the headline was changed to "Obama's Other Race Speech," and it became clear that we were talking about something that would feed into the long standing conservative meme that Barack Obama was some kind of black radical before running for President and that the truth of this has been concealed from the American public. In 2008 we saw it mostly in the constant effort of people like Sean Hannity to push Jeremiah Wright as a relevant story even after the President had responded to that story and disassociated himself from Wright. We saw it again during the 2008 General Election when rumors circulated about some video of Michelle Obama talking about "Whitey," a video that never surfaced and likely never existed.
So, I suppose it wasn't surprising that the new "shocking" tape made it's premier on Hannity's show yesterday evening:
Sean Hannity, The Daily Caller, and Drudge Report spent hours hyping a racially explosive secret video of President Obama. But the bombshell clip turned out to be a public speech from June 2007 that was covered by the major networks, including FOX News, at the time.

Excerpts of the open press speech to historically black Hampton University were already easily available (and quickly discovered by reporters after Drudge teased the clip on his website hours before the "new" Daily Caller/Hannity clip even aired). But Daily Caller founder Tucker Carlson claimed the video was relevant because it contained additional ad-libbed portions that went off the prepared remarks.

Among the sinister revelations Drudge, Hannity, and Carlson cited: Obama's use of what they considered an overly African-American cadence to his voice in front of the majority. "This accent is absurd. This is not the way Obama talks," Carlson said on FOX. Drudge Report teased "THE ACCENT" and "THE ANGER" as scoops.

Hannity, who was a leading figure on the right in promoting Obama's relationship with Jeremiah Wright as a story in 2008, also pointed to Obama acknowledging Wright as "friend and great leader" at the event. As was widely reported at the time, the two were close until Obama disowned him later that year over his continued inflammatory comments.
You can find the video over on The Daily Caller if you want to take a look at it, but the truth of the matter is that it's all pretty much old news:
The video played at the start of Hannity's Fox News show and posted on The Daily Caller website was of an open-press speech that Obama delivered to a crowd at Hampton University in June 2007, months after he launched his presidential campaign. The speech was covered at the time, including by Fox News and Carlson on the MSNBC show he then hosted, but had never been released in full before.

Hannity introduced the tape as a "bombshell" that includes "some of the most divisive class warfare and racially charged rhetoric ever used by Barack Obama." Though a local newspaper posted videos of some of the remarks online and reporters from major news organizations covered it, Hannity said all of that attention "omit[ted] the most inflammatory comments" from Obama.

But a portion of the speech — including Obama's introduction of Wright — has been on YouTube since 2007.

Also already public was Obama's discussion of "quiet riots that take place every day [that] are born from the same place as the fires of destruction and the police decked out in riot gear and death." President George W. Bush, he said, had done nothing to ease the tensions. Discussing the aftermath of Hurricane Katrina, Obama said that "the poverty and the hopelessness was there long before the hurricane. All the hurricane did was to pull the curtain back for all the world to see."

Other parts are newly unearthed. Poor people "need help with basic skills, how to shop, how to show up for work on time, how to wear the right clothes, how to act appropriately in an office," Obama said in what Drudge teased for hours as a particularly explosive line.

"We don't need to build more highways out in the suburbs. We should be investing in minority-owned businesses, in our neighborhoods," Obama also said, in another line that hadn't been quoted until Tuesday.
Tucker Carlson even covered the speech on his own MSNBC show at the time,  So, to argue that there's something new here is simply absurd. Many on the right have noted  that the coverage at the time omitted what they consider the more incendiary remarks, but Brit Hume talked about them on Fox five years ago. The reaction to this video has been rather muted. One Fox News host pointed out this morning that the video doesn't prove anything and that it's rather obvious that the President has not governed in a a racial matter since taking office in January 2009.  Meanwhile, though bloggers on the right seem to see this as something significant, the Romney campaign has distanced itself from the video and many Republicans are dismissing it entirely:
"This hurts Mitt," 2008 Romney adviser Alex Castellanos told BuzzFeed. "An abysmally selfish and stupid event."

"What's the 'So what' of this video?" asked Rep. Allen West (R-Fla.) on Fox News. "I don't think it's going to really go anywhere."

The Romney campaign, which in recent weeks highlighted a 1998 video in which Obama talked about government "redistribution," has ignored the release and denied any involvement. A spokesman merely told ABC News that "President Obama's views shape his policies, and his policies have been devastating for our economy."

Senior Romney campaign adviser Kevin Madden was less enthusiastic on CBS Wednesday morning.

"I think what's much more important to this debate right now are the president's policies — the president's record over the last four years," he said.

Fox News host Greta van Susteren was skeptical, telling former House speaker Newt Gingrich, "I think his record has a far greater impact than what he said in 2007, but I could be wrong."

Gingrich argued that the tape has "some impact," although a few minutes later he added, "I don't think this particular speech is definitive." He compared it to Vice President  Biden's "chains" comment, which Republicans greeted with far more enthusiasm.

Some conservatives suggested the video could have had an impact in the 2008 primary, had it gotten more coverage. Many saw it's relative obscurity as a sign of media bias. But few saw it as a political coup.

"Not quite a yawn, but no game-changer," wrote National Review's Jim Geraghty. "I don't think this tape will persuade anyone," said RedState's Erick Erickson.
Conor Friedersdorf argues that this video really says more about the right than it does about Obama:
These conservatives don't care that President Obama's actual record on racial matters is anything but radical. Nor do they care that his reelection poses zero threat to white people as a class.

It isn't any proposed policy change that gets them going. There isn't any sound, substantive reason that they focus on racial controversy. They're just race obsessed. Racial angles are constantly emphasized in right-leaning media because that's what the conservative audience wants, every bit as much as the average New York Times reader wants a very different sort of race-focused journalism. On the right, ethnic studies is treated as an illegitimate discipline for the race-obsessed; but positing that Americans are supporting Obama's reelection because of a psychological aversion to black people failing? That is totally acceptable speculative commentary.

"This guy is whipping up race hatred and fear," Tucker Carlson ofThe Daily Caller said on Fox News. So according to Carlson, Obama said some stuff in 2007 that should totally shock us becausenothing like it has been part of his rhetoric as president; those words would remain totally obscure if not for Carlson; but it's Obama who is "whipping up race hatred and fear," for telling a black audience that the federal government did less for Katrina victims than other natural disaster victims, in part because they were poor and black. For conservatives, complaining that college administrators do less to accommodate students because they're white is perfectly respectable commentary, and anyone who says otherwise is enforcing political correctness; but a specific critique of disaster relief dollars shortchanging blacks is "whipping up race hatred," and labeling it beyond the pale isn't political correctness run amok at all.
There really was nothing "shocking" in the video clips that Hannity and Carlson highlighted last night. The fact that then Senator Obama had nice things to say about a man who, according to his own description, had been the person who made him more of a Christian, officiated over his wedding, and baptized both of his children is no surprise, and it does not constitute an endorsement of the more distasteful things that Wright has said in the past, which Obama has since specifically denounced. The fact that he pointed out differences between the government's response to Hurricane Katrina and its response to other natural disasters or the 9/11 attacks isn't racist, especially since, as David Frum points out, the critique he made in the speech is pretty much what actually happened. Facts are facts, they are not racial code words.
Perhaps the most bizarre part of Carlson's argument, though, is the obsession with pointing out the fact that Obama allegedly used an accent in the speech. Now, personally, having watched sizable portions of the speech itself, I really don't see that much of a difference between the way Obama spoke at this conference and the way he generally speaks in public, especially at political rallies. That's not important, however, because it's really rather clear that Carlson and Hannity were aiming to make a racial point here. They were trying to point out that Barack Obama spoke like a black man, which is actually unsurprising considering that he is a black man. It's really quite pathetic what has happened to Tucker. He used to be a fairly decent columnist back in the day, he even had a fairly decent cable career notwithstanding Jon Stewart's famous rant. However, ever since he started The Daily Caller he has apparently decided that the key to success is to sink down into the mud of racial mudslinging with the Sean Hannity's of the world. I assume it's quite popular for him.
This video will have little impact on the race itself, even conservatives seem to agree on that point. However, as yet another example of the right's absurd Obama Derangement Syndrome, it will no doubt become part of the Fox News/talk radio zeitgeist. Which should be interesting to watch if, as it appears he will right now, Obama is re-elected.