Debt Talks Break Down As Both Parties Go Separate Ways
The debt talks in Congress are moribund now, and both sides are working on their own versions of a plan, again.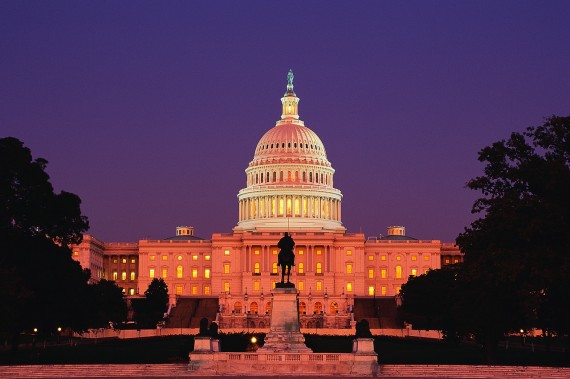 Not only isn't there going to be a plan announced today, but it's beginning to look like both sides in Congress have given up on the idea of working out a deal:
With no agreement reached by Sunday afternoon, House and Senate leaders appear to be moving in their own direction with competing plans to raise the nation's debt ceiling, dramatically highlighting the major discord on Capitol Hill with eight days until the United States defaults on its $14.3 trillion debt.

Senate Majority Leader Harry Reid (D-Nev.) began to draft his own legislation Sunday that would slash at least $2.5 trillion to match an extension of the nation's borrowing limit through the 2012 election, Democratic leadership aides said. Reid and House Minority Leader Nancy Pelosi are meeting with President Barack Obama Sunday evening.

And Speaker John Boehner (R-Ohio) told his colleagues in a Sunday afternoon conference call that a debt deal with Obama is not the way forward. He said on the call that a plan that "reflects the principles" of the conservative "Cut, Cap and Balance" proposal that the Senate rejected will serve as the model for any legislation coming out of the House. The speaker, though, did acknowledge that the plan itself is a non-starter.

"So the question becomes – if it's not the Cut, Cap and Balance Act itself – what can we pass that will protect our country from what the president is trying to orchestrate," Boehner said, according to a source familiar with the call.

Boehner and Majority Leader Eric Cantor (R-Va.), according to several sources on the call, implored his colleagues to "stick together" to enact a budget deal that they can support. Boehner said an agreement "will require some of you to make sacrifices." He told his colleagues that they shouldn't worry about winning the battles, but rather the war, according to a source on the call.

Cantor said the only way to overcome Obama is to "remain united and insist that every dollar the debt limit is increased, we have equal or more dollars in spending cuts without any tax hikes."
I am not entirely sure what is going to be accomplished by both parties working by themselves to come up with plans without consulting the other side to see if what they're coming up with has any chance at all of passing. No, I take that back, I know exactly what it's going to accomplish. It's going to allow both sides to put out plans that allow them to say they've done something and that it's the other side that's being intransigent. Perhaps some good would come of it if, after coming up with their respective plans, the parties sat down, compared them, and tried to figure out where they were on common ground so they could come up with a plan that can make it through Congress and will be signed by the President. Given how things have gone over the past weeks, though, I see no prospect of that happening at this point. We are in full-on partisan sniping mode and the goal now is for both sides to make sure they don't get blamed if anything goes wrong.
At this point, I think the only prospect for a real deal are if there is a significant negative market reaction, either starting tonight in Asia or later this week. While I was not a fan of the legislation at the time, that's what ended up being necessary to convince the House to pass TARP back in October 2008. Perhaps a few days of triple digit drops in the DJIA, erosion of the dollar against the Yen and Euro, or massive spikes in the price of gold as investors move to quality will break the inertia in Washington and cause a deal to finally be made. Of course, it's hard to predict what international stock and bond markets are going to do in reaction to all of this and it's entirely possible that the reaction this week will be muted. In that case, the hardliners in the House GOP, including those who don't think the debt ceiling  needs to be raised at all, are likely to remain intransigent and the likelihood of a deal before August will diminish.
So far, at least, there are signs of some negative reaction in the futures markets:
S&P futures are falling 1%. Not a crash by any means, but enough to confirm that markets aren't pleased. Meanwhile, gold is booming to new all-time highs.
Look at the spike on the gold chart: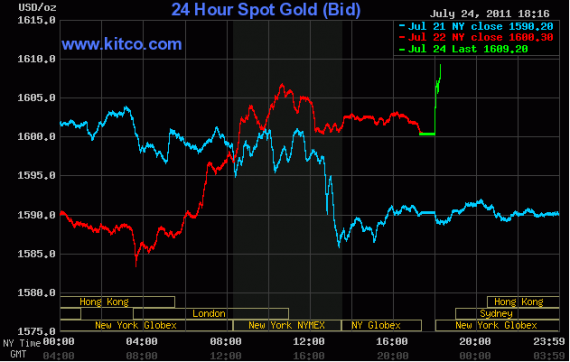 Whether it happens tonight or next week, though, the markets are likely to react at some point if Congress and the President are unable to get this deal done, and it's unlikely to be pretty.