Democratic Nomination Race Already Down To The Top Three?
As the race for the Democratic nomination heads into the fall, it looks as if it has already winnowed itself down to a top three.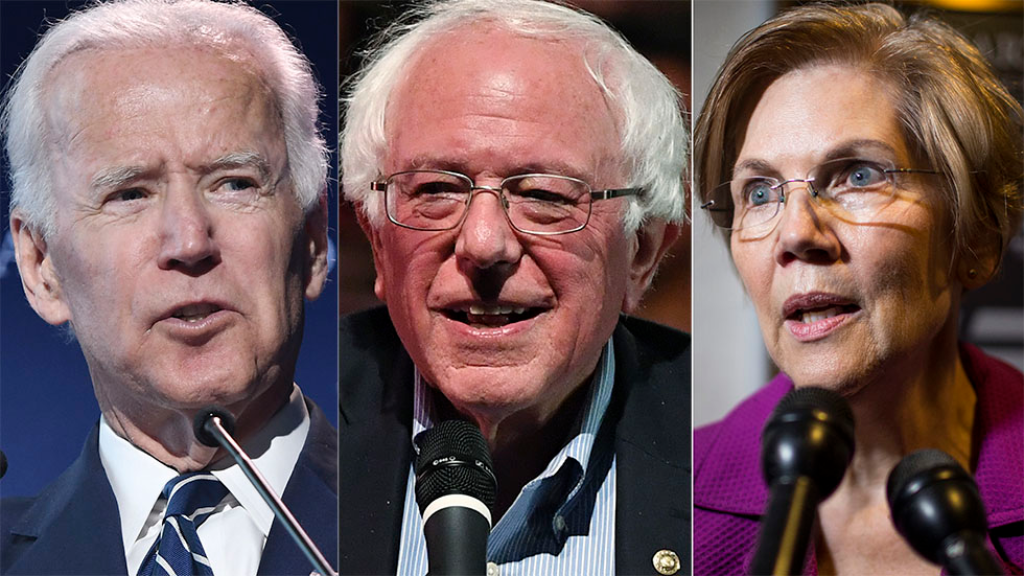 With two weeks left to go until the next debate and 154 days still left until the first votes are cast in the Iowa Caucuses, some analysts are arguing that the race for the Democratic race has already filtered down to a top three, with the rest of the pack unlikely to break through to make a run for the top:
The bottom is falling out of the Democratic presidential primary. And the top-tier — no longer five candidates, but three — is becoming more insurmountable.

For more than a year, Democrats had approached their nominating contest with a widely-shared belief that — like Republicans in the earliest stages of their primary four years ago — they, too, might take turns rising and falling in an expansive field. That expectation sustained the campaigns of more than two dozen contenders this year.

But in recent weeks, the leading band of candidates has contracted unexpectedly early. Heading into the fall, only three contenders are polling above single digits: Joe Biden, Elizabeth Warren and Bernie Sanders.

Kamala Harris and Pete Buttigieg remain at the periphery, while lower-polling candidates have largely failed to muster sustained, upward movement in fundraising or polling.

According to interviews with about two dozen Democratic operatives and consultants, there is little reason to expect any of them will.

"It was legitimate to say 'Top 5' for a long time, but with the exception of Kamala Harris being at the outer perimeter of the top three … you'd have to have a strange confluence of events for someone outside those four to win," said Philippe Reines, a longtime Hillary Clinton confidant. "It would require all four failing. Like, you would need all four of them to be in a plane crash or something."

For every other candidate, Reines said, "It's too late in the game to keep saying it's too early."

By this point in the Republican primary in 2016, Jeb Bush was already cratering. Scott Walker had risen and fallen. Donald Trump was in first, still to fend off a surge from Ben Carson before running away from the field.

The 2020 Democratic primary, by contrast, has been defined by its relative stability, with two full fundraising periods and two sets of debates now done.

Anna Greenberg, a pollster who advised former Colorado Gov. John Hickenlooper's since-aborted presidential bid, said there was no boom-and-bust for Democrats because the primary "started so early, before voters really started paying attention," and because of "the sheer volume of candidates."

"It's a little bit surprising because compared to '16 on the Republican side, where it seemed like a number of people had their moment in the sun … there hasn't really been anybody who's taken a meteoric rise," said Scott Brennan, an Iowa Democratic National Committee member and former state party chairman.

Brennan said he's spoken with several campaigns recently whose advisers "feel like they're poised and ready, they're poised and they're waiting for their moment."

But "for whatever reason," he said, "they haven't had that."
Advisors and supporters of the candidates locked out of the top of the field will, of course, tell us that it's still early enough in the game that, to borrow the old phrase, 'anything could happen." However, it seems fairly clear that we are at or near the point where a Democratic race that started out with nearly two-dozen people running for the nomination has winnowed down to the point where you can count the number of actual contenders for the nomination on one hand and still have fingers left over.
At the top of that list, of course, would be former Vice-President Joe Biden, who currently stands at 28.9% in the RealClearPolitics average, and, with the exception of a few polls that now clearly seem to be outliers, has been at the top of every national poll and every poll in the states that will be holding primaries in February 2020. Behind Biden, Senators Bernie Sanders (RCP average 17.1%) and Elizabeth Warren (RCP average 16.5%). After these two candidates are those candidates who might have been, but who seem to be slowly fizzling out. Senator Kamala Harris, for example, had a brief surge during the summer after the first debate but has since fallen back to the point where she stands at 7.0% in the RCP average. Behind her, South Bend, Indiana Mayor Pete Buttigieg is basically stuck at the same point he's been since initially surging way back in April, with a 4.6% poll average and showing no signs of picking up support beyond what's already got. Beyond Buttigieg, there are the candidates — O'Rourke, Booker, and Yang — who are averaging between 2% and 3% and, of course, the ten candidates who are under 2% and, in most cases, below 1%.
For better or worse, I think the thesis of the Politico article is largely correct. While there may be room for Kamala Harris to make a comeback, especially given the fact that the California primary is so early in the schedule this year, the odds that any of the other candidates are going to make a breakthrough somewhere between slim and none. Pete Buttigieg remains an interesting candidate, and could very well be a contender for the Vice-Presidential running mate slot, but he still hasn't been able to catch fire and, most importantly, still has not managed to find a way to make progress among African-American Democrats. As for the rest of the candidates, they've been given their opportunity to make an impression and they've failed. Much as we've already seen several candidates do, it's time for them to start packing it in and looking for something else to do.