Democrats Have 9 Point Advantage
49 percent of Americans lean Democratic, compared to 40 for Republicans. Yet a plurality identify as Independent.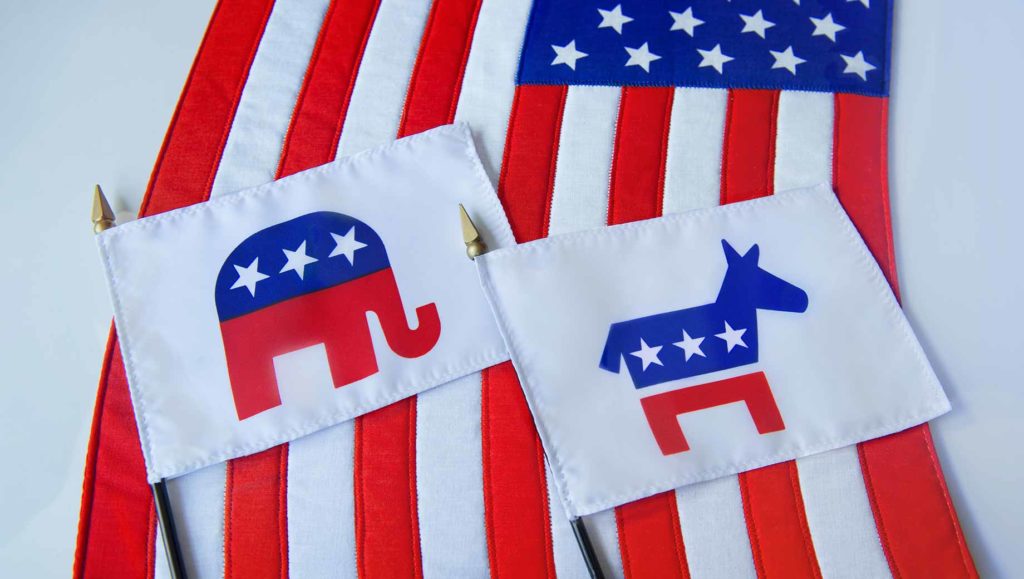 Gallup ("Quarterly Gap in Party Affiliation Largest Since 2012"):
In Gallup polling throughout the first quarter of 2021, an average of 49% of U.S. adults identified with the Democratic Party or said they are independents who lean toward the Democratic Party. That compares with 40% who identified as Republicans or Republican leaners. The nine-percentage-point Democratic advantage is the largest Gallup has measured since the fourth quarter of 2012. In recent years, Democratic advantages have typically been between four and six percentage points.

Gallup routinely measures U.S. adults' party identification and the political leanings of independents. In the first quarter, 30% of Americans identified as Democrats and 19% were Democratic-leaning independents, while 25% were Republican identifiers and 15% Republican-leaning independents. The vast majority of the remaining 11% were independents with no partisan leanings.

The latest figures were measured as President Joe Biden was inaugurated despite rioters' attempts on Jan. 6 to disrupt the certification of his victory in the 2020 election. The first quarter also saw a steady decline in U.S. coronavirus deaths and infections from its early January peak, a great expansion of COVID-19 vaccinations, and the passage of a $1.9 trillion COVID-19 relief package.
Given the pandemic and the post-election events, it's not surprising that Democrats would get a bump. But context is key here: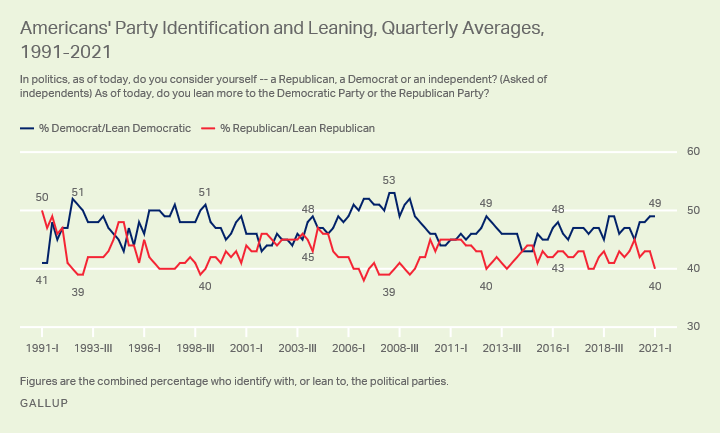 So, over the last thirty years, the fluctuations have been pretty significant but within a tight range. Both parties tend to stay between 40 and 50, with deviations outside that rare short-lived and small. And, yes, very much tied to events.
Democrats have had larger advantages in the past than they currently hold, including double-digit advantages throughout most of 2006 through early 2009. That period encompassed the end of the George W. Bush administration, when he was unpopular, and the election of Barack Obama as his successor. The party also had double-digit advantages around the time of Bill Clinton's election as president in late 1992 and early 1993. The prior nine-point Democratic edge in the fourth quarter of 2012 coincided with Obama's reelection.

Republican advantages have generally been rare and short-lived, but occurred when Americans rallied around incumbent Republican presidents George H.W. Bush after the 1991 U.S. victory in the Gulf War and George W. Bush after the Sept. 11, 2001, terrorist attacks. The GOP also had brief leads in party affiliation in the periods surrounding Republican electoral successes in the 1994, 2010 and 2014 midterm elections.
If I were to guess, the short-term fluctuation is almost entirely within the "leaners." They don't associate themselves with either party but tend to vote for the same one over and over (assuming they vote at all). And, indeed, we have a spike in self-identified Independents:
The 44% of Americans who identify as political independents, whether they subsequently express a party leaning or not, is up from 38% in the fourth quarter of 2020 and is above 40% for the first time since 2019. This is consistent with the historical pattern whereby independent identification typically declines in presidential election years and increases in odd-numbered years.

However, the percentages identifying as independent in 2020 and thus far in 2021 have been unusually high compared with prior presidential election and odd-numbered years. Thus, the current level of independent identification ranks among the highest Gallup has measured in any quarter since 1988, with the high being 46% in the fourth quarter of 2013.
The trend chart, minus leaners: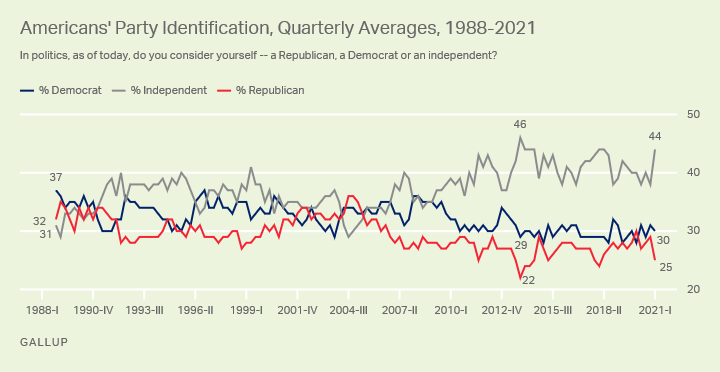 After a modest peak with George W. Bush's re-election—the only time a Republican has won the popular vote since 1988—we've seen a substantial drop-off in Republican party identification. While it's one that largely goes away when we add in leaners, one would think it would be this group that is easiest to pick off.
Still, the 44 percent "Independent" group is misleading. That neither of the binary choices draws their loyalty is noteworthy. But the fact of the matter is that turnout is at recent highs and most of these folks vote for the same party election after election.