Democrats Keep Senate Control
With a win in Nevada, the party will retain at least 50 seats.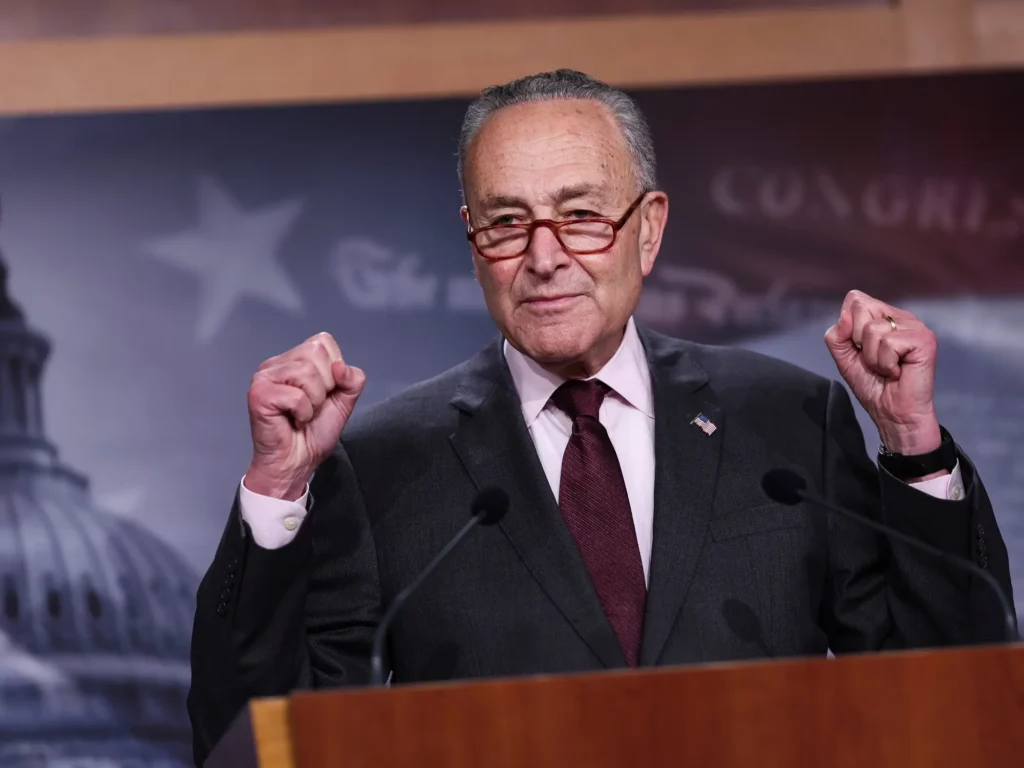 Democrats defied historical trends and defeated several candidates backed by former President Donald Trump to keep control of the Senate, providing enormous relief for President Joe Biden.

The battle for the House, meanwhile, remains too close to call.

The picture in the Senate became clear late Saturday after Democratic Sen. Catherine Cortez Masto of Nevada narrowly defeated Republican Adam Laxalt to win re-election, putting her party over the threshold, NBC News projected Saturday.

"Thank you, Nevada!" Cortez Masto said in a tweet Saturday evening after its two most populous counties, Clark and Washoe, finished counting mail-in ballots.
Which means Chuck Schumer keeps his job:
"I feel good for the country. Because so many people worried — I did — about this democracy," Senate Majority Leader Chuck Schumer said at a news conference late Saturday. "America showed that we believe in our democracy. That the roots of our democracy are deep and strong. And that it will prevail as long as we fight for it."

He added that Republicans were hampered by "flawed challengers who had no faith in democracy, no fidelity to the truth or honor."
That's not exactly conciliatory but he ain't wrong, either. Indeed, this includes Laxalt, who managed to lose in a state where voters split their tickets, easily electing a MAGA governor.
Which means the Georgia runoff is now gravy. But gravy is good.
Masto's victory means Democrats will hold the Senate regardless of the outcome of Georgia's Dec. 6 runoff election, when Democratic Sen. Raphael Warnock and Republican Herschel Walker will face each other again after neither cleared the 50% threshold required under state law.

A Walker win would keep the Senate 50-50, where Vice President Kamala Harris casts the tie-breaking vote for Democrats.

A Warnock victory would make it 51-49, giving Democrats one extra vote in a chamber where they have often been stymied by internal dissent from members like Sen. Joe Manchin of West Virginia.

Biden can now count on partners in the Senate to confirm his judicial and administration appointments, even if his legislative agenda ends up effectively blocked because of a Republican takeover of the House.

"I feel good and I'm looking forward to the next couple years," Biden told reporters, reacting to the Senate result at close to 11 a.m. local time in Cambodia where the president is attending a summit of world leaders. He credited the quality of the candidates and said they were all "running on the same program."
I can't imagine Walker wins the runoff, given both Walker's clear deficits and the fact that Democrats will be substantially more motivated.
But the difference from 50-50 with Harris breaking ties and 51-49 is actually substantial and not just because it means Manchin and Sinema would have less power. It also means a true majority, which means Democratic committee chairs.
Presuming Republicans eke out a tiny House majority, as is still widely expected, the President will get very little legislation passed regardless. But retaining the Senate means he'll be able to continue to fill judicial vacancies including, if one arises, on the Supreme Court.