Democrats Win Georgia Runoff, Likely to Take Senate
Kamala Harris will be very, very busy the next two years.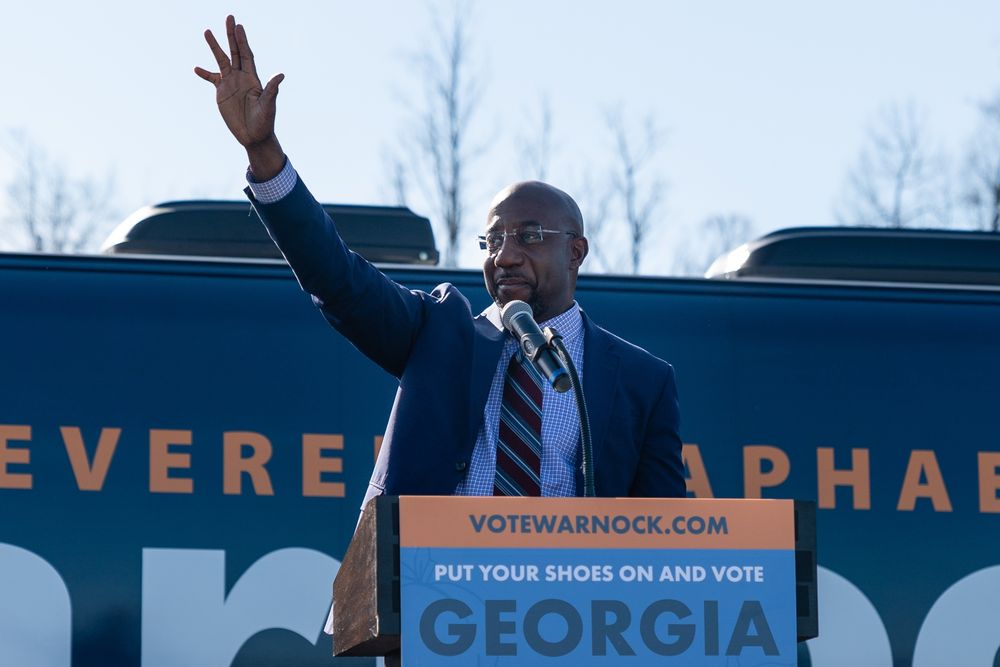 Raphael Warnock has beaten Kelly Loeffler and will be the first Black Senator from Georgia. Upstart Jon Ossoff has a slim lead over incumbent David Perdue; given that the late votes almost always tend Democratic, I'm willing to do what the media won't and say that there will be two new Democratic Senators, meaning a 50-50 chamber with Vice President Kamala Harris able to break ties two weeks from today.
Given that the Republicans were well ahead in the initial contest, with a runoff necessary only because spoiler candidates siphoned off a few votes, and Republicans historically outperforming their general election numbers in run-offs (especially in Georgia) it seems reasonable to conclude the President Trump's wild antics in continuing the absurd claim that the November election was somehow stolen tipped the scales. Certainly, a lot of Republican elites think so.
With control of the Senate at stake in the state's two races, the president chose to spend weeks peddling baseless claims that Georgia's electoral system was rigged, fueling an online movement to boycott Tuesday's election. He demonized the state's Republican leaders and fractured the local GOP. He ignored calls from his allies to rally in the state sooner. His support for Sens. Kelly Loeffler and David Perdue mainly came in the form of the occasional tweet and two rallies, including one on Monday. He blasted Senate Majority Leader Mitch McConnell for not heeding his calls for boosted stimulus checks.

So when Democrat Raphael Warnock defeated Loeffler early on Wednesday — and with Democrat Jon Ossoff having a good chance of toppling Perdue — Republicans were quick to blame Trump.

"Trump is the cause of this, lock, stock and barrel," said one Republican strategist. "But when you're relying on someone to win you a Senate race that also lost statewide eight weeks prior, you're not in a position of strength."

The immediate recrimination is emblematic of the complicated GOP dynamics that have emerged after Trump's loss in the November election. Fissures are forming as Republicans decide whether it's useful to cling to Trump — even as he tries to subvert an election — or to distance themselves. And if the Georgia races are any indication, it appears Republicans are willing to turn on Trump if he can't reliably turn out the vote for candidates in the months and years ahead.

When asked why Republicans didn't prevail on Tuesday, a senior Senate Republican aide simply said: "Donald J. Trump."
It serves them right.
Frankly, Perdue and Loeffler are particularly deserving of losing. Perdue misused his office to engage in insider stock trades, illegally lining his pockets while lying to his constituency about the severity of a virus that hit them disproportionately hard. Loeffler doubled down on the racism in her campaign against Warnock. And both cheered on Trump's attempts to steal the election.
One would like to think that piling bitter defeat on bitter defeat will cause the Republican Party to repudiate Trump and Trumpism. Alas, they're almost certainly going to double down, actually buying into the absurd notion that they've somehow been agrieved.
While my generic preference would have been for divided government to forestall some of the progressive fever dreams of ending the filibuster, packing the courts, adding Democratic states, and other measures I think would further divide the country, this outcome was necessary. Not only as a repudiation of Trump and his ilk but because Mitch McConnell and company have sadly demonstrated that they're willing to put party over country time after time. We simply can't afford that as far behind as we are in fighting this pandemic.
While I would prefer Joe Biden as Ronald Reagan and McConnell as Tip O'Neil, that's sadly not the country we live in anymore. So my hope rests with Biden's natural moderate tendencies and for Joe Manchin and maybe a couple of others to stand in the way of overreach. And maybe, just maybe, for a handful of moderate Republicans to start rebuilding a loyal opposition party.