Dems in Disarray, Deal Doubtful
The internecine fight over the budget is coming to a head.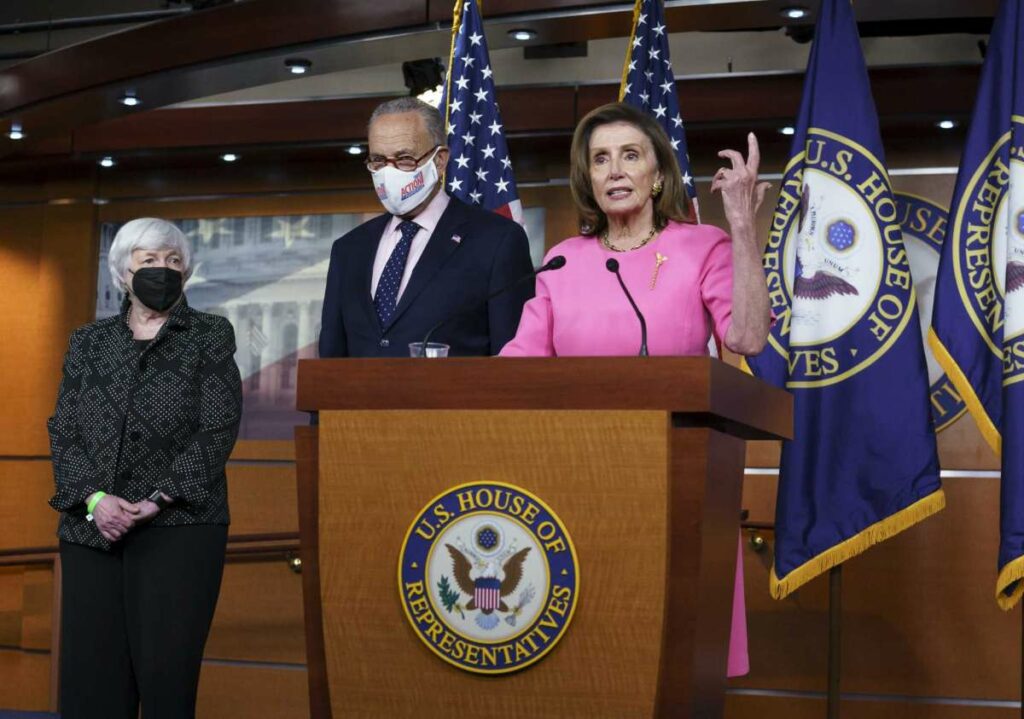 POLITICO ("Manchin, Sinema leave Dems in lurch as Biden agenda teeters"):
Democrats wanted clarity Tuesday from Sens. Joe Manchin and Kyrsten Sinema after back-to-back meetings with President Joe Biden. They didn't get it.

During a private meeting with the president, Sinema made clear she's still not on board with the party's $3.5 trillion social spending plan and is hesitant to engage on some specifics until the bipartisan infrastructure package passes the House, according to a person who spoke with her.

"This is the third time she said she has told the president, 'I'm not there,'" the person said, quoting Sinema as telling the president: "'I've been very clear with you from the start.'"

Sinema has problems with both the price tag and some of the tax increases devised to pay for it. After returning from his White House meeting, Manchin said that he did not give Biden a top-line number and made "no commitments from my standpoint."

Sinema and Manchin's approach to the negotiations has frozen Biden's jobs and families plan and potentially may lead to a high-profile failure of a bipartisan infrastructure bill on the House floor as progressives threaten rebellion. But without more details from the moderate duo, any hope of a bicameral agreement on Biden's agenda is a pipe dream.
Well, yes. That's been clear for months. That Sinema and Manchin want a smaller bill is hardly a last-minute twist. Their continuing refusal to specify what it is they will support, however, is a reasonable cause for frustration.
NBC ("'Mutually assured destruction': House liberals dig in on halting infrastructure bill"):
House progressives are digging in on their resistance to passing the infrastructure bill this week, repeating their threat to block the measure despite Speaker Nancy Pelosi's call to pass it quickly and tackle the social safety net package later.

Rep. Pramila Jayapal, D-Wash., the chair of the progressive caucus, which boasts 95 House members, told NBC News that "nothing has changed" and more than half her caucus is prepared to vote down the infrastructure bill if it comes up before the larger tax-and-spending bill has passed the Senate.

The wrangling comes during a chaotic week where Democrats are locked in a separate standoff with Republicans over how to keep the government funded ahead of a Thursday night deadline and avert debt default before an Oct. 18 cutoff.

The progressive resistance won support from allies the Senate, as Sen. Bernie Sanders, I-Vt., called on House colleagues "to vote against the bipartisan infrastructure bill until Congress passes a strong reconciliation bill."

"My fear is that if the dual agreement that was reached is broken, and we just pass the infrastructure bill, the leverage that we have here in the Senate to pass the reconciliation bill will be largely gone," Sanders said in an interview.

The intraparty feuding casts doubt over whether the House can pass the infrastructure bill on Thursday, as Pelosi has planned — even though Democrats are united in support of the legislation. The larger bill isn't yet ready for a vote yet and is still being drafted, as Democrats work through a series of disputes over price tag and policy.
"Casts doubt" is putting it mildly.
San Francisco Gate ("Nancy Pelosi drama with Chuck Schumer creates more issues for Biden's agenda"):
Senate Majority Leader Chuck Schumer does not seem to approve of House Speaker Nancy Pelosi's plans to have her chamber vote on a bipartisan $1 trillion infrastructure bill Thursday.

[…]

On a Tuesday call with Senate Democrats, Schumer reportedly took heat from Democratic senators who took issue with Pelosi's move. According to CNN's Manu Raju, Schumer "told his caucus he was not consulted before Pelosi reversed course."

During a brief press conference after the call, Schumer was asked whether he supports Pelosi's strategy and said only, "The bottom line is I think we certainly in the Senate believe in a two-track process and I believe Speaker Pelosi believes in a two-track process as well."

"So not saying explicitly that he supports her strategies," Raju said during a TV appearance after the presser. "[It's] significant — these two leaders are typically always on the same page and talking frequently, but at a key time, not here."
While it's axiomatic that deadlines make deals, it's simply bizarre that we've reached the day before the fiscal year ends without the party that holds a razor-thin majority agreeing with itself what it wants. Given that literally every Democratic Senator has to go along to get anything passed, and given the ideological polarity within the caucus, that's a frustrating job. But, again, it's hardly new news.
Meanwhile, as I may have noted once or twice in previous posts, the Republicans are adding to the stress levels by playing silly, dangerous games with the debt ceiling.
POLITICO ("Biden opposes changing Senate rules to raise debt limit"):
The White House said Tuesday that President Joe Biden opposes changing the filibuster to suspend or raise the debt ceiling, closing off a break-the-glass option to avoid financial calamity.

White House press secretary Jen Psaki confirmed that Biden's position on reforming the filibuster has not changed as Democrats search for options to deal with the approaching debt ceiling deadline amid persistent refusal from Senate Republicans to step in and help. Earlier in the day, Treasury Secretary Janet Yellen warned congressional leaders that her department could run out of money by Oct. 18, triggering a disastrous default on the government's debt that would cripple the entire U.S. economy.
My initial reaction was Who cares what Biden thinks? Manchin and others have made it clear that they will not support the abolition of the filibuster. It's simply not going to happen in this Congress.
Senate Minority Leader Mitch McConnell has said that Democrats should raise the ceiling alone, but he has also closed off all avenues for them to do so, save one: an amended reconciliation bill that would occupy a fair chunk of Senate floor time before Democrats could pass it by party-line vote.

Democrats in Congress are at odds over whether they have enough time to do that and the next steps forward. The party tried to pass a debt limit hike alongside a measure to fund the government last week. But that was filibustered by Senate Republicans.

On Tuesday, Democrats sought unanimous consent to pass a debt ceiling hike by a simple majority vote. Republicans objected to that too, further angering White House officials who were already chafing at their refusal to fall in line on a vote they've been trying to portray as almost pro forma.

Biden has coordinated his approach with House Speaker Nancy Pelosi and Senate Majority Leader Chuck Schumer, but has publicly deferred to the congressional leaders on how to maneuver out of the jam. On Monday evening, they discussed possibly raising the debt ceiling through budget reconciliation, something White House officials had been saying they were loath to do.

One other option: The Senate could vote to change their own rules so that a bill that raises or suspends the debt limit is not subject to a filibuster. Lawmakers have made similar rules changes for the confirmation of judicial nominees and Cabinet officials. But it would require all 50 Democrats to support such a measure as well as Vice President Kamala Harris' sign off. Biden's opposition to such a change would effectively doom it.
Ah. So, this would be just another exception to the filibuster. It's not obvious that Manchin and others would go along with that, either, but Biden's opposition does indeed essentially preclude Harris from going along.