Despite Pressure, Malaki Unwilling To Step Aside In Iraq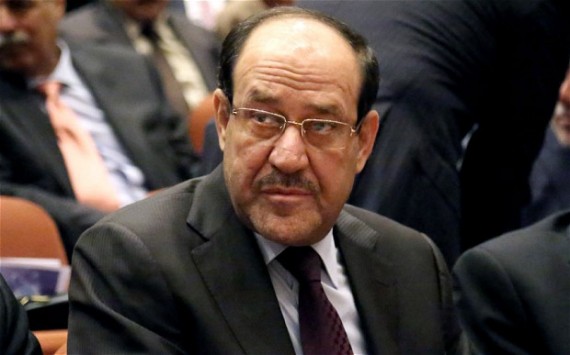 Iraq continues to appear to be headed toward a political crisis, notwithstanding the fact that everyone seems to be trying to pressure Prime Minister Nouri al-Maliki to step aside:
BAGHDAD — Iran's supreme leader threw his weight behind Iraq's newly appointed prime minister Wednesday, but incumbent Nouri al-Maliki denounced efforts to oust him as "a constitutional violation" and vowed to continue resisting any transfer of power despite growing opposition to him from a wide spectrum of domestic factions.

France, meanwhile, announced that it is sending arms to Kurdish forces in northern Iraq to help them battle the radical Islamist insurgent group known as the Islamic State. Citing an "urgent need" to confront a "catastrophic" situation in Iraqi Kurdistan, the office of French President Francois Hollande said an arms shipment would be delivered to the Kurds "in the coming hours" with the agreement of authorities in Baghdad, news agencies reported. The French statement did not specify the type or volume of weapons being sent.

In Tehran, Ayatollah Ali Khamenei, the top Iranian political and Shiite religious authority, said Wednesday that he hoped the designation by Iraq's president of Shiite politician Haider al-Abadi as the country's new prime minister "will untie the knot and lead to the establishment of a new government and teach a good lesson to those who aim for sedition in Iraq," Reuters news agency reported.

Addressing the nation in his weekly televised address, Maliki argued that clinging to power was his "ethical and patriotic duty" to Iraqi voters. Describing the nomination of Abadi as illegal, he encouraged people to protest the "error."

Maliki acknowledged the weight of voices against him in his speech and criticized nations including the United States for supporting his ouster. But he said he would not relinquish power until the federal court rules on the legality of Abadi's nomination.

"It is a constitutional violation," Maliki said, referring to the appointment of Abadi by Iraq's new president, Fouad Massoum. He also called it "a conspiracy" planned from inside or outside Iraq.

Khamenei's statement buttressed comments Tuesday from Tehran in support of Abadi. The Iranian leadership, which wields significant influence in Iraqi politics, joined a range of Iraqi political groups — including Kurds, Sunnis and Shiites — in withdrawing support from Maliki, who is also a Shiite and belongs to the same political party as Abadi.

In his effort to hang onto power, Maliki has deployed security forces to strategic points across the capital.

(…)

Iraq has been gripped in recent days by concerns that Maliki could exploit his influence over the armed forces — and Iraq's militias — to foil a handover of power.

During a meeting with the country's top security chiefs Tuesday, Maliki told security forces not to intervene in the political crisis and to protect the nation. But he continued to issue veiled threats.

He warned that Abadi's appointment as prime minister designate, which he argues is a constitutional breach, could "open up the gates of hell."

He said that members of the security forces had pulled back from the front lines of Iraq's conflict zones upon hearing he would be replaced but that he had ordered them to return to the fight.

While ostensibly telling the armed forces to stay out of politics, Maliki added that he could not be held responsible for those who might wish to fight on his behalf.

But the Asaib Ahl al-Haq militia, which receives funding from Iran and was previously close to the prime minister, indicated that it is unlikely to fight for Maliki's continued tenure.

"We are 100 percent with the National Alliance," said Naim al-Abboudi, a spokesman for the group.

On Monday, the National Alliance, a group of Shiite parliamentarians, told Iraqi President Massoum that Abadi was its nominee for prime minister.

For Maliki's government, some of the most crucial support comes from neighboring Iran, which sided with Abadi on Tuesday. Ali Shamkhani, the secretary of Iran's National Security Council, congratulated Abadi, Iraq's religious leaders and its political parties on the appointment, according to the state-run Islamic Republic News Agency.
The big question in the ongoing situation in Baghdad is what the military would do. If there is some portion of the security forces that back Maliki, Iraq could well be headed for a complete breakdown in authority as the various parties fight things out. Given the fact that this would be happening at the same time that the nation is trying to deal with the threat of ISIS and the very real probability that the Kurds have basically already decided to give up on the idea of a united Iraq and pursue statehood on their own, this would obviously not be a positive development and would likely be the end of a united Iraq. Of course, that seems like its a possibility in any case so I'm not sure that what Maliki does will make a difference in the long run.