Did Felons Put Al Franken in the Senate?
Did felons voting illegally put Al Franken over the top in Minnesota? Probably not.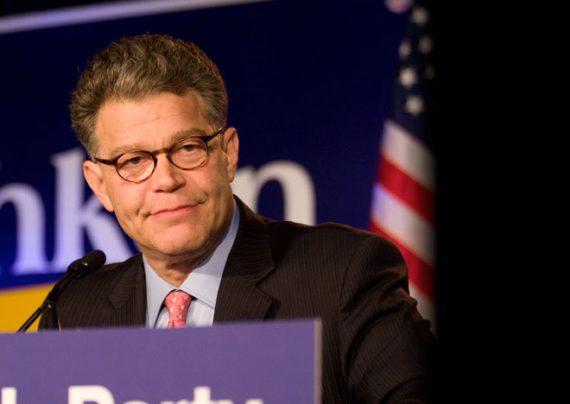 A new study by a group trying to prove felons put Al Franken in the Senate finds that felons put Al Franken in the Senate, Fox News reports.
The six-month election recount that turned former "Saturday Night Live" comedian Al Franken into a U.S. senator may have been decided by convicted felons who voted illegally in Minnesota's Twin Cities.

That's the finding of an 18-month study conducted by Minnesota Majority, a conservative watchdog group, which found that at least 341 convicted felons in largely Democratic Minneapolis-St. Paul voted illegally in the 2008 Senate race between Franken, a Democrat, and his Republican opponent, then-incumbent Sen. Norm Coleman.

The final recount vote in the race, determined six months after Election Day, showed Franken beat Coleman by 312 votes — fewer votes than the number of felons whose illegal ballots were counted, according to Minnesota Majority's newly released study, which matched publicly available conviction lists with voting records.

[…]

A spokesman for both county attorneys' offices belittled the information, saying it was "just plain wrong" and full of errors, which prompted the group to go back and start an in-depth look at the records.

"What we did this time is irrefutable," McGrath said. "We took the voting lists and matched them with conviction lists and then went back to the records and found the roster lists, where voters sign in before walking to the voting booth, and matched them by hand.

"The only way we can be wrong is if someone with the same first, middle and last names, same year of birth as the felon, and living in the same community, has voted. And that isn't very likely."
Presuming all the lists are accurate, the methodology is plausible enough.  But, while it "isn't very likely" that most of these names overlap, it's quite likely that at least some of them do.  It's even more likely that there are errors in the felons list itself.
But we're talking very tiny margins here.  The group found 341 felons voted illegally.   Even if that's 100 percent accurate, the difference between that number and Franken's 312 margin is only 29.  Are we sure that none of the felons voted for Norm Coleman or Dean Barkley?   That strikes me as extremely implausible in a race where 41.994% of the recorded votes went to Franken, 41.983% went to Coleman, and 15.150% went to Barkley.
Further, while I very much support running elections according to the rules, 341 votes in a contest in which 1.7 million people participated amounts to less than a rounding error.   It's a dead certainty that more than 341 votes were cast in error or not counted through some vagary of the system.
The fact of the matter is that, in extremely close elections with large numbers of votes, we never know who "should" have won.   That's why I opposed all the recounts and challenges in this race:  They begin with the false premise that we can get it precisely right and only serve to enhance bitterness on the part of the losing side.