Did Romney's Debate Win Change Anything?
Before last night, Romney was toast and Republicans were demoralized; now, there's a glimmer of hope.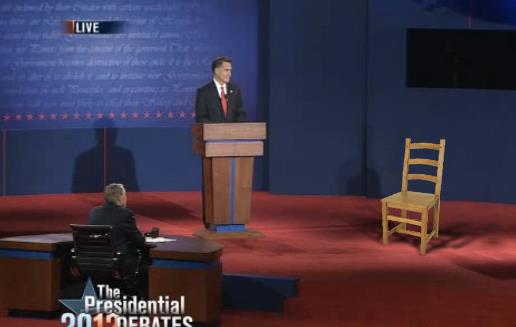 The following started as a comment in Doug's "Romney Won The Debate, But Will It Matter?" thread but is long enough to merit its own pace, especially given my lackluster blogging pace of late.
I think, at best, this changes the conversation a little. Before last night, Romney was toast and Republicans were demoralized; now, there's a glimmer of hope.
If last night's version of Romney–energized, confident, and more moderate on nuanced issues–somehow stays with us rather than going away to be replaced with the inept guy who's been out there on the stump the past few weeks, he's got a chance to gain momentum needed to win in Florida, Virginia, Iowa, and other states a Republican facing an incumbent Democrat with this economy should already have in the bag.  Whether it'll be enough to make up the needed ground in Ohio, where the fundamentals are less in his favor, is another thing entirely.
As unlikely as the permanence of last night's Mitt is, it's much more likely than last night's Barack Obama making regular appearances.
The Atlantic's Derek Thompson analysis ["Romney Won by Being Himself (and Obama Lost for the Same Reason)"] is spot on:
Last night's presidential debate was a study in contrasts, but even more, it was the fulfillment of two wildly held assumptions about the candidates. There's Romney, the business man's business man, so polished that his surface has a way of reflecting whatever scene happens to swirl around him. And there's Obama, the detached philosopher, whose allure has always been his ability to appear coolly separate, even above, the scene around him. So there they were last night, filling out their stereotypes — one polished, practiced in sound-bites, armed with short lists, making a pitch; the other comprehensive but rarely succinct and, somehow, separate.

Mitt Romney won by … well, by being Mitt Romney, and Obama lost by being a caricature of his cool distracted professor alter-ego.
Obama is a wonk who enjoys talking about the details of policy. And, as skilled as he is, he lacks Bill Clinton's knack for doing it in a folksy way that translates to normal people. Still, he's a natural politician and tremendously good at making corrections and staying on message. He'll almost certainly rebound and give a much better performance in Round 2.
For the first time in months, I think it's possible that Romney can win this thing. But it's still very much Obama's game to lose. We're four weeks out and Obama has a significant lead in virtually every one of the "swing states." And, not only are very few of the people who will actually turn out to vote persuadable, more and more of them will have already voted as each day passes.