Romney Won The Debate, But Will It Matter?
Mitt Romney won the debate last night, but it's not at all clear that this will matter at all.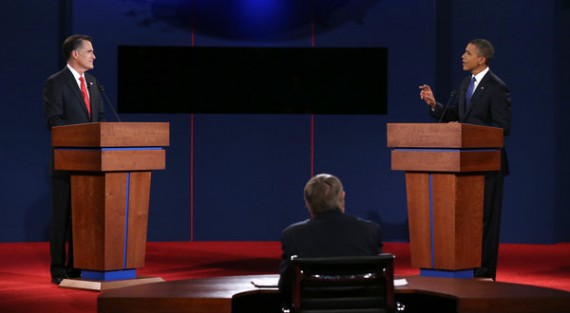 I agree with James Joyner's assessment that Mitt Romney was the clear winner of last night's debate. Going into the event, to be honest, the former Massachusetts Governor essentially had to come across well as a bare minimum or the negative momentum that he had been experiencing ever since the Democratic National Convention ended would have gotten worse and, more importantly, fellow Republicans would have lost even more faith in the campaign's ability to pull off a victory. In the run up to the debate, of course, both sides were engaged in playing the expectations game in a manner that sought to downplay their candidates chances while playing up the debating ability of their opponent. Well, everyone except Chris Christie that is.
Once the two candidates walked on the stage last night, though, all those games didn't matter, all that matter was how they performed and I don't think it can be denied that Mitt Romney got the better of the President last night. Where Romney was forceful and on the attack against the President most of the night, the President seemed off and defensive. More than once, when the camera would do a split-screen of the two men, you would see Obama looking down at his notes while Romney was addressing him while Romney would be looking the President directly in the eye. When it was time for the President to make his own attacks on his opponent, they were remarkably low key. There was little mention of the themes that Obama, Vice-President Biden, and campaign and SuperPac advertising have been hitting on for months now. There was no mention of Bain Capital, no mention of the "47 percent," no mention of Romney's taxes. In defending his own record, the President seemed tepid and, as more than one observer has noted, just plain annoyed to have to be on the stage.
As The New York Times noted in its wrap-up of the debate, by the time the debate ended it was clear who the winner was:
The immediate reaction to Wednesday night's presidential debate was a torrent of criticism directed at President Obama, with Republicans, and as well as many Democrats, accusing Mr. Obama of delivering a flat, uninspired and defensive performance.

Republicans seemed genuinely surprised that his opponent, Mitt Romney, was energetic, aggressive and presidential during his first-ever general election debate.

"In a thoroughly dominating performance, Romney bested Barack Obama in both tone and substance," Stephen F. Hayes of the conservative Weekly Standard magazine wrote after the debate. "Obama often found himself at the end of a verbal cul-de-sac, seemingly unaware of how he'd ended up there."

On Twitter, some of Mr. Obama's Democratic allies expressed anger and disappointment that the president did not make better use of the "47 percent" speech by Mr. Romney and other missteps that the Democratic campaign has spent months honing into attack ads and stump speeches.

Andrew Sullivan, a blogger and strong supporter of Mr. Obama, echoed Peggy Noonan, a former Republican speechwriter, on Twitter, saying that "this is a rolling calamity for Obama." Mr. Sullivan added: "He's boring, abstract, and less human-seeming than Romney!"

And Bill Maher, the liberal comedian who had donated $1 million to a "superPAC" backing Mr. Obama, joked: "I can't believe I'm saying this, but Obama looks like he DOES need a teleprompter."

At this point, it remains unclear whether these snap assessments and others made immediately after the debate will be matched by the more sober judgments of voters in the upcoming days. Voters sometimes surprise the pundits by coming to different conclusions about the outcome of a presidential debate.

And Mr. Obama's top strategists predicted that some of Mr. Romney's answers — in particular, his admissions about the need for a voucher system for Medicare — would deepen the concern in some communities about Mr. Romney's policies.

"He was unable and unwilling to explain the math behind his $5 trillion tax cut favoring the wealthy, refused to say what rules he'd put in place to protect consumers after repealing Wall Street reform, and didn't offer a single idea to protect families from insurance company abuses after repealing Obamacare," Jim Messina, Mr. Obama's campaign manager, said in a statement after the debate.

The candidates head out to the campaign trail immediately, where Mr. Romney will have to find a way to turn the positive reviews from the debate into a sustained push that changes the dynamic of the race. He is expected to campaign with Representative Paul D. Ryan, his vice-presidential running mate, in Virginia on Thursday evening.

Mr. Obama has been very aggressive of late on the stump, and his scheduled events on Thursday in Denver and Madison, Wis., will give him a quick opportunity to show that energy. But some Democrats charged with helping to elect Mr. Obama in some key swing states privately expressed frustration after the debate Wednesday night that Mr. Obama's lackluster performance made their jobs harder.
Tom Bevan at RealClearPolitics described the debate as a "manhandling"  of Obama by Romney:
[I]t was Romney who did the pounding last night, assailing the president's record on the two most important issues of the campaign — the economy and jobs.

"My priority is putting people back to work in America," Romney said during an exchange early in the debate. "They're suffering in this country. And we talk about evidence. Look at the evidence of the last four years. It's absolutely extraordinary. We've got 23 million people out of work or stopped looking for work in this country. When the president took office, 32 million people on food stamps; 47 million on food stamps today; economic growth this year slower than last year, and last year slower than the year before. Going forward with the status quo is not going to cut it for the American people who are struggling today."

In that one exchange, the GOP nominee did what he and all his party's surrogates were unable to do in three days during their Tampa convention: succinctly sum up the rationale for a Romney presidency. Romney's performance was so dominating that even Obama's staunchest supporters — including members of his campaign team and the cheerleaders at MSNBC — were forced to concede Romney won the debate. And they were not happy about it.

Chris Matthews got more than a tingle up his leg Wednesday night watching Obama, berating the president for not putting up more of a fight for liberalism, as the pundits do on his network.

"Where was Obama tonight? There's a hot debate going on in this country. You know where it's been held? Here on this network is where we're having the debate," Matthews fumed. "We have our knives out. We go after the people and the facts. What was he doing tonight? He went in there disarmed."
The real question, of course, is whether any of this will actually matter in the end. As I noted during the run-up to the debates, there's very little evidence that debates have ever been game changers in Presidential elections. Nate Cohen is skeptical of the idea that the debate is likely to be a game changer, while Harry Enten sees a possibility that Romney may benefit from the debate but doubts that it will have a major impact on the polls unless other factors in Romney's favor start to intervene.  At the very least, though, as Politico notes, Romney's performance last night has managed to shake off the sense of impending doom that was enveloping his campaign and becoming the main topic of discussion among pundits. Clearly, if Romney had had a bad night last night the story today would be about how his campaign was in crisis mode. That didn't happen, though, and, at least for the moment, Romney has been given a second chance. Add to that the fact that, before the debate, there was evidence that Romney was closing the gap in the national polls, and the Romney campaign is probably feeling good right about now. In fact, I would suspect we'll see an uptick for Romney in the tracking polls over the next couple of days leading up to the Vice-Presidential Debate on October 12th. The question, though, is whether this debate will be seen as the moment the 2012 Presidential Election took a major turn.
History suggests a difficult path ahead for Mitt Romney notwithstanding the outcome of last night's debate.
For some reason, there has been a history of incumbent President's performing poorly in the first head-to-head debate of the run for re-election. It happened to Ronald Reagan in 1984 when, in his first debate with Walter Mondale, Reagan appeared befuddled, confused, and just plain out of it. There had already been concerns expressed by some about Reagan's advanced age at the time, and the events of October 7, 1984 only seemed to reinforce those concerns. At the second debate some three weeks later, though, Reagan effectively ended those concerns with pulling off one o the best debate lines in political history, as well as by not exhibiting any of the behavior the nation had seen at the first debate. It's unclear that Reagan was ever in any danger of losing the election back then, I kind of doubt it, but his first debate performance was a problem for his campaign at the time. Similar problems developed for George W. Bush during his first debate with John Kerry in 2004.  Based largely on his own demeanor during the debate, Bush came away largely seen has having lost the debate, something which energized the campaign of Massachusetts Senator John Kerry. That was only temporary, though, because Bush came back in the second and third debates and erased many of the doubts that had developed in the Miami debate.  Now, it's happened to Barack Obama.
For both Reagan and Bush, that first lackluster debate performance led to problems for the campaign, but those problems were only temporary. After the subsequent debates, the story became how the candidate had "come back" and their campaign was re-energized. Will the same thing happen for Obama? It's certainly possible. After all, the next debate on October 17th is a town-hall style debate. This is a format that Obama is likely to be very comfortable with, and one that he has used in his campaign appearances going all the way back to 2007. It's very easy to see him doing quite well under these circumstances. Romney, on the other hand, hasn't always done well in these one-on-one interactions with the public, often coming across as awkward to one degree or another. I would suggest that Obama has and advantage going into the next debate and that, if he does well, it will likely put an end to whatever doubts are going to arise over the next two weeks.
In addition to the town hall debate, there's also the Vice-Presidential Debate on October 12th. Ever since Paul Ryan was named to the Republican ticket, I've noticed that most people on the right are assuming that Ryan is going to wipe the floor with Biden. That could be true, but it strikes me that this is just another example of conservatives underestimating the Vice-President, a phenomenon I noted shortly after Ryan was selected. There were many during the 2008 Democratic primary race who said that Biden was the best debater in the group of candidates while he was still in the race, especially on issues of foreign policy. Additionally, his performance in the debate four years ago with Sarah Palin was fairly good, and certainly didn't do anything to hurt the ticket. The idea that Biden is some kind of blubbering idiot who may not even remember to wear pants for the debate strikes me as extreme foolishness. It's entirely possible that Biden will do just fine in next week's debate, he could even be perceived as having "won" it. If that happens, then at least some of the negative impressions from last night will start to disappear.
As we did in 1984 and 2004, we are left with an incumbent President who came across badly in the first debate of the election cycle. Those two Presidents managed to turn things around in subsequent debates and pull off a victory and there's no reason to think that President Obama won't be able to do the same. It could turn out differently this time, of course. Mitt Romney could be so re-energized from last night that he ends up turning his entire campaign around and actually makes this race a contest. Right now, though, it's impossible to say what will happen, but the idea that the election is over in any respect after last night is simply absurd.
Update: Tom Dougherty has commented on this post, and the debate, in a post I commend to your attention.