Disney Drops Bid To Trademark "SEAL Team Six"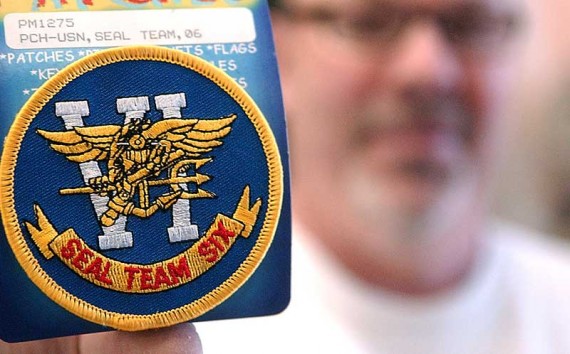 I noted in the week after the Osama bin Laden raid that Disney had filed paperwork with the Patent And Trademark Office to trademark "Seal Team Six," with the obvious intention of using the name in some entertainment context. Well, the Navy wasn't too happy about that and Disney has relented:
Less than a month after a daring raid on Osama bin Laden's secret hideout, the U.S. Navy's SEAL Team 6 notched a victory over the Magic Kingdom.

Walt Disney Co. said Wednesday that it would pull an application with the U.S. Patent and Trademark Office in which the entertainment giant sought the exclusive right to use the term "SEAL Team 6" on items ranging from toys and games to snow globes and Christmas stockings.

Disney withdrew the application "out of deference to the Navy," a spokesman said.

The move comes after comics and other critics ridiculed the Burbank, Calif., company for trying to profit off bin Laden's killing. Disney first made the claim two days after the world learned of the secret special-operations unit's daring mission into the al Qaeda leader's Pakistan compound.

"Putting a trademark on SEAL Team 6 is like copyrighting 'The guys who stormed the beach at Normandy,'" joked "The Daily Show" host Jon Stewart last week. "It belongs to all of us."

Navy officers privately expressed relief Wednesday that the company had chosen voluntarily to retract its application, saving the organization from a long trademark battle.

The Navy first fired back at Disney with its own filings for trademarks on the phrases 'SEAL Team' and 'Navy SEALs,' on May 13, several days after Disney's application. Those terms denote "membership in an organization of the Department of the Navy that develops and executes military missions involving special operations strategy, doctrine, and tactics," the Navy said in its filings. The Navy had a beachhead with its longstanding trademark on "SEALs," which it has licensed for videogames, among other products.

"We are fully committed to protecting our trademark rights," Commander Danny Hernandez, the chief Navy spokesman, said Wednesday.

Disney's intentions were misunderstood, according to a person familiar with the entertainment company's plans. Disney, which owns the ABC television network, is considering a TV show about the elite squad, similar to other fictional dramas about real-life arms of the military, such as "NCIS" and "JAG."
If that was their intention, one wonders why they didn't approach the Navy first, rather than taking the unusual and, in the end controversial, step of purporting to trademark a name that has become associated with the U.S. military and the group responsible for the death of Osama bin Laden. In the end, this was a smart move by Disney since being involved in a lawsuit with the Navy would not be in the interests of a corporation that has a carefully crafted public image.