Do New York Republicans Really Want To Win An Election By Appealing To Religious Intolerance?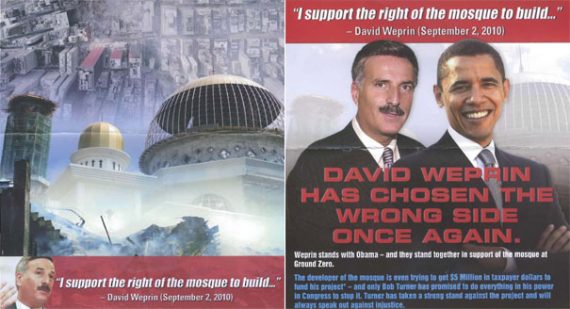 Reacting to the news that the so-called "Ground Zero Mosque" has been raised as a political issue by New York Republicans, Don Surber says the following:
Unfair cry liberals. Think Progress headlined its story: "New York GOP Exploits 9/11 Anniversary, Sends Islamophobic Mailer To Voters In NY Special Election." And then went on to proclaim: "It is important to note that several Republicans like Gen. Colin Powell, Sen. Orrin Hatch (R-UT), and Ted Olson — whose wife died in the attacks — support the construction of the Islamic Center. They join most religious leaders, Iraq and Afghanistan war veterans, and families of the 9/11 victims in support."

My, my, my. If supporting the building of the mosque is the right thing to do, why not stand by those words that were said 13 months ago? Oh wait, that high-moral-ground stand might cost Democrats a seat in Congress. So what liberals are saying is that they are willing to stand up for unpopular causes — unless doing what they say is right may cost them a few votes.
I don't know Welprin, and I probably wouldn't support him if I lived in NY-9, but the point isn't about whether he's unwilling to stand up for an unpopular cause, it's whether it's appropriate for a political party to appeal to bigotry, religious intolerance, and distorted facts in order to win an election.This may very well be a smart political move on the part of the New York GOP, just as it was probably a smart political move for Jesse Helms to run his affirmative action ad, but that doesn't make it right.
The entire "Ground Zero Mosque" controversy was based on a series of lies, exaggerations, and distortions designed to appeal to fear and intolerance. Is that really how the New York Republicans want to be remembered if they pull off this improbable victory?