New York GOP Sends "Ground Zero Mosque" Flier To NY-9 Voters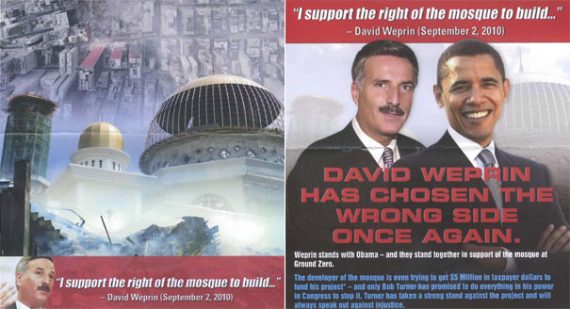 A Republican mailer in the surprisingly competitive Special Election to replace Anthony Weiner has dredged up last summer's controversy over the so-called "Ground Zero Mosque":
New York Republicans have sent out a kitchen-sink mailer in the hotly-contested Queens congressional special election depicting a mosque superimposed over the scarred Ground Zero site on one side, and Democrat David Weprin alongside President Barack Obama on the other.

The mailer is one of a string that the New York State Republican Party sent out in this close race between state Assembly member Weprin and Republican businessman Bob Turner for the 9th congressional district seat that was held by scandal-singed Democrat Anthony Weiner.

But it's also one of the more incendiary fliers in the contest that was supposed to be a lock for Democrats in a reliably blue district, but has turned into a dogfight in which Turner has the momentum.

The front of the flier features a golden-domed mosque rising in front of the demolished World Trade Center site, a shell of metal rising near a photo of Weprin and a quote of his from last September, saying: "I support the right of the mosque to build …"

The reverse page is a picture of Weprin juxtaposed against a photo of the president, and text reading: "Weprin stands with Obama — and they stand together in support of the mosque at Ground Zero."

The piece was received by a registered voter in NY-9 in the past week, landing in the days leading up to the 10th anniversary of the Sept. 11, 2001 attacks.

The mosque was a major controversy around the time of last year's 9/11 anniversary, but since then it has died down. That's been in no small part because the mosque builders have run into several problems as they've tried to fundraise, raising questions about whether the project will ever even come to fruition.

Nonetheless, Turner has made political hay of it, releasing a TV ad that focused on the mosque issue. Last week, Democrats trying to boost Weprin released, and then tried to yank, a spot showing an airplane flying across the sky, in what was seen as an attempt to refer to the terror attacks. The spot reportedly still ended up running in New York on Friday.
Other candidates who attempted to get political gain out of appeals to intolerance such as this have failed,  I'm tempted to say that Turner deserves to follow them.