Do Voters Care About Elizabeth Warren's Past Claims To Native American Ancestry?
At this early stage of the Democratic race, it doesn't appear that voters care very much about the controversy surrounding Elizabeth Warren's claims of Native American ancestry.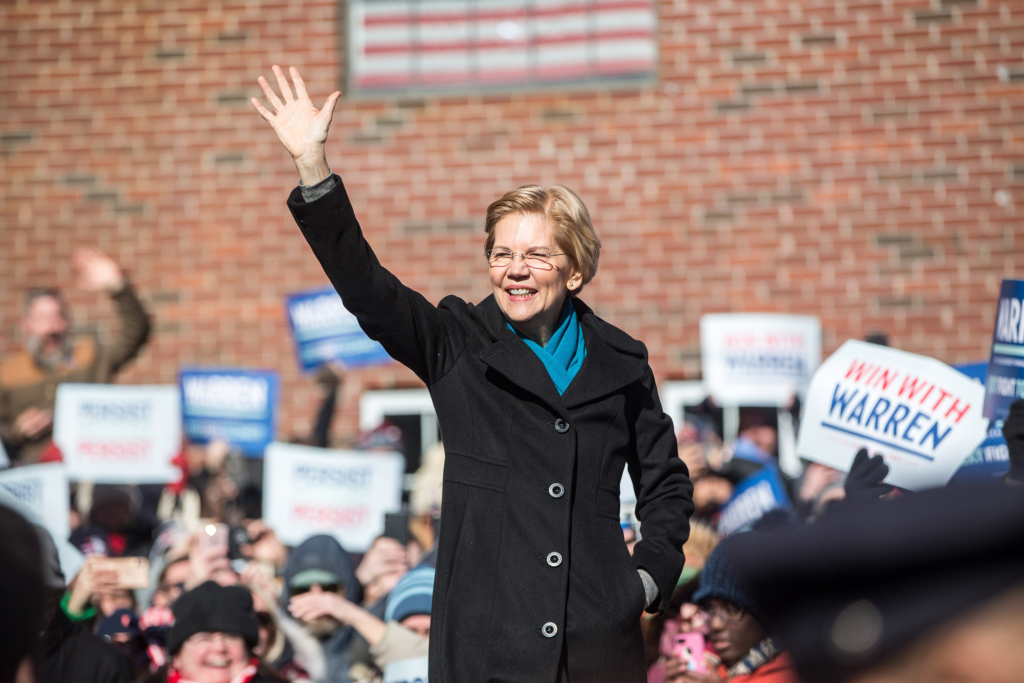 Elizabeth Warren is well into her campaign for the Democratic nomination and, so far at least, the controversy about her claims of Native American ancestry do not seem to be having much of an impact on voters:
LAWRENCEVILLE, Ga. — Anna Stein, 44, doesn't have a preferred presidential candidate yet for the 2020 Democratic nomination. But one thing is certain, she says: Elizabeth Warren's handling of her Native American ancestry claims will not factor into her decision.

A.J. McConnell, 70, suspects he'll vote for Kamala Harris, the California senator, for president. But he thinks the criticism over Ms. Warren describing herself as Native American for years is unfair, because he also had family members who once identified as Native Americans.

Bobbie Pate, 69, arrived at a Warren rally in northern Georgia on Saturday a little worried that Ms. Warren would mention the ancestry issue. Even acknowledging it would give credence to President Trump's "racist attacks" on Ms. Warren, the Massachusetts senator she said. (Mr. Trump routinely slurs her as "Pocahontas.")

"Everybody makes mistakes," Ms. Pate said of Ms. Warren's bumpy handling of her ancestry. "But it's small potatoes compared to what Trump had done."

In interviews over the last month with about three dozen Democratic voters, many in early primary states, almost all of them expressed far more interest in Ms. Warren's policy ideas than her ancestry and said that they were exhausted or uninterested by the story line. They described it as overblown, reflecting a disconnect between voters in the party's base and some political elites, media commentators and conservatives who have been preoccupied with the issue.

"Right now is a time to listen to ideas," said Holly Sauers, a staunch Democrat and resident of Charleston, S.C. "That's what we're focused on."

Among these voters, who were mostly white and black Democrats who acknowledged their own misunderstandings about Native American communities and history, Ms. Warren is not a perpetrator of harm, but a victim of a Washington culture that delights in any scandal among politicians — and particularly elected officials who are women.

Citing the 2016 defeat of Hillary Clinton, the first woman to be nominated for president from either major party, many Democrats — including those not predisposed to Ms. Warren — expressed particular protectiveness of their candidates this cycle. That instinct has extended not only to Ms. Warren, but also to other Democratic presidential candidates such as Senator Harris, who has faced questions about her own views, and more recently Senator Amy Klobuchar of Minnesota, who has been accused of sharply criticizing some of her own staff members.

"This time, we don't want to focus on the negativity," said Ms. Stein, who attended Ms. Harris's rally on Friday in Charleston. She said she felt that the talk of Ms. Warren's Native ancestry was driven by Mr. Trump.
To be fair, many of the voters who were questioned in this article are people who are probably inclined to support Warren in the primaries, and they are Democrats or Democratic-leaning independents. To that extent, it's likely that the reporters talking to them were dealing with a self-selecting sample of people already inclined to support Warren, or at least people who likely view the whole controversy as something cooked up by the President and his fellow Republicans, who have been trying to use this issue against Warren since she ran for Senate against Scott Brown seven years ago. Just as Democratic and other voters didn't care very much about the issue in 2012 or 2018, these voters inclined toward supporting Warren or at least listening to her on the issues may not be the appropriate audience with whom to address the impact of Warren and the Native American issue.
Taking those caveats into account, though, it would appear that the views of these voters are consistent with voters as a whole as shown by polls and election results. For example, polls that were taken in advance of the 2018 election showed that most voters had not changed their opinion of Warren after the controversy that erupted when she released a DNA test that showed she had a very small amount of DNA linked to Native Americans. That move was widely criticized by Native Amerian groups who insist that being Native American is tied to tribal ties, not DNA tests, and mocked by Republicans due to the fact that it showed that the Native Amerian segment of her DNA was so incredibly small as to be largely insignificant and, in any case, no indication that she had a Native American ancestor in the recent past. Another poll showed similar results as did a third that showed Warren would run neck and neck with Trump in a hypothetical General Election. Additionally, of course, Warren won in both 2012 and 2018 easily notwithstanding the controversy. Taking this into account, one has to wonder whether the whole"Native American" controversy is going to matter to Democratic voters in 2020 and whether it really matters to anyone other than Republicans who aren't going to vote for Warren in the first place.