Does It Matter Who Wins In November?
In reality, it probably doesn't,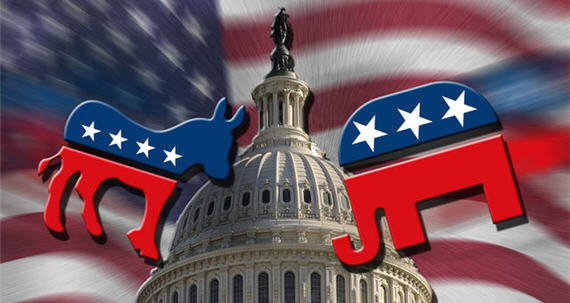 Over at his own place, Dave Schuler seems to doubt that it really matters whether Barack Obama or Mitt Romney wins on November 6th:
Regardless of who is elected the U. S. will continue to be interventionist in its foreign policy.

Regardless of who is elected the "Bush tax cuts" will be sustained. There may be some tweaking around the edges.

Regardless of who is elected healthcare costs will continue to rise and healthcare will comprise a larger share of federal spending.

Regardless of who is elected the detention center in Guantanamo will be maintained.

Regardless of who is elected the security apparatus put in place in the aftermath of the attacks in New York and Washington, DC in 2001 will only be expanded.

Regardless of who is elected the non-existent Social Security trust fund will be drawn down at an accelerating rate.

Regardless of who is elected large banks will continue to be subsidized. Small banks will continue to be absorbed by large banks.
Sadly, I think Dave is largely correct here. In fact, I'd add to his list the following:
Regardless of who is elected Congress will continue to engage in games and showmanship rather than addressing any of the nations problems
Regardless of who is elected the odds that we will ever reach a comprehensive deal addressing long term fiscal and entitlement issues is exceedingly low
Regardless of who is elected the powers that have been assumed by the Presidency since the September 11th attacks will continue to expand
Regardless of who is elected Presidents will continue to bypass Congress when making decisions to commit Americans troops abroad
Regardless of who is elected Congress will do nothing to reassert its Constitutional authority in areas of war-making and foreign affairs
Regardless of who is elected the nation will continue to be distracted by irrelevancies designed to increase the short-term political gain of one side or another
And that's just what I can come up with off the top of my head.
Part of the reason for this is that, except at the margins, there really aren't as many differences between the two parties as they like to pretend they are, especially once they actually get into power. They both exist for the purpose of expanding that power, which means distracting the public with irrelevant memes and partisan nonsense. Moreover, given the fact that we're now in an era when outside groups have far more influence over legislators than the party they belong to, the ability of party leaders to restrain their fringe members is far less than it used to be. A prime example of that can be found in the manner in which the entire debt ceiling debacle played out last summer. It was fairly clear that John Boehner would have liked to agree to a deal at several points in the negotiations, but he was unable to do so because he couldn't guarantee that his own caucus would support it. As a result, we have gridlock, economic nonsense, and a downgraded credit rating. Not to mention a "budget deal" that is little more than smoke and mirrors.
If Barack Obama wins the election, he's most likely still going to have to deal with a Republican House, and possibly a Republican Senate. That means that the odds that he'd be able to force through an agenda of any kind in the early years of a Second Term. If Mitt Romney wins the election, he will at the very least have to deal with a Democratic minority in the Senate that will be no less willing to use the filibuster and cloture to stop legislation than their Republican counterparts have been. The logical thing to do, of course, would be to compromise, but compromise is now a dirty word in a Congress where partisan polarization is far worse than it has been in quite a long time. Even when it comes to Supreme Court appointments, we're likely to get medicore milquetoast nominees because that's all that's going to be able to make it through the Senate.
On foreign policy, Mitt Romney is unlikely to be any different from Barack Obama on the details notwithstanding his rhetoric when it comes to nations like Israel, Iran, Russia, and China. Unfortunately that means we'd have a continuation of many of the same failed policies of the Bush years that Barack Obama himself has continued to implement. As Dave said, it really doesn't matter who wins, we're still going to engage in foolish interventionism around the world whether it's in our interests or not.
The next seven months are going to be full of sturm and drung. Both sides are going to claim, as they always do, that this is the most important election in history and that the fate of the nation lies in the balance. The truth is far more, banal, though. Regardless of who wins, there's very little that's likely to change, and inertia is going to continue dragging us toward whatever faces a nation that fails to address the long term problems it clearly has.