Donald Trump And The Inevitable Foreign Policy Crisis
Donald Trump is historically unpopular for a new President. What does that mean when his first foreign policy crisis comes, as it inevitably will?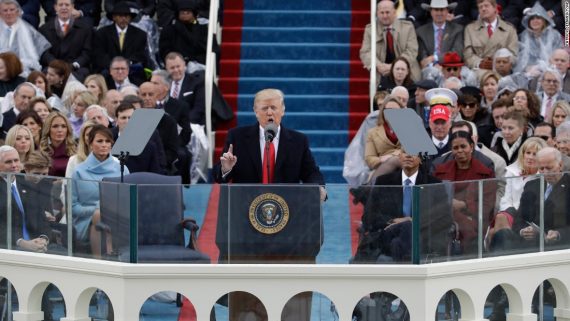 Looking at the same falling poll numbers I was talking about yesterday, Daniel Drezner worries that President Trump may escalate a foreign crisis in an effort to rebuild his popularity:
For Trump to be polling this badly so early in his presidency is unprecedented. For this to be happening in a reasonably decent economy is even more unprecedented. What will an unpopular president who is obsessed with being popular do in such circumstances? Escalate a foreign policy crisis to get Americans to rally around the flag.
Daniel Larison isn't so sure that Trump would benefit much from a "rally around the flag" effect:
Drezner notes that Trump's low approval ratings at this stage of his presidency are unprecedented, and they are. Why is that? Most Americans don't just think he is doing a poor job, but many of them also don't trust that he knows how to do the job at all. If Trump were to escalate a foreign crisis in the hopes of boosting his approval rating, he would discover quickly that in doing this he had further eroded any remaining public confidence in his leadership.

For one thing, there would be widespread suspicion that he was making his decisions for cynical political reasons and not because he had legitimate national security concerns. Other ostensibly national security-related decisions that Trump has already made have been greeted with such suspicion, and with some justification. Given how tarnished (or non-existent) his credibility is with so many people already, a lot of Americans wouldn't believe him no matter what he said about his reasons. It would also ensure that his presidency was dominated by preoccupation with foreign policy problems to the exclusion of almost everything else, and many of his supporters would not approve of that. Trump might still do something that foolish, but if he did it would be practically guaranteed to consume his presidency.

(…)

Instead of rallying the public behind the president, we see in the record many times that the president's failure to avert and/or solve the crisis or his responsibility for getting the U.S. into a costly, protracted war hardens domestic opposition to him and causes many of his former supporters to turn against him. That is even more likely to be result if the president is seen as the one responsible for instigating or worsening an otherwise manageable crisis.
Until this crisis comes, and it seems inevitable that Trump, like every President since at least World War II before him, will face some kind of foreign policy crisis at some point in the next four years whether it comes in Syria, Eastern Europe, or the Korean Peninsula it's hard to say exactly what might happen. On the one hand, it's generally been true that Presidents do tend to see their popularity at home increase in the wake of a foreign policy crisis, but those instances have almost universally come in situations where the President's overall job approval was in reasonably good shape to begin with and the American people had at least some innate trust in the person making the decisions in the Oval Office. In this case, we're talking about a President with historically low job approval ratings who has absolutely no experience in dealing with foreign affairs beyond the women he's dated. In such a situation, it's likely going to be the case that the American people are less likely to give him the benefit of the doubt and more likely to question his judgment. Certainly, his most loyal supporters will probably rally around him, and he might see some uptick in support from people who have drifted away over the past two months, but it seems rather unlikely that President Trump would see the kind of massive increase in job approval and popularity that past Presidents have seen in the face of an international crisis. Whether this makes him more or less likely to lash out is an open question,
The more interesting question for me isn't so much whether Trump's popularity could increase or decrease in the wake of a foreign policy crisis, but whether the American people would either believe him or trust that he can make the right decisions. We've never really been in a situation where an unpopular President was forced to deal with a foreign policy crisis, so it's hard to say how the public would react if Trump were to suddenly to try to rally public support for military action somewhere around the world. Given the general war-weariness of the American public, I suspect that the initial public response would be rather negative, but we can't be sure about that. Additionally, we don't really know how Trump himself will continue to react to the fact that he is becoming increasingly unpopular with the American public as a whole and how that could impact his response to a crisis somewhere around the world. At some point in the relatively near future, though, I suspect we will all find out. Unfortunately, my instincts tell me that it won't end well for anyone.