Donald Trump Continues To Attack His Own Attorney General
President Trump's weeklong effort to undermine his own Attorney General continues.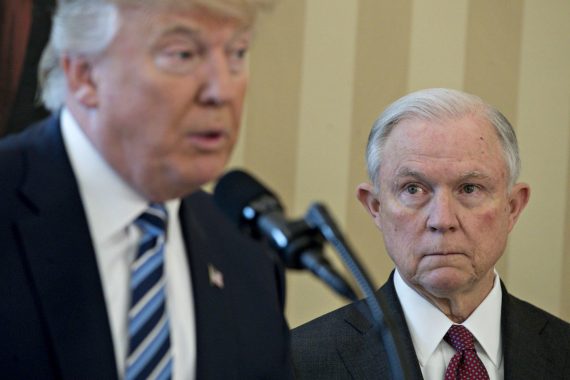 With yet another morning tweetstorm, President Trump is continuing to wage a  war on his own Attorney General, raising questions about just how much longer Jeff Sessions can or will remain in office:
WASHINGTON — President Trump continued his attacks on Attorney General Jeff Sessions on Tuesday, reviving his campaign call to investigate Hillary Clinton's "crimes" as he slammed Mr. Sessions's inaction.

His two early morning tweets were the latest in a string of attacks on Mr. Sessions that began when he told The New York Times in an interview that he never would have appointed Mr. Sessions to be attorney general if he had known he would recuse himself from the Justice Department's investigation into the Trump campaign's ties with Russia. The recusal was the first in a series of steps that led to the appointment of a special counsel to oversee that investigation.

One of Mr. Trump's top advisers acknowledged that the president likely wanted Mr. Sessions out of the attorney general's office.

The adviser, Anthony Scaramucci, hired last week as White House communications director, said he did not want to speak for Mr. Trump, but given the level of public tension between the president and his attorney general, it's "probably right" that Mr. Trump wants him out of that job.

"He's obviously frustrated," Mr. Scaramucci said in an interview with the conservative radio host Hugh Hewitt.

On Monday, Mr. Trump called Mr. Sessions "beleaguered" in a tweet, raising questions about whether Mr. Sessions would resign. Mr. Sessions, one of Mr. Trump's earliest campaign supporters, has previously shown no indication that he was considering resigning.

Mr. Trump was critical on Tuesday about what he called Mr. Sessions's "VERY weak position" on an investigation into Mrs. Clinton's use of a private computer server. The F.B.I. investigated and closed the inquiry without charges in 2016.

Mr. Scaramucci told CNN on Monday that Mr. Sessions and the president needed to "sit down, face to face, and have a reconciliation and a discussion of the future."

If Mr. Sessions were to resign or be fired, Mr. Trump could appoint a successor during the congressional recess who would not face Senate inquiries into his or her position on recusal and could take over, at least temporarily, without a confirmation vote. That could allow the president to assert greater control over the special counsel investigation into his campaign's contacts with Russia.

In another tweet on Tuesday, Mr. Trump attacked the acting F.B.I. director, Andrew McCabe, for what Mr. Trump described as his role in the investigation into Mrs. Clinton's computer use.

In criticizing Mr. McCabe, Mr. Trump revived reports that Mr. McCabe's wife accepted contributions from a longtime Clinton supporter in her bid for a Virginia state Senate seat.

Mr. Trump also tweeted that Ukraine tried to "sabotage" his presidential campaign and help Mrs. Clinton.

Mr. Trump appeared to be referencing the Fox News host Sean Hannity's discussion of a January Politico story about Mrs. Clinton's allies coordinating with Ukrainian officials to research politically harmful information about Mr. Trump and his advisers. Mr. Trump's supporters have used this anecdote to justify the actions of Mr. Trump's eldest son, Donald Jr. In June 2016, the younger Mr. Trump had a meeting with a Russian lawyer in which he was promised potentially damaging information on Mrs. Clinton.
Here are the tweets from this morning in which Trump went after Sessions and Acting F.B.I. Director Andrew McCabe:
Ukrainian efforts to sabotage Trump campaign – "quietly working to boost Clinton." So where is the investigation A.G. @seanhannity

— Donald J. Trump (@realDonaldTrump) July 25, 2017
Attorney General Jeff Sessions has taken a VERY weak position on Hillary Clinton crimes (where are E-mails & DNC server) & Intel leakers!

— Donald J. Trump (@realDonaldTrump) July 25, 2017
Problem is that the acting head of the FBI & the person in charge of the Hillary investigation, Andrew McCabe, got $700,000 from H for wife!

— Donald J. Trump (@realDonaldTrump) July 25, 2017
Trump is saying all of this about someone who is both his own Attorney General and someone who gave up what was a Senate seat that was so safe that Democrats didn't even bother putting up a nominee the last time him ran for re-election but also the first real high-profile member of either the House or Senate to back his campaign and who gave Trump the legal excuse he needed to fire former F.B.I. Direct James Comey back in May. At the same time, Trump's own White House seems to be joining in the effort to push Sessions out the door. This morning, for example, newly elevated Press Secretary Sarah Huckabee Sanders appeared on Fox & Friends and acknowledged that the President is "frustrated" with the Attorney General because of his decision to recuse himself from the Russia investigation as internal Justice Department rules require. Newly hired Communications Director Anthony Scaramucci, meanwhile, told conservative talk radio host Hugh Hewitt that Trump probably wants Sessions out because of alleged tension between the two. Additionally, other reports are saying that Trump has recently been asking outside advisers what would happen if he fired Sessions. This comes at the same time that Rudy Giuliani appears to be being floated as a potential replacement for Sessions. Other names being floated include Texas Senator Ted Cruz as well as New Jersey Governor Chris Christie, who has been mentioned as a potential replacement for Sessions for several months now.  In that regard, though, it's worth noting that Giuliani said yesterday that he believed that Sessions made the right decision when he recused himself from the Russia investigation, and Ted Cruz denied that he'd had any contact with the White House about these reports.
On some level, of course, the manner in which Trump is publicly humiliating the Attorney General is utterly bizarre. If Trump wants Sessions gone, then it's clear that he has all the authority he needs to demand his resignation immediately for any reason or, quite honestly, no reason other than the vague idea that he has 'lost confidence' in Sessions to do the job that Trump appointed him to do. The fact that he isn't doing that, at least not yet, makes his current public behavior even more bizarre than it ordinarily. One possibility, of course, is that Trump realizes that firing Sessions the way he did Comey would lead to even more questions about his rather obvious efforts to cut off the investigation into Russian interference in the election and contacts between Trump campaign officials and Russian officials. Given that, it's possible that he is engaged in this effort to publicly undermine Sessions in an effort to basically goad him into resigning on his own. So far, at least, Sessions isn't commenting on this whatsoever, but one has to imagine that it isn't exactly making him, or anyone else at the Justice Department feel very comfortable.
As with much of Trump's behavior as President, the manner in which he's treating his Attorney General violates all the standard norms of American politics. Obviously, any President has the authority to dismiss the Attorney General or any other cabinet official at any time for any reason, but the manner in which the President is behaving here is quite simply unacceptable. From his comments, it's clear that the President is seeking to do the same thing he was aiming for when he fired the Director of the F.B.I., to undermine the investigation into the still developing Russia scandal and to get the continued questions about it off of his back. His attacks on Sessions and McCabe, therefore, are really nothing less than an attack on the Justice Department in general and the rule of law. I said when he was appointed, that Jeff Sessions was a flawed nominee for Attorney General, and those flaws remain even now. In this showdown with an out of control President, though, those who support the rule of law should side with him over a President who clearly wants to fill the Justice Department with people who are loyal to him first, and the country and the law second. He needs to be stopped before he succeeds in doing so.