Donald Trump Continues To Expand His Lead In Latest Republican Poll
Another poll, another Donald Trump lead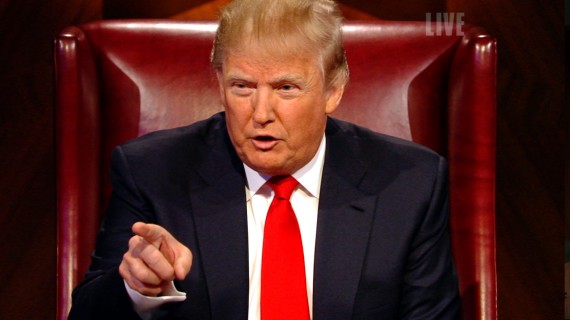 Another national poll shows Donald Trump in the lead among Republicans, and Rick Perry seemingly shut out of the main debate this Thursday:
The identities of the 10 Republicans likely to be on stage at Thursday's presidential debate are coming into focus after another poll on Monday shows Donald Trump running away from the rest of the field and Rick Perry lagging behind his competitors for the final spot.

A new Monmouth University poll has Trump at 26 percent, easily topping his competitors. The next-closest candidates — former Florida Gov. Jeb Bush and Wisconsin Gov. Scott Walker — are at 12 percent and 11 percent, respectively.

Both the new Monmouth survey and an average of the five most recent live-caller polls — Fox News' criteria for whittling the list of Republicans down to 10 candidates for Thursday night's debate — reinforce the tiers that have developed since Trump upended the race by surging to the top.

Beneath Trump, Bush and Walker are five more candidates who are hovering around 6 percent in the poll average (and scored between 4 percent and 6 percent in the Monmouth poll): pediatric neurosurgeon Ben Carson, Texas Sen. Ted Cruz, former Arkansas Gov. Mike Huckabee, Kentucky Sen. Rand Paul and Florida Sen. Marco Rubio.

Those eight candidates are virtually assured of spots on the debate stage. The race for the final two places is close — but becoming clearer.

The Monmouth poll has New Jersey Gov. Chris Christie at 4 percent, Ohio Gov. John Kasich at 3 percent and former Texas Gov. Rick Perry at 2 percent. That puts Christie and Kasich in a tie for ninth place in the average, at 3.4 percent — ahead of Perry, who is at 2.8 percent.
There will be at least one more poll released before the 5:00pm Tuesday deadline that Fox News has established for the polls that it will consider in issuing invitations. Bloomberg announced this morning that their national poll will be released tomorrow morning. In addition to that, and as I said yesterday it is likely that we will see a new poll from Fox News itself in the next twenty-four hours, and possible that we'll see one from CBS News and The New York Times. Unless there are major changes in those polls, the debate stage seems to be largely set and the only question that remains slightly unknown is who will get the final two spots in the debate. Right now, Christie and Kasich are tied for ninth and Rick Perry is so far behind both of them in the average that it seems unlikely that he'll be able to wiggle his way into second place. However, Fox has never been clear about how they are calculating the  average, how they handling the rounding of that average, and what they would do in the case of a tie for 9th or 10th place. Given that, it's possible that they could decide to count Perry as being in 10th place even though he'd be the 11th candidate on the stage, although given the time restriction that they've put on the debate that seems unlikely at this point.