Donald Trump Is Still A Birther, But He Doesn't Want To Talk About That Anymore
Donald Trump says he still doesn't know where the President was born, but he'd rather not talk about that anymore.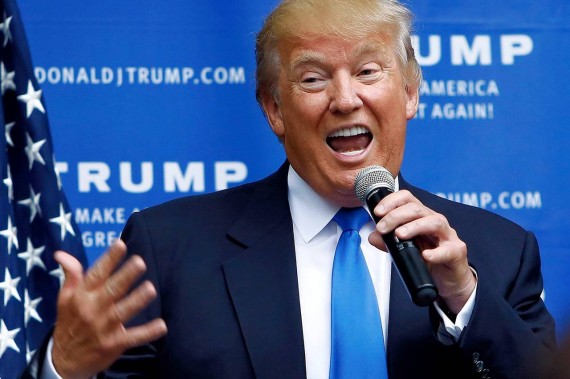 Donald Trump says he still doesn't know where President Obama was born, but he doesn't want to talk about it anymore:
Donald Trump says he's still not convinced President Obama was born in America, but that he's not interested in rehashing the issue.

"I don't know. I really don't know," the 2016 Republican presidential candidate told CNN when asked on Thursday. "I don't know why he wouldn't release his records."

Trump insisted he doesn't want that debate to define his candidacy, though.

"Honestly, I don't want to get into it," he said. "I'm about jobs, I'm about the military, I'm about doing the right thing for this country."
Here's the video:
Given the fact that he has never really taken back what he said in 2011 about the President's place of birth even have being presented with incontrovertible evidence establishing that Barack Obama was born in Hawaii, it's not surprising that Donald Trump is still saying that he believes what he believed four years ago. After all, this is not a man who has ever really publicly admitted that he was wrong about anything so there no reason for him to start now. At the same time, though, it is interesting that he's choosing not to emphasize the issue that vaulted him to the top of the polls temporarily during the last election cycle. Instead, he's pushing an issue that resonates will with a good part of the Republican base and the fact that he's doing it in a way that is causing the media and many establishment Republicans to attack him is probably helping him with that segment of the party. What this suggests, as Allahpundit notes in his post this morning, is that Trump is actually approaching this race as a smarter politician than some of us may be giving him credit for. He's most likely not going to win the election, what he's saying is both offensive to immigrants to the United State from all cultures and quite simply wrong, but it's resonating with a certain segment of the party right now. As I've suggested before, to a large degree that's because it's still early in the race and voters know that they can change their minds more than once before the time to vote actually arrives. It's also because Trump is far better at handling the media than anyone in the race on either side, largely because he clearly doesn't care what the reporters say about him. You won't Jeb Bush, Marco Rubio, or Hillary Clinton acting this way, of course, but Donald Trump can do it because, in the end, he clearly doesn't really care if he wins or not. This is all a game to him and we're just along for the ride.
Peggy Noonan hits on this in her column today:
Donald Trump has a real following, and people make a mistake in assuming his appeal is limited to Republicans. His persona and particular brand of populism have hit a nerve among some independents and moderate Democrats too, and I say this because two independent voters and one Democrat (they are all working-class or think of themselves that way) volunteered to me this week how much they like him, and why. This is purely anecdotal, but here's what they said:

They think he's real, that he's under nobody's thumb, that maybe he's a big-mouth but he's a truth-teller. He's afraid of no one, he's not politically correct. He's rich and can't be bought by some billionaire, because he is the billionaire. He's talking about what people are thinking and don't feel free to say. He can turn the economy around because he made a lot of money, so he probably knows how to make jobs.

He is a fighter. People want a fighter. Maybe he's impolitic but he's better than some guy who filters everything he says through a screen of political calculation.

Some other things Mr. Trump has going for him the three people I spoke to did not mention but they agreed when I did:

Mr. Trump is not a serious man, which is part of his appeal in a country that has grown increasingly unserious.

He's a showman in a country that likes to watch shows—a country that believes all politics is showbiz now, and all politicians are entertainers of varying degrees of competence. At least Mr. Trump is honest about it.

He capitalizes on the fact that no one in America trusts politicians anymore.

The thing that has propelled him so high so far—he's No. 1 among Republicans in one national poll, No. 2 in New Hampshire and tied for No. 2 in Iowa—is his announcement speech on June 16. One part of the speech has been heavily quoted: "When Mexico sends its people, they're not sending their best. . . . They're sending people that have lots of problems, and they're bringing those problems with us. They're bringing drugs. They're bringing crime. They're rapists. And some, I assume, are good people." That last—"I assume"—was the cruelest.

The minute I heard it I knew he'd hit a nerve. He said what a lot of people think and are afraid to say. Certainly after the murder this week of a young woman in San Francisco by an illegal-alien felon who'd been deported five times, what Mr. Trump said resonated.
In some sense then, the fact that Trump is succeeding right now is a reflection of the fact that so many Americans have lost faith in our political system. The resentment that he capitalizes on probably won't be enough to get him the nomination, and he'd never be elected President, but it's a real phenomenon and as long as he's able to tap into he's going to remain a factor in this race. Trump's decision to forgo the birther talk this time around is one sign of that, if he starts to return to it perhaps that will be a sign that he knows he's peaked..