Donald Trump, John Kasich Face Big Tests In Michigan
Both Donald Trump and Ohio Governor John Kasich face big tests in tomorrow's Michigan primary.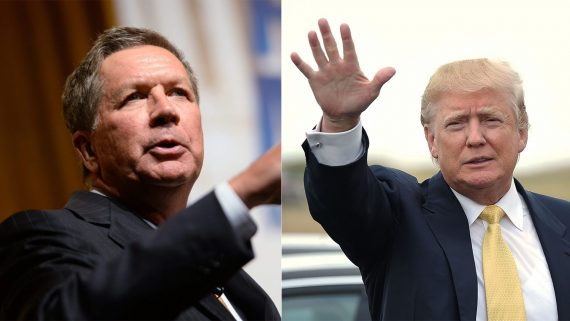 With Michigan's primary one day away, Donald Trump is waiting to find out if his efforts to appeal to blue color voters will work in the Midwest, and Ohio Governor John Kasich faces his first big test of the 2016 campaign:
WARREN, Mich. — Neil Mortensen remembers how neighbors lost factory jobs in this suburb north of Detroit, and then, inexorably and sadly, their homes.

"I'd see all these businesses that used to produce normal products, even brooms, that everybody uses and purchases today, but are not produced here — they are produced overseas," he said.

A construction manager, Mr. Mortensen escaped the waves of layoffs because his employer, which once built plants for heavy industry, is now in the demolition business. "Those factories are gone, and I get to knock 'em down, unfortunately," he said.

Which is how he and his wife, Kathy, ended up at a rally for Donald J. Trump, the anti-free-trade billionaire who promises to slap 35 percent tariffs on Ford cars built in Mexico. "We're hopeful that Donald can bring those jobs back, and our neighbors, too," Mr. Mortensen said.

Mr. Trump's appeal to blue-collar voters, mostly whites, is driving his popularity in Michigan, where he has a polling lead ahead of the Republican primary on Tuesday. And these same voters, who historically supported Democrats, are at the core of his strategy for winning the general election and turning Democratic-leaning Rust Belt states back into the red column.

Mr. Trump's rally here on Friday was in Macomb County, where political strategists first identified the phenomenon of Reagan Democrats. These white, working-class voters felt the party no longer protected their economic interests as it focused on affirmative action, welfare and other policies aimed at minorities.

If he is the nominee, Mr. Trump argues, he can deliver not only Michigan but other Rust Belt states, like Ohio and Pennsylvania, into the Republican column in November, broadening the party's traditional road to the White House.

A "normal Republican," Mr. Trump said at Macomb Community College, "cannot think of bringing in Michigan, and if you don't bring in Michigan, it's tough. You have a very narrow road."

"But I'm going to bring in places like Michigan," he said, pledging to win back a once-solid Republican state that has supported Democrats in the last six presidential elections.

The strategy might be a necessity if the party nominates Mr. Trump, because he would risk losing states, like Florida and Colorado, with large Hispanic populations. He has highly unfavorable ratings among Hispanic voters because of his call for a wall separating Mexico and his pledges to deport 11 million undocumented immigrants.

Mr. Trump's signature issues of opposition to free trade and a crackdown on illegal immigration, which Republican leaders once dismissed as outside the mainstream, have brought him a populist following, including independents and some Democrats.

"I like what he wants to do with the immigration," said Marvin Bryant, a former salesman who attended the rally in Warren. Mr. Bryant switched his registration from Democrat to Republican last year, and plans to vote for Mr. Trump this week.

Kurt Reidt, a captain of the Warren Fire Department, said his vote for Mr. Trump on Tuesday in the state's open primary would be his first ever for a Republican. "This is probably the worst state in the country with the economy," Mr. Reidt said as he entered the rally with members of his firehouse.

Although Republican nominees for decades have carried the vote of white men without college degrees, they are a shrinking share of the electorate. Mr. Trump's ability to win Rust Belt states in a general election would require him to turn out these voters in historically large numbers.

(…)

Mr. Trump spoke extensively in Macomb County about his plan to bring back manufacturing jobs, especially automotive jobs. He said he would pick up the phone to call the chief of any American company that moved factories to Mexico and threaten a 35 percent tariff (even though the president does not have that authority, and experts say if Congress agreed, it would likely set off a trade war).

"Within 24 to 48 hours" of such an ultimatum, Mr. Trump claimed, the chief of Ford would be on the phone. "They'll say: 'Mr. President, we're moving back. Would you like us to move to Michigan?' I'll say, 'Yeah, I really want you to move to Michigan.' And they'll move back."

Since entering the race, Mr. Trump has harped on Ford's investment of $2.5 billion in a Mexico plant. The automaker's chief executive, Mark Fields, has said he sent Mr. Trump a letter pointing out that the company had also invested $10 billion in the United States and created more than 25,000 jobs since 2011.

Representative Sander M. Levin, a Democrat who represents Macomb County in Washington, and who has opposed major trade deals for decades, said Mr. Trump was playing on people's fears with no practical solutions. "He pushes the buttons, but there's nothing behind it," Mr. Levin said. "The 35 percent tariff thing isn't workable."

"I think people more and more will realize it's demagogic," he added.

But a sampling of two dozen voters who heard Mr. Trump on Friday turned up little skepticism about his promises. They felt strongly that he was the lone truth teller in the race. Many said they were doing well economically, even while painting a grim portrait of the state and the nation on issues like immigration and national security.

Although the number of private-sector jobs has not returned to prerecession levels, Michigan's unemployment rate has fallen to 5.1 percent, down from nearly 15 percent at the height of the recession.

Detroit's automakers are experiencing record sales.

Nonetheless, the narrative of decline is pervasive, especially because many of the new jobs being created pay far less.

"We've got McDonald's and Burger King jobs, and that's about it," said Mr. Reidt, the fire captain.
In many respects, Trump's anti-immigrant, anti-free trade positions seem well-suited for a state like Michigan. Whether fairly or not, and I would argue mostly unfairly, trade agreements like NAFTA as well as other agreements with nations such as South Korea and others that Presidents Clinton, Bush, and Obama have entered into over the past twenty-five years are widely blamed by blue color workers for loss the manufacturing jobs as well as for the problems that were faced by the American auto industry that were driven into bankruptcy and a government bailout at the start of the Great Recession. Additionally, increased immigration, legal and otherwise, is seen by many (but not all) labor unions as a threat to wage levels since it brings into the country a supply of workers willing to work for wages that end up pushing overall wages down as well notwithstanding the efforts of unions to preserve and enhance wage and benefit gains. Given that, Trump's simplistic rants against free trade and immigration, most of which ignore existing law and the fact that he'd never be able to deliver on his promises even if he did get elected, seem well-suited to a significant part of the electorate not only in Michigan, but also in other parts of the Midwest that have been hit hard by the decline in American manufacturing over the past twenty-five years or more.
The first test of just how successful that message could be comes tomorrow in Michigan and, at least based on the polling, Trump seems to be well-positioned for a win, and possibly a substantial one that could greatly enhance his lead in the delegate count. With less than twenty-four hours to go, RealClearPolitics shows Trump (38.5) with an eighteen point lead over Senator Ted Cruz, who barely holds on to second place with an average standing of 20.5% and has Ohio Governor John Kasich nipping at his heels with an average standing of  20.0%. Marco Rubio is a distant fourth place at 13.3%. If these numbers hold up, then Trump stands to do very well in this contest and to pick up the lion's share of the 59 delegate at stake.
Another candidate who faces a test tomorrow is Ohio Governor John Kasich. With his home state's primary just a week away now, Kasich could benefit greatly from a strong showing in neighboring Michigan, especially since he hasn't performed well in any other states besides New Hampshire and Vermont since voting started at the beginning of February. In that regard, Kasich's campaign is no doubt encouraged by the two most recent polls out of the state, both of which suggest at least some movement in his direction in the last week or so. In one, from Fox 2 Detroit, Kaisch garners 20% of the vote to put him in second place ahead of Senator Ted Cruz, although the fact that this same poll also shows him 22 points behind Donald Trump somewhat mutes the "good news" of the poll itself. Another poll released today by Monmouth University, meanwhile, puts Kasich in third place with 21% of the vote behind Donald Trump at 36% and Ted Cruz at 23%. Both of these polls indicate that there may be at least some late movement toward the Ohio Governor, and that could help him turn in the kind of respectable showing that could help him with momentum heading into an Ohio primary that is, without exaggeration, do or die for his campaign. Indeed, if Kaisch can at least come in second in Michigan, he should be well positioned heading into that final test next Tuesday. Whether he'll succeed at that point is, of course, another question entirely.