Donald Trump Says His Muslim Travel Ban Is 'Just A Suggestion'
The walk backs begin.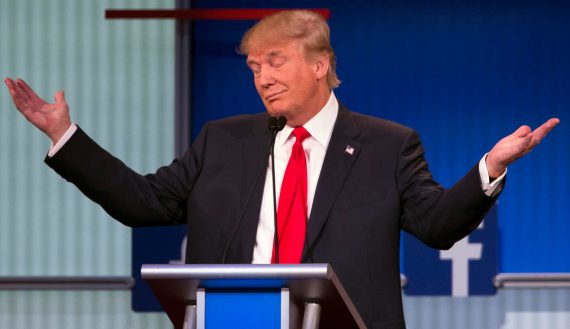 Donald Trump is now saying that his proposal to ban Muslim immigration into the United States is 'just a suggestion':
Donald Trump has demoted his proposed Muslim immigration ban to a mere "suggestion."

In a radio interview with Fox News' Brian Kilmeade on Wednesday, the presumptive Republican presidential nominee softened his call to temporarily prohibit Muslims from entering the United States.

"We have a serious problem. It's a temporary ban. It hasn't been called for yet. Nobody's done it. This is just a suggestion until we find out what's going on," Trump said.

But Trump didn't mince words in linking Muslims to the proliferation of terrorism around the world.

"We have radical Islamic terrorism all over the world. You can go to Paris, you can go to San Bernardino, all over the world: If they want to deny it, they can deny it. I don't choose to deny it," he said.

Trump's comments came one day after he claimed he would make an "exception" for London's first Muslim mayor, Sadiq Khan, to enter the U.S.

"There will always be exceptions," he told The New York Times on Tuesday, while adding he was happy Khan was elected in the city.

Khan was not impressed with Trump's gesture, telling CNN that the Manhattan billionaire was "ignorant" about Islam and that he hoped he would lose the U.S. election.
Later in the day, Trump said that he was considering the idea of a commission to study 'radical Islam' that would be headed by former New York Mayor Rudy Giuliani, an idea that Giuliani appeared to be receptive to when asked about it later in the day. This last idea is somewhat ironic considering that Giuliani was among those Republican politicians who denounced Trump's original call for a Muslim travel ban, pointing out that it constituted a clear violation of the First Amendment as well as the fact that it would be counter-productive and more likely to increase resentment of the United States among Muslims worldwide than to make America a safer place. Whether this indicates that Trump is walking back his ridiculous travel ban idea or not is unclear, but his opponents are certainly interpreting it that way, with some suggesting that it's evidence that Trump was never really serious about the idea, but I would suggest its more complicated than that.
When Trump made the suggestion to ban Muslim immigration into the United States in early December, he had just succeeded in pushing back against Ben Carson's rise in the polls and was being challenged for his spot as leader in the race for the GOP nomination by Texas Senator Ted Cruz, whose fortunes were rising in Iowa. The nation had just come off the twin shocks of the terrorist attacks in Paris and San Bernardino and was still debating the question of what to do about refugees from Syria's civil war. Trump was clearly looking for something that would grab the media spotlight away from his opponents and he found it in a proposal that was both bigoted and unconstitutional. The fact that he may not have been The fact that Trump never really mentioned the travel ban idea much after Christmas should have been a clue to his supporters that he was just playing with them. Of course, if there's another terrorist attack, or if Trump feels like he's falling behind in the polls, we'll probably see him renew this idea. For now, though, it's not entirely surprising to see a guy who clearly has no core principles at all walk back one of the central ideas of his campaign. The question Republicans ought to be asking themselves, though, is what does this man actually believe, and what would he do if he somehow actually became President?