Unrest in Pakistan
Corruption charges against the former premier have sparked rioting.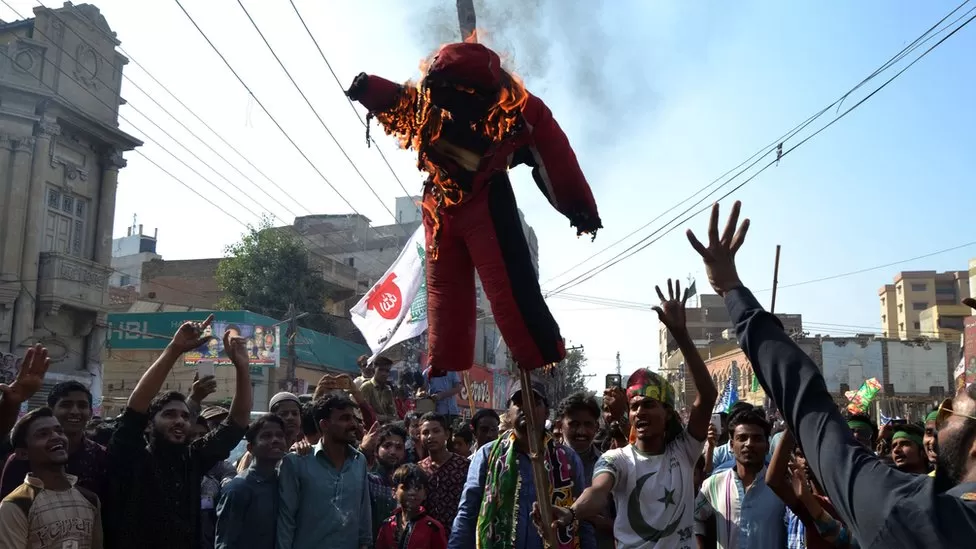 BBC ("Imran Khan: Pakistan arrests hundreds as former PM charged with corruption"):
Pakistan's former prime minister Imran Khan has pleaded not guilty to corruption charges a day after his arrest sparked nationwide protests.

Nearly 1,000 people have been arrested, police say, since Mr Khan was held in Islamabad on charges which he denies.

There is tight security at the police guesthouse where he is being detained, which is serving as a courtroom.

The arrest dramatically escalated tensions between Mr Khan and the military at a time of economic crisis.

Conviction would permanently disqualify him from standing for office. Elections are due later this year.

Eight people are now reported to have died in violent protests that broke out across Pakistan following Mr Khan's arrest. Dramatic footage showed dozens of security officers forcibly removing the 70-year-old from court, then bundling him into a police vehicle.

On Wednesday Mr Khan was indicted on charges that he unlawfully sold state gifts during his premiership, in a case brought by the Election Commission. He denies the allegations and says he fulfilled all legal requirements.

It was the first of dozens of cases against him in which he has been formally charged. For months he had avoided arrest, with his supporters at times fighting pitched battles with police to keep him out of custody.

Tuesday's arrest was based on a new warrant for a separate graft case, connected to the alleged transfer of land for Al-Qadir University, near Islamabad. The judge remanded Mr Khan in custody for eight days in this case.

Mr Khan's Pakistan Tehreek-e-Insaf (PTI) party said he has not had access to legal counsel, and that the party will challenge the legality of his arrest in court.

The action by Pakistan's anti-corruption body has led to violent protests across the country, and the army has sent reinforcements to help restore law and order in the capital and the country's most populous province, Punjab. The authorities in Khyber Pakhtunkhwa province have also requested troops be deployed to maintain security.

Extraordinary scenes on Tuesday evening showed Mr Khan's supporters ransacking the corps commander's residence in Lahore, smashing chandeliers and making away with peacocks – among other things – which they said were bought with "citizen's money".
WaPo ("Pakistani provinces request military support after arrest of Imran Khan"):
Pakistan's political crisis threatened to spiral out of control on Wednesday, a day after the arrest of opposition leader and former prime minister Imran Khan, as two provinces requested military support against protesters amid reports of several deaths.

[…]

Tensions appeared to run particularly high in the northwestern province of Khyber Pakhtunkhwa and its regional capital, Peshawar. Officials there said protesters targeted buildings and equipment of the country's public broadcaster, attacked army checkpoints and set fire outside the headquarters of a paramilitary force.

Members of Khan's party accused law enforcement officers of opening fire on protesters, wounding at least four of them in Peshawar. Naheed Khan, a spokeswoman of the city's main hospital, said its emergency unit received three bodies and 27 injured people in the wake of Wednesday's protests.

"Some of the protesters have bullet injuries; others have injuries from tear gas shelling," she said.

It was unclear who had shot at the protesters. The caretaker provincial government of Khyber Pakhtunkhwa, which did not immediately address the claims from Khan's party, confirmed that it had called in the military to restore order. Earlier in the day, the regional government of Punjab agreed on similar measures.

It was not immediately clear Wednesday whether the military had already been deployed in response to the requests or was still awaiting orders.

Near Islamabad, Pakistani authorities secured military compounds by blocking roads with shipping containers, while police officers deployed tear gas against protesters on the capital's main airport access road. Dull explosions of tear gas canisters could be heard near the high court, where Khan was arrested by paramilitary forces on Tuesday.

In many places, protests appeared uncoordinated and unpredictable. Pakistan's GEO television network reported that internet service, which has been severely disrupted since Tuesday evening in an apparent attempt to prevent protest marches, will remain suspended for an indefinite period on orders of the Interior Ministry.

Meanwhile, the growing focus on Pakistan's military continues to raise the stakes of the crisis. Pakistan's powerful army is often seen as playing a key role in the country's politics, but it rarely gets directly involved in public clashes between parties.

While Pakistani authorities have said that Khan's arrest on Tuesday was linked to a case of corruption and money laundering — among many charges that Khan denies — his supporters suspect that the reasons for Khan's arrest are political.

He was ousted by parliament in April last year after, according to his allies, the military dropped its support for him. Since then, Khan has become embroiled in increasingly bitter public confrontations with the military and the government of Prime Minister Shehbaz Sharif. Most recently, Khan claimed that a senior officer was involved in an assassination attempt against him — a claim that was immediately denied by the government and military but that strongly resonated with protesters on Wednesday.

"We want the military to stay out of politics," said Imtiaz Barki, 43, a pro-Khan activist near Peshawar, who participated in Wednesday's protests. "All political parties should join forces to make Pakistan a truly democratic country," he said.
It's commonplace in developing, postcolonial societies for the military to be a key political actor. Military officers are often among the best educated groups in the country and see themselves as the embodiment of the country, with a duty to step in when civilian leaders are failing in their eyes.
The loss of military support doomed Khan's premiership, forcing his ouster. We'll see what they do here.
While I don't see the United States going down that path—the tradition of civilian control is strong, going back to the Founders—I do fear we're closer to this scale of political violence than we've been since the Civil War. It's hardly inconceivable that the arrest of former President Trump would result in violent protests.