Donald Trump Tries To Bully Yet Another Critic
The Club For Growth has released two ads criticizing Donald Trump, so of course Trump is threatening to sue them.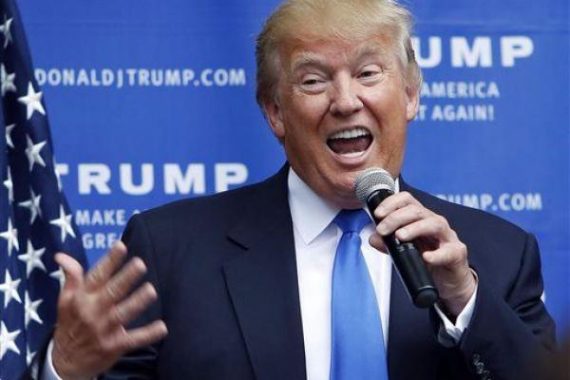 Donald Trump is threatening to sue the Club For Growth, a conservative organization that has long advocated lower taxes and spending cuts, for allegedly lying about the policies that he has advocated:
Donald J. Trump is hitting back at the Club for Growth, threatening to sue the conservative organization unless it stops running advertisements asserting that he wants to raise taxes.

Mr. Trump's lawyer, Alan Garten, sent a two-page letter to the group's president, David McIntosh, accusing it of trying to damage Mr. Trump's reputation by lying about his policies. The threat of litigation comes a week after the group started a $1 million advertising campaign that paints Mr. Trump as a disingenuous politician who intends to impose a huge tax increase if elected president.

"We will not sit idly by and allow special interest groups and political action committees like yours to defame Mr. Trump," Mr. Garten wrote, accusing the group of libel and threatening a "multimillion dollar lawsuit."

The gambit is not a new one for Mr. Trump, who has a long history of tying opponents up in expensive legal adventures in hopes of bending them to his wishes.

But it is a relatively novel tactic for a political campaign, where the cut and thrust of attack ads can resemble a blood sport with no referees.

Mr. Trump has said that he wants to raise taxes on hedge fund and private equity managers, but that he does not plan an overall tax increase.

The letter goes on to remind Mr. McIntosh that he had previously solicited Mr. Trump for a $1 million donation in exchange for political support. In a statement, Mr. Trump berated the free-market advocacy group and said that he would be releasing his tax plan this week.

"I am not surprised the dishonest, irrelevant and totally failing Club for Growth has resorted to attacking the definitive front-runner, especially after I refused to contribute to their pathetic group," he said.

The Club for Growth said the ads would not be removed and challenged Mr. Trump to defend his record.

"Tough guy Donald Trump starts whining when his liberal record is revealed," Mr. McIntosh said in a statement. "Trump has advocated higher taxes numerous times over many years, just like he's advocated for universal health care, the Wall Street bailout and expanded government powers to take private property.
This threat comes in the wake of last week's news that the organization was launching an ad campaign attacking Trump for his history of advocating ideas that seem more at home in the Democratic Party than the GOP:
The conservative group the Club for Growth unveiled its upcoming barrage against Donald Trump set to air later this week: a pair of 30-second ads that will air in Iowa and peg the real estate mogul as just another politician who supports liberal policies.

"Donald Trump has the worst record of the entire field with the possible exception of Bernie Sanders on economic growth policies," Club for Growth President David McIntosh said at a press conference unveiling the ads on Tuesday. "Trump's for higher taxes, he's for single-payer, government-run health care, he's for using the power of government to take people's private property and turning it over to developers, and he's a protectionist that would lead America into a devastating trade war."

In one ad, the narrator says "Trump wants us to think he's mister tell-it-like-it-is. But he has a record. And it's very liberal." Meanwhile images of Democratic presidential candidates Hillary Clinton and Sen. Bernie Sanders show on the screen before an image of Trump. A clip of him saying "In many cases, I probably identify more as a Democrat" plays before the 30-second ad ends.

The second ad hits Trump on his real estate record by highlighting his support of a Supreme Court ruling on eminent domain that, in the words of the ad, "gave government massive new power to take private property and give it to corporations." That ad includes a clip of Trump saying he happens "to agree with it 100 percent."

The ads, with an initial buy of more than $1 million, are set to start airing in Iowa later this week on cable, broadcast, and satellite television.

The ads aim to cut down Trump's lead there. A recent CBS/YouGov poll released in early September found Trump leading the GOP field with 29 percent support followed by Ben Carson with 25 percent and Sen. Ted Cruz in third with 10 percent. No other candidate got double digits.

Trump fired back at the Club for Growth in a tweet, writing, "Little respected Club For Growth asked me for $1,000,000 – I said 'NO'. Now they are spending lobbyist and special interest money on ads!"

Later, Trump wrote another tweet disputing a claim in one of the Club for Growth ads that he "supports higher taxes." The ad was referring to a 1999 Trump proposal to slap a one-time, 14.25 percent tax on Americans and trusts worth more than $10 million.

"By my calculations, 1 percent of Americans, who control 90 percent of the wealth in this country, would be affected by my plan," Trump, who was then exploring a presidential run under the Reform Party banner, said at the time.

More recently, Trump has promised to roll out a tax plan that cuts taxes for most Americans and fight so-called corporate inversions, where companies move their headquarters to other countries to avoid corporate taxes. In interviews, he's indicated he might be willing to raise taxes for some wealthy individuals, but provided few details.
Here are the ads in question:
and:
The claims made in the letter by Trump's lawyer are, of course, utterly absurd. Whatever one may think about the policy positions that the Club For Growth takes, its claims against Trump can all be backed up by things that Trump himself has said either in television appearances in the past or in one of the many books that he's written. In the first ad, the group points to Trump's long history of advocating higher taxes and greater government involvement in health care, all of which can be substantiated by looking at past interviews and writings. In the second ad, they group cites Trump's involvement in a case in Atlantic City, New Jersey in which one of his casinos attempted to use eminent domain to seize the property of an elderly retired woman so that they could use it for additional parking spaces for limousines. This case occurred roughly around the same time as the Supreme Court's decision in Kelo v. City of New London, in which the Court narrowly upheld the effort of the New London, Connecticut to seize a woman's home in order to add her property to a tract of land being given to Pfizer for the construction of a new office complex. At the time of that decision, Trump made statements fully supportive of the Court's decision and dismissed the property rights concerns that cause many conservatives and libertarians to react very negatively to the Court's decisions. In other words, all of the claims that the Club for Growth makes in its ads are based in fact, and that means that Trump's legal threats against them are nothing more than bullying.
In his letter to the Club For Growth, Trump's lawyer claims that the group is defaming Trump by using material that is, in some cases, fifteen years old to support their claims against the candidate. Given the context of the ads, this is obviously a disingenuous and legally meritless argument. The clear purpose of both ads is to argue that Trump has misrepresented his supposed "conversion" to conservatism and that he is refusing to acknowledge is long history of advocating ideas that are not supported by most Republicans, and certainly not supported by the conservative wing of the party. This isn't an original argument on the group's part, of course, since several of Trump's candidates have been making this same argument for months now, including Jeb Bush, Rick Perry, Scott Walker, Rand Paul, Lindsey Graham, and Bobby Jindal. At it's core, the argument is that Trump is a person who will say whatever it takes to be popular or to get elected, and that Republican voters should not trust his supposed new found conservatism. It is a perfectly legitimate argument, and since it is supported by facts, the argument that it is libelous is utterly absurd. Even if Mr. Trump were not a public figure under the New York Times v. Sullivan standard, the fact that the allegations made against him are true would be complete defense to any claim of libel. Since Trump clearly qualifies as a public figure under the Sullivan standard, though, he would need to prove not only that allegations were false, which he cannot do, but also that they were made with actual malice, which an intentionally difficult standard to meet because of the Court's recognition of the dangers that libel claims can create to journalists wishing to write about public figures.
Trump's letter to the Club for Growth doesn't have anything to do with succeeding in Court, of course, it is little more than yet another instance of the manner in which he bullies those who are critical for him. Even before he ran for President, Trump used his Twitter account and frequent media appearances to attack the people who criticized him. Typically, he wouldn't attack based on the substance of what was said but on some irrelevant thing such as physical appearance or how much money they made. He's continued that activity as a Presidential candidate, and this threat is just the latest example of it. While it's easy to dismiss things such as this as yet another example of Trump being Trump. the fact that he is the leading candidate for the Republican nomination and has been for three months makes this somewhat more concerning. Here we have the Republican frontrunner bullying an organization that is criticizing him. As I said, even if you don't support the agenda of the Club for Growth the image of potential President using that kind of tactic against political critics raises serious questions about what kind of President Donald Trump would actually be. If this threat and Trump's other recent actions are any indication, a President Trump would be no friend to Freedom of the Press, and that's something that everyone ought to worry about.