Donald Trump Wins Washington State, Inches Closer To Clinching The Nomination
Donald Trump is now just 28 delegates away from clinching the GOP nomination. New Jersey's primary on June 7th will put him over the top.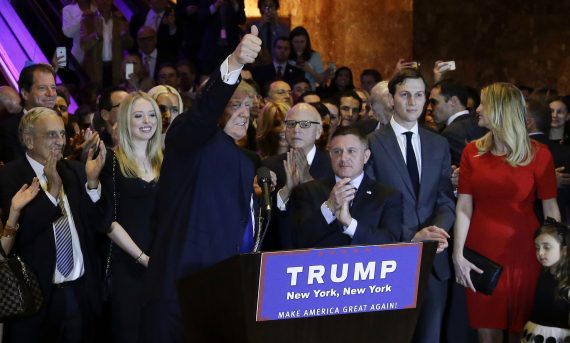 Donald Trump easily coasted to a win in the Washington primary last night, putting him just one more primary win away from officially clinching the GOP nomination:
Donald Trump marched closer to the Republican nomination on Tuesday, winning Washington State's primary unopposed.

With the win, the mogul closed in on earning the 1,237 pledged delegates he needs to claim the nomination, a threshold he's certain to cross on June 7, when Republicans in the final five primary states cast ballots. That election will kick off a six-week lull before Republicans convene in Cleveland to formally bestow the party's nomination.

Washington's GOP has a conservative streak that Trump's former rival Ted Cruz once hoped to capitalize on as he worked to block Trump from claiming the nomination. But without Cruz in the race, Trump has begun consolidating support among primary voters — and the results showed on Tuesday, when the Associated Press called the race for Trump.
Trump walked away with 76% of the vote, which was more than enough to entitle him to at least 40 of the 44 delegates up for grabs last night. This means that Trump is now just 28 delegates away from from the 1,237 he needs to clinch a majority on the first ballot. With the final set of Republican primary contests set for June 7th, it's fairly easily to figure out what contest will put Trump over the top. More likely than not, it will be an early victory in New Jersey, where the  51 delegates are up on a winner take all basis, that will do the trick. After that Trump will likely coast to easy wins in the remaining states that evening, with California being the most delegate rich state of the night. When it's all said and done, Trump will likely end up with something close to 1,500 delegates when the evening is over and a cushion over his closest opponent, Texas Senator Ted Cruz, of more than 800 delegates. For a race that was looking like it would end up being very close as recently as a month ago, that's quite a substantial margin.
There was no contest last night on the Democratic side, but on that end we can also predict with a modicum of certainty when the frontrunner will officially capture their party's nomination. As of today, Hillary Clinton stands 95 delegates short of clinching the nomination. The next contests on the Democratic side are in the Virgin Islands on June 4th and Puerto Rico on June 5th, where a total of  67 delegates are up for grabs. Win or lose, Clinton will pick up delegates in both states thanks to the Democratic Party's proportional delegate allocation rules, but not enough to put her over the top. As with Trump, it looks like the first contest of the night on June 7th, New Jersey, will be the state that puts Clinton over the top, with states like California adding to the total. Finally, the Democratic nomination fight officially ends with a primary in Washington, D.C. on June 14th where there will be 20 delegates up for grabs. By the time that process is over, Clinton will have more than enough delegates to win the nomination. Whether that will be enough for Bernie Sanders and his supporters to finally face reality is another question.