Dowd on Gingrich
Looking at the intellectual jumble that is the mind of Newt.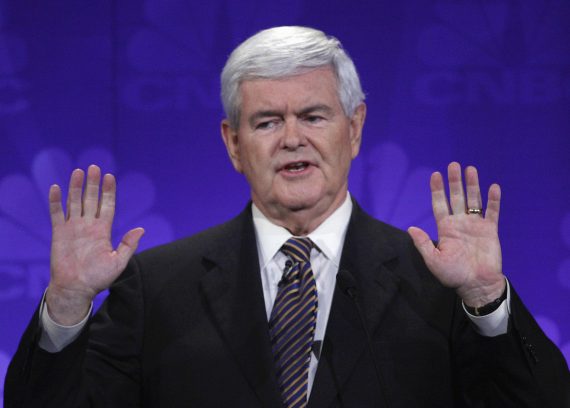 First George Will, now Maureen Dowd.
Some choice lines:
NEWT GINGRICH'S mind is in love with itself.

It has persuaded itself that it is brilliant when it is merely promiscuous. This is not a serious mind. Gingrich is not, to put it mildly, a systematic thinker.
His mind is a jumble, an amateurish mess lacking impulse control. He plays air guitar with ideas, producing air ideas. He ejaculates concepts, notions and theories that are as inconsistent as his behavior.
And, indeed:
He didn't get whiplash being a serial adulterer while impeaching another serial adulterer, a lobbyist for Freddie Mac while attacking Freddie Mac, a self-professed fiscal conservative with a whopping Tiffany's credit line, and an anti-Communist Army brat who supported the Vietnam War but dodged it.
Setting aside the snark, I do think that "Gingrich is not, to put it mildly, a systematic thinker" is an incredibly fair assessment.
Also:  her discussion of Newt's pro- and anti- colonialism intellectual confusion is on target.
The simple version:
1.  In his doctoral thesis he writes sympathetically about Belgian colonialism in the Congo.
2.  But, he is markedly anti-colonialism when on the question of British colonial control of North America.
3.  But, he buys into the following:
Gingrich made one of his classic outrageous overreaches last year when he praised a Dinesh D'Souza article in Forbes, saying you could only understand how "fundamentally out of touch" and "outside our comprehension" President Obama is "if you understand Kenyan, anticolonial behavior."

D'Souza's absurd ad hominem theory tying Obama to his father goes like this: "This philandering, inebriated African socialist, who raged against the world for denying him the realization of his anticolonial ambitions, is now setting the nation's agenda through the reincarnation of his dreams in his son."
And yet, to use Dowd's formulation:  no intellectual whiplash ensues.
All of this underscores to me the fact that while Newt sounds smart, he is not nearly an intellectual as people give him credit for (and he is frequently given a lot of credit in this arena).  It is one thing to have a lot of ideas.  It is yet another to have a coherent intellectual vision that is systematic in nature.  Gingrich just spouts off a panoply of notions without any seeming grounding in reality.  He is far more of an off-the-cuff pontificator than an actual intellectual.