Dumb Outrage Of The Day: Romney Hates Britain, Or Something
The campaign silly season took a trip across the pond.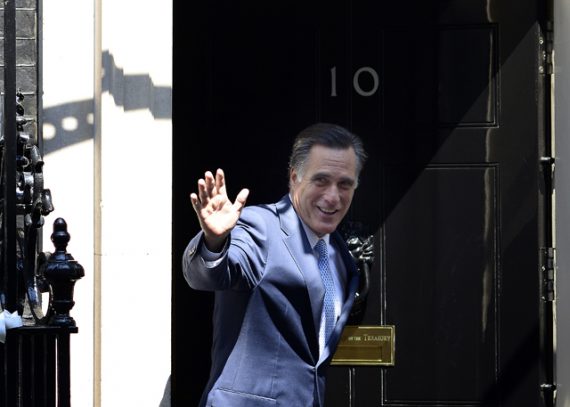 Mitt Romney's first day on his European tour admittedly didn't start off very well. It began with some comments he made about the London Olympics during an interview with NBC's Brian Williams in which he said that he found "disconcerting" some of the reports that had come out in advance of the London Olympics, particularly as it concerned the security company that the Organizing Committee had contracted with. To be fair to Romney, there really are concerns in this area due to the fact that the company in question ended up being unable to provide the full compliment of personnel it had agreed to employ to provide security during the games. As a result, the British military has been forced to take over security duties to a large degree and there will be thousands more  military personnel in the Greater London area and at other Olympic sites than originally planned. Nonetheless, Romney's comments didn't sit well with the always cantankerous British press and even Prime Minister David Cameron felt obligated to chime in with a response:
Asked directly about Mr Romney's comments, Mr Cameron said he will give the Republican candidate a positive message when they meet later today.

Mr Cameron said: "This is a time of some economic difficulty for the UK but look at what we are capable of achieving as nation even at a difficult economic time.

"This is not a London games, this is not an England games, this a United Kingdom Games.

"I think we will show the whole world not just that we come together as a United Kingdom but also we're extremely good at welcoming people frpom across the world.

He added: "I will obviously make those points to Mitt Romney. I look forward to meeting him."
By the time his meetings with current and former British officials were over, Romney was singing a slightly different tune: 
"I don't know of any Olympics that's ever been able to run without any mistakes whatsoever, but they're small, and I was encouraged, for instance to see, things that could have represented a real challenge—such as immigration and customs officers on duty, that is something which was resolved and the people are all pulling together," Romney said in a short availability with both American and British reporters.

"I'm very delighted with the prospects of a highly successful Olympic games," Romney responded to a follow-up question. "What I've seen shows imagination and forethought and a lot of organization and I expect the games to be highly successful."
So, basically, Romney said something that was largely true about the Olympics, the British press didn't like it, a minor controversy ensued, and amends were made. It's over, right? Oh, if you think it's over you don't understand what silly season really is, because within a few hours after the Olympics kerfuffle, Joshua Keating had dug up a quote from Romney's book No Apologies about England which many on the left are trying to claim is some kind of insult to the United Kingdom:
England [sic] is just a small island. Its roads and houses are small. With few exceptions, it doesn't make things that people in the rest of the world want to buy. And if it hadn't been separated from the continent by water, it almost certainly would have been lost to Hitler's ambitions. Yet only two lifetimes ago, Britain ruled the largest and wealthiest empire in the history of humankind. Britain controlled a quarter of the earth's land and a quarter of the earth's population.
Andrew Sullivan takes this quote as evidence of Romney's "contempt" for the U.K., while Keating calls the quote "not-so-flattering." I have to wonder, though, if either one of them bothered to read anything beyond the words "just a small island." That part, at least is absolutely true. The island of Great Britain is listed as 9th in terms of total land area among the world's islands with just 80,823 square miles of total land area. He's also largely correct that the U.K. is not, and never really has been a major world exporter, although there was a time when it was the largest importer on the planet. And, the relative safety from invasion that the English Channel has given the Brits over the centuries is a simple historical fact. Despite many who may have wanted to, nobody has successfully invaded Great Britain in 946 years. If the logistics of getting from the continent of Europe to Great Britain had been easier, it seems quite likely that they would've been subjected to as many invasions as many of the other nations of Europe. Despite all of this, the Brits rose to become the mightiest nation on the planet and controlled territory in North America, Africa, and Asia along with islands in all the world's ocean's.
That's quite a testament to a nation's legacy, and that, quite obviously, is what Romney was saying in this quoted paragraph. The idea that he's showing "contempt" for the U.K. as Sullivan suggests is quite simply absurd and the only possible way one can reach that conclusion is if you stopped reading after the word "island."
I doubt any of today's kerfuffle is going to have any impact on the election. This is just another example of the silliness that this campaign has descended into, and when you add the wild frenzy of the British tabloids into it, it was inevitable that this would become a story for a day. The fact, though, that people used the Olympics non-troversey as an excuse to go back and dig up a quote from a book which they then blatantly misrepresented shows us the extent to which "journalism" has devolved. If you can't find decent copy for the day, then don't make stuff up guys.