Dutch Police Arrest 14 Year Old Girl For Twitter Threat Against American Airlines
A Dutch teenager is apparently getting a lesson in the perils of not thinking before you communicate online:
AMSTERDAM — Police in the Netherlands have arrested a 14-year-old girl on suspicion of threatening American Airlines in a tweet.

Police spokesman Roland Ekkers said the girl, who has not been identified for privacy reasons, turned herself in to Rotterdam police in the company of a parent Monday and is now being interrogated.

The tweet posted Sunday said it came from an al-Qaida member in Afghanistan named Ibrahim and threatened to "do something really big on June 1." But the account's handle came with the nickname "Sarah" and a profile image of a young woman.

Apologetic tweets were posted to the account after the airline replied it was taking the threat seriously and calling in law enforcement.
Here's a screen shot of the tweet in question: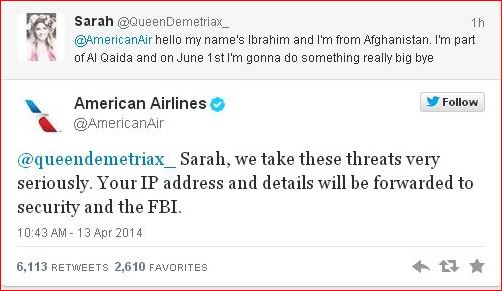 According to a statement released to Business Insider, authorities took the step of arresting the girl due to the fact that the message was spread so far so quickly:
We're not in a state that we can communicate any state of charges at this point. We just thought it was necessary to bring this out mostly because of the fact that it caused a great deal of interest on the Internet..
I can't speak to whether this teenager actually violated Dutch law, but perhaps from now on she'll be smarter about how she acts online.