Herb Kelleher, Co-Founder Of Upstart Airline Southwest Airlines, Dies At 87
Herb Kelleher, who helped found an airline that revolutionized the industry thanks to his unconventional choices, has died at the age of 87.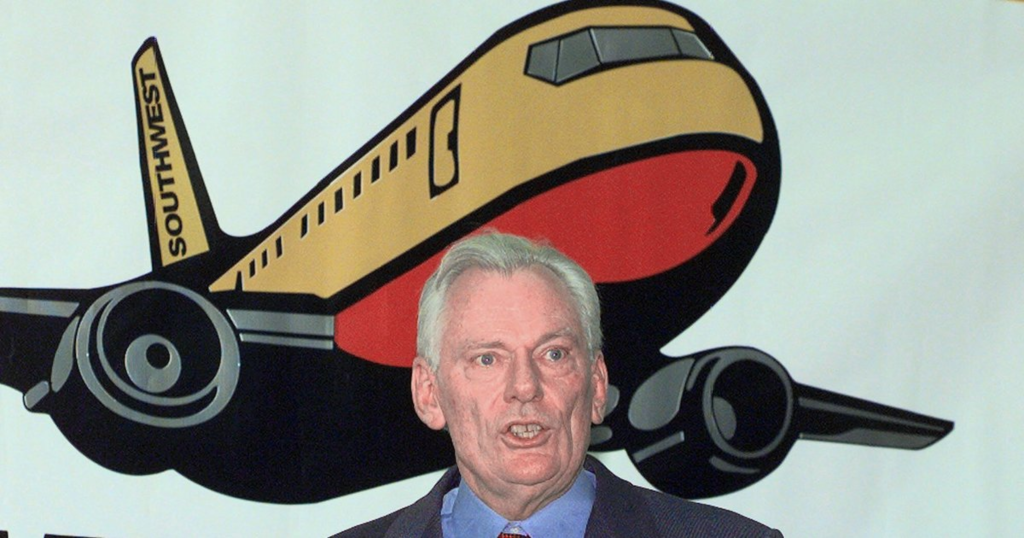 Herb Kelleher, who took on an entrenched airline industry in the 1970s and ended up creating a hugely successful 'discount' airline that offered good service and prompt flights for a reasonable price, has died at the age of 87:
Herb Kelleher, who turned conventional airline industry wisdom on its head by combining low fares with high standards of customer service to build Southwest Airlines into one of the nation's most successful and admired companies, died on Thursday. He was 87.

The airline announced his death on Twitter. It did not say where he died or give a cause. Southwest is based in Dallas, and Mr. Kelleher had a home there.

Under the fun-loving, chain-smoking, hard-drinking, New Jersey-born Mr. Kelleher, Southwest, which began in 1971 as a low-fare intrastate carrier serving three Texas cities — Houston, Dallas and San Antonio — grew into the behemoth that today carries more than 120 million passengers a year, making it the nation's most popular domestic airline.

Southwest employs more than 58,000 people and has been profitable every year since two years after it was founded. During Mr. Kelleher's tenure, the company never had a layoff, furlough or pay cut, despite being among the most unionized airlines in the world.

His vision for the airline — one that reshaped the industry — centered on using more fuel-efficient, low-cost planes to reduce fares and challenging his employees to provide no-frills service without lowering standards.

Robert Mann, an airline industry analyst and former executive, said that by eliminating onerous fees and unnecessary services and using secondary airports, like Love Field in Dallas, Southwest brought low prices to the market and stimulated demand for air travel. Now, given a choice between driving and flying, legions of travelers opted for the plane.

At a time when Braniff's coach fare between Dallas and San Antonio was $62, for example, Southwest's fare for the same route was $15. Mr. Kelleher stuck to the low-fare concept, believing that lower prices did not mean lower profits.

"He literally brought air travel to the masses on a scale that was unimaginable," Mr. Mann said. Southwest's entry into a market inevitably led to lower fares across the board. This became known as the Southwest Effect.

By paying his employees well, avoiding layoffs and instilling a spirit of fun in the company's culture, Mr. Kelleher also set a tone for Southwest that translated into customer loyalty.

"You have to treat your employees like customers," he told Fortune magazine in 2001. "When you treat them right, then they will treat your outside customers right. That has been a powerful competitive weapon for us."

What sounded like a business cliché translated into tremendous cost savings for Southwest. Its employee productivity levels were far higher than those of the competition, and even as salaries rose, the company managed to keep fares low and profits high. The company was a perennial choice for Fortune's "Most Admired Companies" list.

When Mr. Kelleher stepped down as chairman at the annual shareholder meeting in 2008, he received "the kind of standing ovation usually reserved for rock stars," The New York Times reported. Even the Southwest pilots union, in the midst of negotiating a new contract, took out a full-page advertisement in USA Today thanking him for all he had done.

Mr. Kelleher's quick-witted, down-home observations were legend in the industry. "Because I am unable to perform competently any meaningful function at Southwest, our employees let me be C.E.O.," he once told the National Civil Aviation Review Commission. "That is one among many reasons why I love the people of Southwest Airlines."

A hard drinker with an ever-present Kool cigarette in his mouth, he liked to dress like Elvis Presley or other characters at company meetings and maintain a level of fun in the workplace.

(…)

Herbert David Kelleher was born on March 12, 1931, in Camden, N.J., to Harry and Ruth (Moore) Kelleher. His father was a general manager at a Campbell's Soup factory. Herb was captain of his high school basketball team.

He credited his mother as his primary influence. She would engage him in long conversations about life when he was a child. "She was very ethical," he was quoted as saying in "The Art of Business: In the Footsteps of Giants," a 2004 book about leadership by Raymond T. Yeh.

"She had a very democratic view of life," he continued. "She had enormously wide interests in politics and business, so it was very educational in that respect, just talking with her. We'd sit up and talk to two, three, and four o'clock in the morning when I was quite young, about how you should behave, the goals that you should have, the ethics you should follow, how business worked, how politics can join with business."

After attending Wesleyan University in Connecticut and later New York University Law School, Mr. Kelleher began his career as a lawyer. He married Joan Negley in 1955, and the couple had four children while living in New Jersey. But a desire to start his own firm prompted him to move the family to San Antonio.

His wife, three of their children and many grandchildren survive, Southwest said.

In 1967, one of Mr. Kelleher's clients, Rollin W. King, approached him with what seemed an outlandish idea: starting an airline that could fly passengers cheaply within Texas. Mr. King, who died in 2014, believed that Mr. Kelleher was just crazy enough to sign on. By their telling, they sketched out their ideas on a cocktail napkin.

They soon ran into a wave of hostility from the industry. Competitors like Texas International, Braniff and Continental waged four years of litigation before Southwest Airlines could make its first flight. When the airline began service in 1971, it had four Boeing 737s in its fleet.

Southwest was able to reduce fares by flying only within Texas, avoiding prices that would have otherwise been mandated by the Civil Aeronautics Board.

Nonetheless, the airline struggled its first two years. When it ran into financial troubles in 1973, it chose to sell off one of its planes rather than lay off employees. At the same time, it instituted an ambitious 15-minute turnaround at the gate, with flight crews pitching in to help clean and service the planes to get them off the ground more quickly. Planes were profitable only when they were flying, Mr. Kelleher reasoned.

He infused the airline's nascent culture with a clear set of values, like opting for efficiency over costly frills, which he felt was the only way to increase profits. "If somebody makes a proposal, and it infringes on those values, you don't study it for two years," he said. "You just say `No, we don't do that.' And you go on quickly."

As the airline's co-founder and legal counsel, Mr. Kelleher fought its many courtroom battles. He became chief executive temporarily in 1978 and permanently in 1981.

He introduced countless efficiencies, beginning with fuel-saving short-haul flights. Southwest refused to pay millions of dollars to be part of larger airlines' reservation systems, and its focus on customer service kept the brand polished.

In 1978, with the passage of the Airline Deregulation Act, Southwest added service to New Orleans, Albuquerque, Oklahoma City and 14 other cities. In early 1982 it added San Diego, Kansas City, Mo., Las Vegas and Phoenix. It was well on its way to becoming a major national carrier.
Kelleher's business savvy proved to be quite valuable to the company over the years. After the September 11th attacks, for example, he pushed the company to engage in an extensive fuel hedging program under which Southwest locked in contracts at a set price for a number of years thereafter regardless of what the actual market price was. He was betting, obviously, on the idea that the crisis that would unfold in the Middle East in the wake of the attacks and the ensuing wars in Afghanistan and Iraq would cause prices to rise, and he was proven correct. As a result, the company saved hundreds of millions of dollars in energy costs. This is one of the reasons why, during the years after 9/11 when one American airline after another was facing financial difficulties that led to bankruptcies and mergers necessitated by the ensuing crisis, Southwest sailed above the crowd, remained profitable, and was able to expand into new markets and gain slots at new airports.
As for Southwest itself, I spent a lot of time flying in the early 2000s and, as it turned out, Southwest ended up being the best option notwithstanding the fact it was in some ways a "bare bones" airline compared to others. In those days, the only airport in the Washington, D.C. area that the airline flew out of was Baltimore-Washington International and while this was a longer commute than either Dulles or Reagan National, it was still a better option. Flying Southwest was also often an entertaining experience thanks to employees who really enjoyed what they were doing. There were minor inconveniences, like the fact that bordering depended on when you checked in (something that you could work around by checking in online and printing off a boarding pass) and the goal was always to get an "A" boarding pass so that you would be part of the first group allowed to board. Additionally, if you were flying any further west than Cleveland or other nearby areas, you would have to deal with multiple stopovers, but for the kind of short-hop flights I was taking it was perfect.