Ed DeChellis Leaves Penn State for Navy
Now here's a story you don't see every day: The head coach of a major college basketball team leaving for a service academy.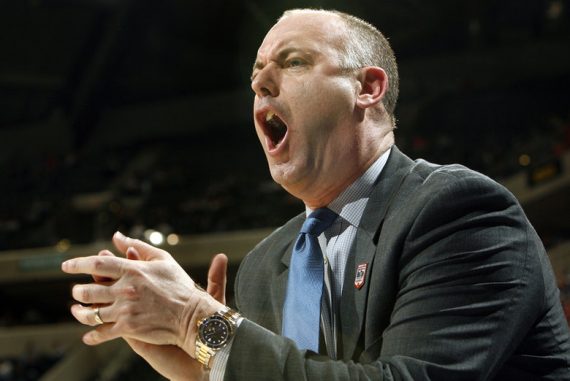 Now here's a story you don't see every day: The head coach of a major college basketball team leaving for a service academy.
ESPN ("Ed DeChellis leaves Penn St. for Navy"):
Penn State coach Ed DeChellis has been named coach at Navy.

DeChellis replaces Billy Lange, who left Navy to become the associate head coach at Villanova.
For those who don't follow college sports, Lange's path is much more typical: A head coaching gig at one of the service academies is an early step in a promising career, followed by a head coaching job at a somewhat more prominent program or, not infrequently, a number two job at a power school.
DeChellis leaves a BCS school and member of the Big Ten for Navy, arguably one of the more difficult jobs in college athletics given its admissions and post-graduate service requirements as a military academy.

In the final season at his alma mater, DeChellis took Penn State to the NCAA tournament for the first time in 10 years. The Nittany Lions (19-15, 9-9 Big Ten) lost to Temple in the second round.

"On behalf of the Penn State and State College communities, I would like to offer my sincere appreciation to Ed DeChellis and his staff for their efforts with the men's basketball program the past eight years," Penn State athletic director Tim Curley said in a statement. "Ed and his staff built a strong foundation for the program and then were able to see all their tireless efforts result in winning the 2009 NIT Championship and advancing to the Big Ten Tournament championship game and the NCAA Tournament this past season."
So, he's not only going several steps down the coaching leader but he's leaving his alma mater to do it! Why on earth would he do such a thing?
This coming season the Nittany Lions face a rebuilding project, having lost arguably one of the best players in school history in Talor Battle as well as Jeff Brooks and Andrew Jones.

Pressure had been mounting steadily on DeChellis in recent years. In eight years at Penn State, DeChellis put together a 222-232 record. He was given a three-year extension in 2009, after the Lions won the NIT title.

Multiple sources close to DeChellis said he was told prior to last season that he would be fired if the Nittany Lions didn't make the NCAA tournament. Penn State did earn a No. 10 seed and lost to Temple in the second round of the NCAA tournament.

When DeChellis returned he expected to receive some sort of assurances that he would be protected going forward after making the NCAAs. But that didn't occur and no extension was offered again. A source said DeChellis met with Navy athletic director Chet Gladchuk over the weekend and accepted a long-term contract with the Naval Academy.
So, basically, DeChellis had enough of the pressure cooker and chose job security and reasonable expectations over madness. DeChellis made an unusual choice for someone in his profession. It's understood that constant pressure to win and the specter of being fired at any moment goes with the territory. But it's an absurdity in most instances.
Penn State is a fine school with a rich athletic tradition. In football. Its basketball team has been playing since 1897, a whopping 112 seasons. It has an overall record of 1215-963, a very respectable .558 winning percentage. But it has a whopping total of one conference title (1991, when it was part of the Atlantic 10) and zero national championships. They did make the Final Four once–back in 1958.
DeChillis' record was a mediocre 81-103, which is the lowest of any coach in Penn State history, so I'm not sure he deserved much in the way of job security. Then again, their appearance in last year's NCAA tourney was only their fourth in twenty years; their previous five appearances came before I was born. And this is a team that hasn't had a player drafted into the NBA since 1999–and only ten players in its history.
And it appears that Navy will be more appreciative of his talents:
"To have one of the most highly respected coaches and educators in the sport join our Navy family is a great day for the program and the Academy," Gladchuk said in a statement. "Ed's maturity, integrity, character and accomplishments at Penn State have made him one of the most respected role models in the coaching ranks. His career is all about building programs with educational priorities in place, including graduating every senior that has ever played for him, and in the end achieving team goals that resonate with competing for championships. Ed will make a positive and impactful impression on Navy Basketball in short order."
Navy was a regular participant in the NCAA tournament in the 1980s and 1990s but made its most recent appearance in 2000. Considering the weakness of the Patriot League, that's quite an accomplishment.