Employers Screwing Workers To Sidestep ObamaCare Mandates
Employers have to provide health coverage for those who work 30 hours a week. Guess what?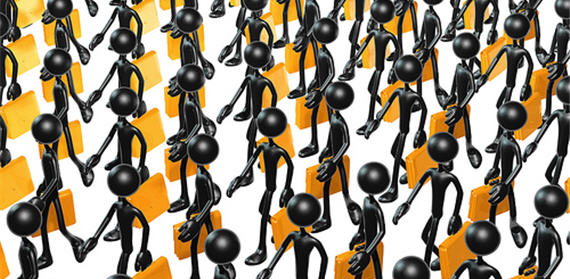 In a move none could have predicted, employers are cutting hours rather than comply with a mandate to provide costly benefits for workers crossing the 30 hour threshold. Seriously, who could have seen this coming?
ThinkProgress ("Virginia Cuts State Employees' Hours To Avoid Providing Obamacare Coverage"):
As part of his state's new budget, Virginia Gov. Bob McDonnell (R) and his administration are trying to force potentially tens of thousands of public sector employees in the state to work fewer hours so that the government can avoid providing them health care.

Under Obamacare, employers are required to offer health insurance options for any employee working 30 hours or more per week. So McDonnell and his team have slipped language into the state's budget bill requiring that any hourly waged workers employed by the state put in no more than 29 hours a week.

[…]

Other public universities have made the same shift to lower hours for employees to avoid providing them with basic health benefits. But the anti-labor practice is more prevalent in the private sector, where huge number of businesses in the restaurant industry — including Applebee's, Olive Garden, and Denny's — seeking to pass the cost of health care onto their low-wage employees by limiting their hours. Workers who don't receive employer-based coverage will be able to find insurance through the public exchanges.
Is this a really lousy outcome? You bet. But, contrary to the snark in the post opener, it was of course not only entirely predictable but widely predicted.
Applebee's and Denny's work on very small margins. Paying workers a decent wage and generous benefits means that they'd have to substantially raise prices. Unless all of their competitors did the same thing, they'd quickly lose market share. And,  if the costs went up across the entire industry uniformly, fewer people would go out to eat and all the businesses would suffer.
Olive Garden offers all the soup, salad, and breadsticks you can eat for $6.95. That's a pretty reasonable price for lunch for even a modestly paid hourly worker. If the price went up to, say, $11.95, a lot fewer people could afford to go to Olive Garden for lunch.
The Commonwealth of Virginia isn't a for profit business. But it, too, operates in a state of fiscal reality. If it's forced to provide—and I'm making these numbers up out of thin air—$6000 a year in healthcare benefits to workers who were previously making $18,000 a year, they've got three basic options, all of which suck. First, they can make sure workers who were previously going slightly over 30 hours a week stay under that threshold. Second, they can fire one worker in three. Third, they can raise taxes enough to cover a one-third increase in worker costs.
Alas, the ultimate answer is to sever the relationship between healthcare coverage and employers. Either individuals should be responsible for their own healthcare or, more realistically, we should follow the model of every other modern society on the planet and have publicly funded system. If employers are responsible for the burden, they're likely to continue seeking ways not to pick it up, except in the cases of workers so valuable to them that it's worth the cost. Even then, it'll come out of the overall compensation package, resulting in much smaller take-home pay.