Et tu, Lexington?
The Economist joins the "Biden is too old" bandwagon.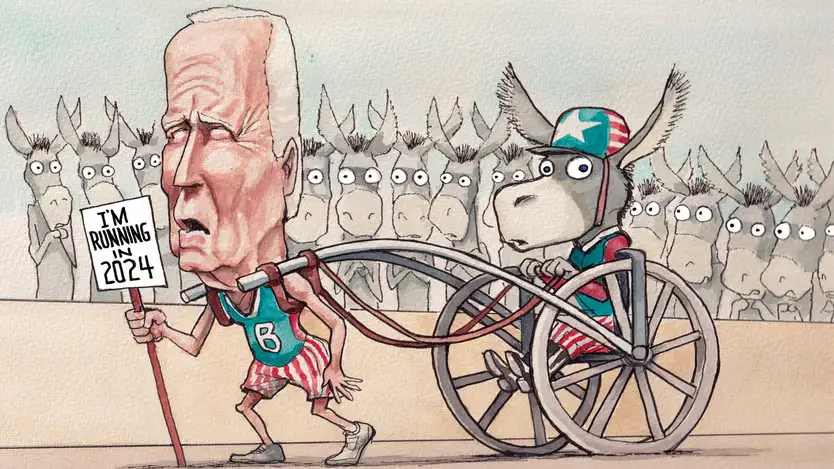 Earlier this week, I took a discounted subscription to The Economist and was bemused to see their Lexington columnist fall prey to the same tired horserace coverage that plagues the American press ("Joe Biden's re-election bid is in trouble.")

The front-runner for the Republican presidential nomination is under indictment for 91 felonies in four criminal cases, and he probably is, as one of his primary opponents remarked during the recent Republican debate, the most disliked politician in America. Democrats have reason to be smug at the prospect of Donald Trump as the Republican nominee—unless they take a hard look at the vulnerabilities of their own standard-bearer.

Fewer than one in four Americans (24%) want President Joe Biden to run again, according to a poll published on August 17th by the Associated Press. Even 55% of Democrats do not think he should run. Although his approval rating has ticked up, he remains one of the most unpopular presidents in modern history.

Mr Biden's problems are obscured by the drama around Donald Trump's arrests and the Republican nominating contest. But that is also becoming a problem for the current president: he needs to capture the country's attention if he hopes to recapture its imagination. Only Jimmy Carter and Donald Trump himself—both one-term presidents, at least so far—had net-negative ratings worse than Mr Biden's at this point in their presidencies, according to an analysis of aggregated polls by the political publication FiveThirtyEight. In late August, its summary of public polls showed that 42% of Americans approved of the job Mr Biden was doing, whereas 53% disapproved.

His standing is even worse on the matter Americans care about most, his handling of the economy. The same Associated Press poll found that just 36% approve of his economic stewardship. It is hard to know which half of "Bidenomics" inspires them less.

[…]

Democrats will rally to Mr Biden, and he has time to woo others. Yet every day that goes by his party's biggest gamble, on his continued good health and acuity, also grows riskier. In 2020 voters embraced the idea that his age and experience made him a steady hand. Now they seem primed to see the slightest gaffe or stumble as confirmation that he is becoming unsteady. According to an ap poll at the end of August, 77% of Americans think Mr Biden is too old to serve effectively. His vice-president, Kamala Harris, has an even lower approval rating than he does.
The polls are the polls and Biden's re-election is far from guaranteed. But the overwhelming number of Americans aren't paying much attention to, well, much of anything at this juncture. That inflation is down to reasonable levels, if granted not the incredibly low rates we've come to expect, has almost certainly not yet registered.
Beyond trying to persuade Americans they have it pretty good, Mr Biden will count on the fight over abortion rights and, most of all, on Mr Trump's greater unpopularity to motivate dispirited Democrats and win over the dwindling cadre of swing voters in the dwindling number of swing states.

"Don't compare me to the Almighty," Mr Biden likes to say. "Compare me to the alternative." Well, Mr Biden will probably lose if Republicans prove sane enough to supply an alternative such as Nikki Haley, a former governor of South Carolina, and the candidate who called out Mr Trump's unpopularity. But he could well lose anyway. Democrat or not, anyone committed to the success of the American experiment should be hoping for a Republican nominee not named Trump.
The idea that someone other than Trump—much less Nikki Haley—is going to be the nominee is a fantasy at this point. As much as I'd like it to be so, simply for the sake of giving the American people a choice between two sane, pro-democracy candidates, it's just wildly unlikely.
Once upon a time, the newspaper's practice of assigning column beats the name of a historical figure served to give the opinions a gravitas by detaching it from the persona of an actual writer. I vaguely recall that, many years back, they pulled back the veil a bit so that the writers could get credit for their work. I turns out that "Lexington" is none other than James Bennet, the longtime Atlantic editor who was forced out of his role as head of the New York Times editorial page three years ago.