Expect at Least Three Objections Tomorrow
AZ, GA, and Pa are on the table.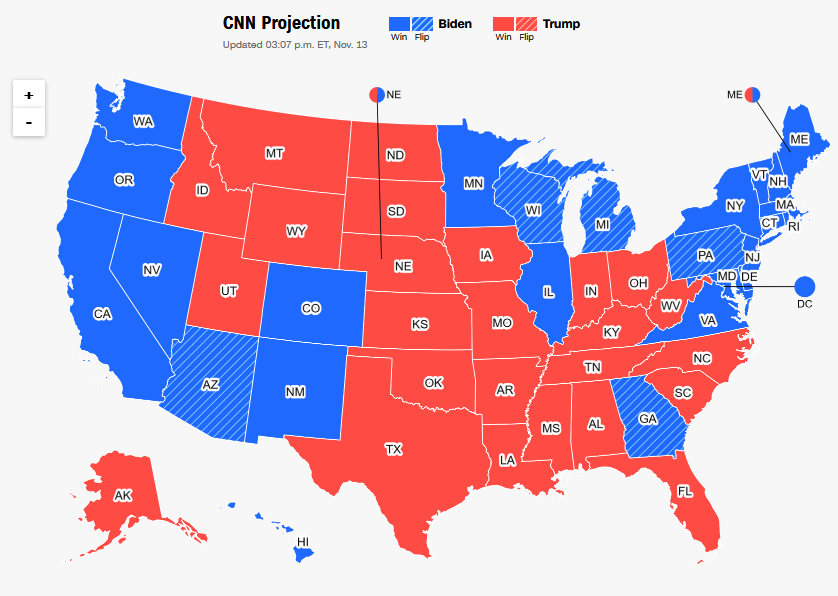 Via WaPo: Sen. Cruz to object to Arizona electors who certified Biden's win when Congress counts the votes.
Sen. Ted Cruz (R-Texas) plans to formally object to the certification of electors from Arizona during Wednesday's joint session of Congress, according to a person familiar with the matter, ensuring that the duly certified results from a third state will be challenged by a GOP senator.

[…]

Sen. Kelly Loeffler (R-Ga.), who faces a runoff election Tuesday to keep her seat, plans to object to results from her home state, and Sen. Josh Hawley (R-Mo.) has pledged to contest the outcome in Pennsylvania.
For Cruz and Hawley, this is about positioning for 2024 (as is Tom Cotton's decision to not object, since that is the only way to get his name out on this topic, I suspect). For Loeffler, it is about today and a last-minute maneuver to try and bolster support for her election.
Cruz has probably won the short-term game here, insofar as Arizona comes first in the alphabet, so he will get the chance to grandstand the most. Plus, he brought 10 whole Senators with him!
Plus, you know, he's just asking questions:
Cruz, however, argued in a late Monday interview that his focus was not about attempting to overturn the results of the election, even as other Trump allies in Congress continue to falsely assert that the president won reelection.

"My view is Congress should fulfill our responsibility under the Constitution to consider serious claims of voter fraud," Cruz told conservative host Mark Levin on Monday evening.

Cruz added: "And that's why I assembled a coalition of 11 senators that we are going to vote to object to the electors — not to set aside the election, I don't think that would actually be the right thing to do — but rather to press for the appointment of an electoral commission that can hear the claims of voter fraud, hear the evidence and make a determination as to what the facts are and the extent to which the law was complied with."
Although in his joint-statement on this topic, he is arguing that such a commission would be able to making findings to advise states where the slates were challenged:
We should follow that precedent. To wit, Congress should immediately appoint an Electoral Commission, with full investigatory and fact-finding authority, to conduct an emergency 10-day audit of the election returns in the disputed states. Once completed, individual states would evaluate the Commission's findings and could convene a special legislative session to certify a change in their vote, if needed.
So, he is asking for a delay of certification (which is a process in the Constitution) and is holding out the potential for new elections or the choosing of alternative slates. So, yes, this would be setting aside the election in those states.
Of course, what evidence might be submitted, I do not know. Clearly, all of Trump's lawyers aren't a good source, since they were unable to conjure any evidence in roughly 60 court cases. Lou Dobbs apparently can't provide it:
"Eight weeks from the election and we still don't have verifiable, tangible support for the crimes that everyone knows were committed," Dobbs said.

"We know that's the case in Nevada," he added. "We know it's the case in Pennsylvania and a number of other states, but we have had a devil of a time finding actual proof."
The rhetorical pretzel above is breathtaking, I must say.
Back the Cruz and friends statement,
The 2020 election, however, featured unprecedented allegations of voter fraud, violations and lax enforcement of election law, and other voting irregularities.
It is true that there has been an unprecedented number of allegations made, but note that the passage says noting about the level of evidence provided.
Look, a bunch of people on your street can assume that the guy at the corner is a drug dealer. He can be accused of dealing, selling, and manufacture. Accusation after accusation can be made, indeed, unprecedented allegations of a drug kingdom can be made. Affadavits can be signed that a car was sighted visiting the house late at night or that weird smells emanated from the house). But if there is no evidence of deals being done, no proof of plants or chemicals, nor one microgram of illegal drugs being found on his property, you don't take him to court.
We can't make allegations and then, with nothing, hold a trial wherein the guy has to prove he is innocent.
This would defy the fundamental core of our legal system of innocent until proven guilty.
It is a perfect illustration of the fact that you can't prove a negative. You can't ask the guy to prove he isn't a drug dealer any more than you can ask Arizona to prove there wasn't any fraud. Either you have an argument based on evidence, or you've go nothing.
It also defies the basic logic of any argument, that one needs evidence, not suspicion, not belief, not a gut-feeling, not the sense that "everyone knows," to build that argument.