Extend Unemployment Benefits
The Senate's stonewalling of unemployment benefits extension makes no sense.
Senate Republicans are successfully filibustering an extension of unemployment benefits unless they're offset by spending cuts.  Enough Democrats, most outspokenly Ben Nelson, are joining in to prevent moving to cloture.
I'm sympathetic to the notion that we need to constrain government spending.  But this seems a particularly cruel bill on which to make that stand.  And, aside from the "but Republicans support tax cuts for the rich while railing against deficits" canard, there are all manner of more expensive, wasteful programs to cut.
I'm also sympathetic to the philosophical objections.  There's simply no question, as Daniel Hamermesh points out that we have "huge amounts of research showing that extending the potential duration of unemployment benefits creates an incentive for the unemployed to search less and remain unemployed longer."  How could it not?
But, as he points out, "most of the research describes behavior in average economic times, not when the unemployment rate is 9.5%.  What little research is available suggests smaller effects when there are fewer job vacancies."  And, needless to say, there are fewer job vacancies right now.  The world economy has been in the toilet for two years now and there are strong signs things will get worse before they get better.
The Atlantic's David Indiviglio presents what he reasonably titles "A Chart That Screams, 'Extend Unemployment Benefits!'"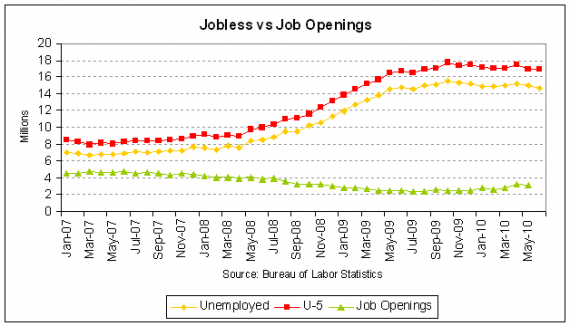 For those who prefer words to pictures:
At the end of May there were 3.2 million job openings, according to a new report from the Bureau of Labor Statistics. In the face of nearly 15 million unemployed, that's obviously not enough. And if you add in those other Americans not working because they're discouraged or marginally attached ("U-5"), then that number jumps to almost 17 million.
WaPo's Michael Fletcher ("No unemployment extension: Benefits not in sight for the long-term jobless"):
[There are] 1.4 million workers who have been unemployed for at least 99 weeks, according to the Labor Department, reaching the limit for the insurance. Their numbers have grown sixfold in the past three years.

The 99ers are glaring examples of the nation's most serious bout of long-term joblessness since the Great Depression. Nearly 46 percent of the country's 14.6 million unemployed people have been out of work for more than six months, and forecasters project that the situation will not improve anytime soon. Currently, the Labor Department says there are nearly five unemployed people for every job opening.
Are there people out there who are, as Cato's Michael Turner says in the piece, "less likely to look for work, or accept less-than-ideal jobs, as long as they are protected from the full consequences of being unemployed"?  No doubt.  But they have to be an infinitesimal fraction of the overall number.   There simply aren't enough jobs going around.