Fate Of Latest Attempt To 'Repeal And Replace' Obamacare Remains Unclear
Senate Republicans have ten days to act on their last-ditch attempt to 'repeal and replace' Obamacare, and it's not at all clear if they have the votes to do so.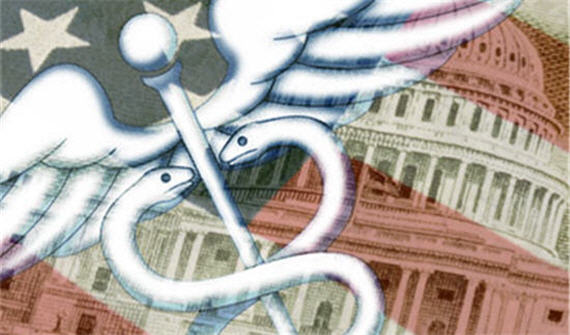 The latest last-ditch effort by Senate Republicans to 'repeal and replace" the Affordable Care Act hit a significant roadblock yesterday when a bipartisan group of Governors came out against the bill proposed by a group led by Senators Lindsey Graham and Bil Cassidy:
WASHINGTON — Eleven governors, including five Republicans and a pivotal Alaskan independent, urged the Senate on Tuesday to reject a last-ditch push to dismantle the Affordable Care Act.

But Republican leaders pressed toward a showdown vote. And they choked off separate bipartisan efforts to shore up health insurance markets under the Affordable Care Act, hoping to give Republican senators no alternative but to vote for repeal.

The latest repeal bill, drafted by Senators Lindsey Graham of South Carolina and Bill Cassidy of Louisiana, would undo much of the Affordable Care Act and send tens of billions of federal dollars to the states with vast discretion over how to spend the money.

This is the choice for America, Mr. Graham said on Tuesday: "Socialism or federalism when it comes to your health care."

Yet some governors, the supposed beneficiaries of that federalism, were decidedly cool to the proposal. New Hampshire's Republican governor, Chris Sununu, had criticized the proposal on Monday. But it was the opposition of Alaska's governor, Bill Walker, that might prove most important. He increased pressure on Senator Lisa Murkowski, Republican of Alaska, to cast what could be a deciding vote to kill the repeal effort, just as she voted against the last repeal bill in July.

Republican leaders appeared determined to thwart any alternative ahead of a possible showdown vote next week. Senator Lamar Alexander, Republican of Tennessee, announced Tuesday that he and Senator Patty Murray, Democrat of Washington, would not come forward with the "limited, bipartisan plan to stabilize 2018 premiums" in the individual health insurance market that they had been working toward.

Their bipartisan efforts, which grew out of four days of committee hearings, were overtaken by the resumption of partisan warfare on health care.

"We have worked hard and in good faith," said Mr. Alexander, the chairman of the Senate health committee, "but have not found the necessary consensus among Republicans and Democrats."

Ms. Murray was more blunt: "Republican leaders have decided to freeze this bipartisan approach and are trying to jam through a partisan Trumpcare bill."

The Senate Democratic leader, Chuck Schumer of New York, accused Republicans of crushing "very, very hopeful sprouts of bipartisanship."

But the latest repeal legislation was facing significant opposition. The American Medical Association, the American Hospital Association and AARP, the lobby for older Americans, all urged the Senate to reject the bill. And 10 of the 12 governors opposing the measure signed a letter urging Senate leaders to scrap it.

The Graham-Cassidy bill "would result in millions of Americans losing their health insurance coverage, destabilize health insurance markets, and decrease access to affordable coverage and care," Dr. James L. Madara, the chief executive of the A.M.A., said in a letter to Senate leaders.

Richard J. Pollack, the president of the hospital association, said the bill "would erode key protections for patients and consumers."

While the two main insurance associations remained silent on Tuesday as they pondered how they planned to respond to the legislation, Centene, one of the few insurers that has aggressively expanded its presence in the individual market for next year, voiced misgivings.

"From a public policy standpoint, it is not a good piece of legislation," Centene's chief executive, Michael F. Neidorff, said in an interview. He urged lawmakers from both parties to work together to avoid passing a law before understanding its full impact. States may not be able to plan, given the uncertainty over their funding, he said. "You could end up with 50 different plans," he said.

"This is unlike anything I have ever seen," Mr. Neidorff said. "They have to sit back and think through what they are doing."

Within hours after the bipartisan group of governors sent their letter opposing the repeal bill, Senator Cassidy provided a letter from 15 Republican governors supporting the concept of "adequately funded block grants to the states."

By Tuesday evening, Ms. Murkowski appeared to be the key vote.

At least two other Republican senators, Rand Paul of Kentucky and Susan Collins of Maine, are likely no votes. With Democrats united in opposition, Republican leaders cannot afford to lose any other votes.
As things stand, reports are indicating that the bill could come up for a vote sometime next week, with early test votes (i.e., the cloture vote to open debate and voting on various proposed amendments to the bill) could come as early as next Wednesday, but that is entirely unclear at this point. Senate Majority Leader Mitch McConnell is on the record as saying that he would not commit to bringing the bill to the floor unless he was sure he had the fifty votes he would need to pass the votes. As things stand right now, he's right on the precipice as he has been several times before on this issue since both Senator Rand Paul and Senator Susan Collins have already come out against the bill. For Senator Paul, the opposition is based on the fact that he believes that Graham-Cassidy doesn't go far enough in repealing the Affordable Care Act and instead merely changes the manner in which its paid for while getting rid of a few provisions such as the individual and employer mandates. For Senator Collins, the opposition is essentially similar to the reasons that she's been against the previous proposals, including the fact that the program would place undue burdens on states that took advantage of the PPACA's provisions that allow states to expand Medicaid coverage as well as its bar on any Federal funding for Planned Parenthood. This means that one more no vote would kill the bill. Right now, that has placed attention on Senators Lisa Murkowski and John McCain, both of whom were among the no votes that killed the last attempt at passing a 'repeal and replace' bill at the end of July.
As things stand, then, it's unclear what's going to happen with this latest attempt by Republicans to live up to a promise that they've campaigned on for the past seven years at least. The only thing we can be sure of is that this latest effort has a definite drop-dead date given the fact that the Senate Parliamentarian has ruled that the period within which the Senate can take advantage of the relaxed budget reconciliation rules ends on September 30th, just ten days from now. If they're not able to act before that date, then any future effort on health care reform would require sixty votes to invoke cloture, which simply isn't going to happen. The only way to reset the clock on reconciliation would be to pass a new Budget Resolution for the Fiscal Year that would begin on October 1st 2018, but that's not likely to occur until sometime next year that will likely be far too close to the mid-term elections for consideration of a bill like this to be considered. Thus, this is likely the last chance Republicans have to repeal and replace the PPACA until 2019 at the earliest. Whether they succeed is a question that cannot be answered at this point.