Federal Judge Declares California's Gay Marriage Ban Unconstitutional
U.S. District Court Judge Vaughn Walker today declared California's Proposition 8 to be unconstitutional, thus opening the latest front in the gay marriage wars.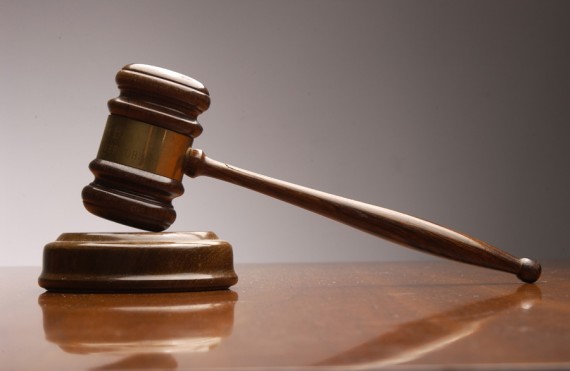 Late today, U.S. District Court Judge Vaughn Walker issued his ruling in the lawsuit challenging California's Proposition 8 and his ruling is already reverberating across the nation:
SAN FRANCISCO — A federal judge in San Francisco struck down California's voter-approved ban on same-sex marriage on Wednesday, handing a temporary victory to gay rights advocates in a legal battle that seems all but certain to be settled by the Supreme Court.

Wednesday's decision is just the latest chapter of what is expected to be a long legal battle over the ban — Proposition 8, which was passed in 2008 with 52 percent of the vote — and proponents were already promising to appeal, confidently predicting that higher courts would be less accommodating to the other side than Judge Walker.

Still, the very existence of federal-level ruling recognizing same-sex marriage in California, the nation's most populous state, set off cheers from crowds assembled in front of the courthouse in San Francisco Wednesday afternoon. Evening rallies and celebrations were planned in dozens of cities across California and several across the nation.

In San Francisco, the plaintiffs' case was argued by David Boies and Theodore Olson, ideological opposites who once famously sparred in the 2000 Supreme Court battle beween George W. Bush and Al Gore over the Florida recount and the presidency. The lawyers brought the case — Perry v. Schwarzenegger — in May 2009 on behalf of two gay couples who said that Proposition 8 impinged on their Constitutional rights to equal protection and due process.
Late reports indicate that Judge Walker has temporary suspended the effect of his order so that the parties can argue before him on the issue of whether the order should be suspended fully pending appeal, but the legal impact of the ruling remains.
There will be much more analysis and commentary to come, of course, but for, for now, it's worthwhile to take a look at some of the important parts of Judge Walker's decision, which I've also embedded at the end of this post. For example, Judge Walker notes that gender is no longer a relevant factor for the state to consider in choosing whether to give recognition to a union of adults:
The right to marry has been historically and remains the right to choose a spouse and, with mutual consent, join together and form a household. FF 19-20, 34-35. Race and gender restrictions shaped marriage during eras of race and gender inequality, but such restrictions were never part of the historical core of the institution of marriage. FF 33. Today, gender is not relevant to the state in determining spouses' obligations to each other and to their dependents. Relative gender composition aside, same-sex couples are situated identically to opposite-sex couples in terms of their ability to perform the rights and obligations of marriage under California law. FF 48. Gender no longer forms an essential part of marriage; marriage under law is a union of equals.

(…)

Plaintiffs do not seek recognition of a new right. To characterize plaintiffs' objective as "the right to same-sex marriage" would suggest that plaintiffs seek something different from what opposite-sex couples across the state enjoy —— namely, marriage. Rather, plaintiffs ask California to recognize their relationships for what they are: marriages
Most important for legal purposes,  though, Judge Walker determines that Proposition 8 serves no rational purpose:
Proponents' argument that tradition prefers opposite-sex couples to same-sex couples equates to the notion that opposite-sex relationships are simply better than same-sex relationships. Tradition alone cannot legitimate this purported interest. Plaintiffs presented evidence showing conclusively that the state has no interest in preferring opposite-sex couples to same-sex couples or in preferring heterosexuality to homosexuality. See FF 48-50. Moreover, the state cannot have an interest in disadvantaging an unpopular minority group simply because the group is unpopular. Moreno, 413 US at 534.

(…)

In the absence of a rational basis, what remains of  proponents' case is an inference, amply supported by evidence in the record, that Proposition 8 was premised on the belief that same-sex couples simply are not as good as opposite-sex couples. FF 78-80. Whether that belief is based on moral disapproval of homosexuality, animus towards gays and  lesbians or simply a belief that a relationship between a man and a woman is inherently better than a relationship between two men or two women, this belief is not a proper basis on which to legislate. See Romer, 517 US at633; Moreno, 413 US at 534; Palmore v Sidoti, 466 US 429, 433 (1984) ("[T]he Constitution cannot control [private biases] but neither can it tolerate them.").

(…)

Moral disapproval alone is an improper basis on which to  deny rights to gay men and lesbians. The evidence shows conclusively that Proposition 8 enacts, without reason, a private moral view that same-sex couples are inferior to opposite-sex couples. FF 76, 79-80; Romer, 517 US at 634 ("[L]aws of the kind now before us raise the inevitable inference that the disadvantage imposed is born of animosity toward the class of persons affected."). Because Proposition 8 disadvantages gays and lesbians without any rational justification, Proposition 8 violates the Equal Protection Clause of the Fourteenth Amendment.
This isn't the end of the road, of course. The case now heads to the 9th Circuit Court of Appeals and, presumably, to the United States Supreme Court. But, the decision has been made and it will undoubtedly have an impact for years to come.
From what I've seen of Judge Walker's decision so far, it strikes me that he got this right. My preferred world would be one where marriage was not defined by the state at all but left to the churches, or to individuals, to decide what the institution was and how to sanctify it, if at all. As long as the state is involved in defining the institution, however, and as long as it provides special benefits to people in that status that cannot be obtained by unmarried people, then the 14th Amendment requires that people be treated equally.
Here's the opinion, though, decide for yourself: