Films Based On Marvel Comics More Successful Than Those Based On DC Comics
Films from the House of Spiderman have grossed more than those from the House of Superman. But that's mostly because of ticket price increases.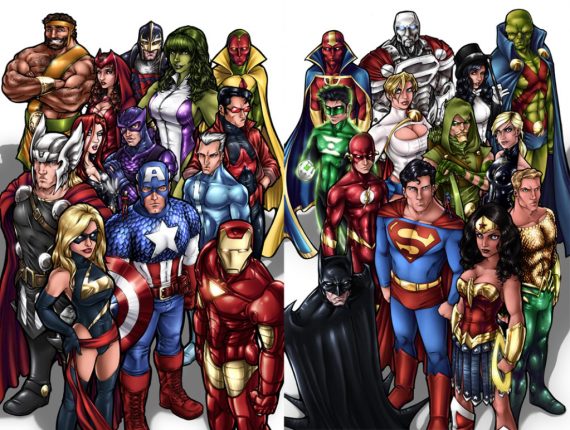 An analysis by Bloomberg has found that films based on Marvel's comic book characters have been more successful financially than those based on DC Comics' characters:
When it comes to box-office dollars, the Avengers and other Marvel superheroes are mightier than DC Comics.

Films based on Marvel comic books have generated 47 percent more in U.S. box-office sales on average than DC Comics movies, according to data compiled by Paul Sweeney, an analyst at Bloomberg Industries. The 28 Marvel films dating back to 1998 have averaged $190 million, compared with $129 million for 23 DC Comics movies starting with "Superman" in 1978.

"The Avengers," the 2012 movie featuring Iron Man, Captain America and the Hulk, was the highest-grossing film for either comic-book brand, with $1.5 billion in global receipts. The success of Marvel movies has given a boost to Walt Disney Co., which acquired Marvel Entertainment Inc. at the end of 2009 for about $4 billion. Time Warner Inc., meanwhile, has hitched its fortunes to DC Comics fare, including the Batman films and this week's "Man of Steel" release.

"Time Warner is clearly relying on DC Comics to replace (if even possible) the Harry Potter franchise," Sweeney, who relied on data from Box Office Mojo and SNL Kagan, said in an e-mail. The Harry Potter films, based on the J.K. Rowling books, ended their run in 2011.
Of course, as is always the case when comparing box office receipts over long periods of time, in this case the 35 year period beginning with the release of Christopher Reeve's first Superman film, really he first comic book based film of the blockbuster era, inflation plays a role:
Box-office inflation has helped Marvel outshine DC Comics. Marvel has released 13 films since 2007, while DC has only delivered seven, Sweeney said in his report. Average ticket prices have tripled since 1980, giving more recent films Hulk-sized dollar figures. The total domestic grosses for Marvel are $5.3 billion, compared with about $3 billion for DC, according to Sweeney.

For Time Warner, which acquired DC Comics when Time Inc. merged with Warner Communications in 1990, "The Dark Knight Rises" was its biggest comic-book blockbuster. The 2012 film — the third installment in a series directed by Christopher Nolan — has generated about $1.1 billion in global receipts, according to Box Office Mojo.
It's disappointing that Sweeny apparently didn't take his study a step further and adjust the gross receipts for all 51 of these movies for inflation as it would be interesting to see where things fall after that's done. An additional factor helping push the Marvel-based films over the top, no doubt, is that the advent of both 3D and IMAX films, both of which garner ticket prices that are higher than even the much higher ticket prices we know pay for "normal" showings of the film in question. Of course with Man Of Steel coming out soon, it will be interesting to see how these numbers are impacted.