Final Scheduled Republican Debate Canceled
It looks like we've reached the end of the debate schedule for Republicans in 2016 .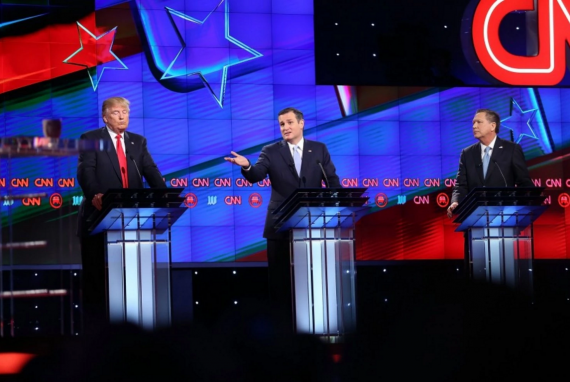 There was supposed to have been another Republican Presidential debate in Utah on Monday, but it has been canceled after both Donald Trump and John Kasich made clear that they wouldn't be there:
Monday's Republican presidential primary debate has been canceled after GOP front-runner Donald Trump declined to participate, citing a scheduling conflict.

"On Feb. 20, the Republican National Committee announced that a GOP presidential primary debate would be held on March 21 in Salt Lake City.

They offered that debate to Fox News Channel to host, provided there were enough candidates actively campaigning," Fox News Executive Vice President Michael Clemente said in a statement.

"This morning, Donald Trump announced he would not be participating in the debate. Shortly afterward, John Kasich's campaign announced that without Trump at the debate, Kasich would not participate. Ted Cruz has expressed a willingness to debate Trump or Kasich — or both. But obviously, there needs to be more than one participant. So the Salt Lake City debate is cancelled," Clemente said.

Trump said earlier on Wednesday that he was scheduled to speak at a conference of the pro-Israel lobbying group AIPAC, and would be skipping the Utah debate.

"Nobody told me about debates. As you saw, I thought the last debate on CNN was the last debate," he said on "Fox & Friends" Wednesday morning.

"I'm doing a major speech in front of a very important group of people that night," Trump said, adding that it had been "scheduled a while ago."

"I think it's enough," he added, about the dozen debates the Republican candidates have participated in so far.

But during an interview on stage directly after CNN's debate last week, Trump acknowledged there were more debates planned and seemed more open to participating. He told anchor Chris Cuomo, "I think they want to do two more debates, and I guess I'm pretty much OK with it," though he added he's "had enough" of the debates.

Sean Spicer, the Republican National Committee's chief strategist, had initially confirmed on Wednesday morning that the debate would go on even without Trump on stage.

But then Ohio Gov. John Kasich's campaign declared that he wouldn't appear without Trump, forgoing the opportunity to debate Texas Sen. Ted Cruz one-on-one.

"Donald Trump's decision to scuttle the Salt Lake City debate is disappointing, but not surprising. His values are out of step with the people of Utah," Kasich's chief strategist John Weaver said on Wednesday. "We had hoped to contrast Governor Kasich's positive inclusive approach to problem solving with Trump's campaign of division. If he changes his mind, we will be there."
To date, there have been twelve Republican debates, starting with the first debate in Cleveland, Ohio last August and continuing through the one that aired last Thursday night from Miami, Florida. This is roughly half as many debates as there were during the 2011 election cycle, which was part of the goal of the Republican National Committee when it took over the debate planning process in the wake of the 2012 elections. After that election, the party undertook a review of its campaign process and that review made several recommendations regarding that process, including reducing the number of debates and taking more direct control over who sponsors and participates in the debates themselves. To some degree, that effort was all for naught in the 2016 cycle, but that was largely due to the extraordinary number of candidates that put their hat in the ring for the nomination and the fact that any debate with such a large number of participants would end up being largely unmanageable. In any case, regardless of that point, there was some merit in the argument that having more than twenty debates during the course of the 2012 race was way too much, especially since most of those debates took place before anyone had actually voted and almost none of them took place after the first month of primaries and caucuses.
This year, at least, there were a number of debates during the time when they would be most relevant to voters, and the fact that we apparently won't be having any more debates isn't necessarily a bad thing. At this point, there isn't much that Ted Cruz, Donald Trump, or John Kasich are going to say in a debate that they haven't already said more than once on more than one debate stage. Asking the same questions, and giving the same answers, over and over again doesn't exactly seam like a productive use of time. Moreover, from Trump's perspective, the more free media time his opponents get the more of a chance they get to attack and attempt to provoke him on stage. Avoiding those opportunities is in Trump's best interest now that his campaign is trying to portray him as the presumptive nominee. At the same time, though, with the Republican race possibly headed toward an historic ending, one could make the argument that a final debate or two between the last three candidates would be a good idea. With nothing on the calendar, though, that's only likely to happen if the campaigns agree on it, and that's quite unlikely to happen.