First Florida Governor's Race Poll Shows Democrat Gillum With Narrow Lead
A new poll shows Tallahassee Mayor Andrew Gillum with an early, but slim lead, over Congressman Ron DeSantis in the race for Florida's Governor's Mansion.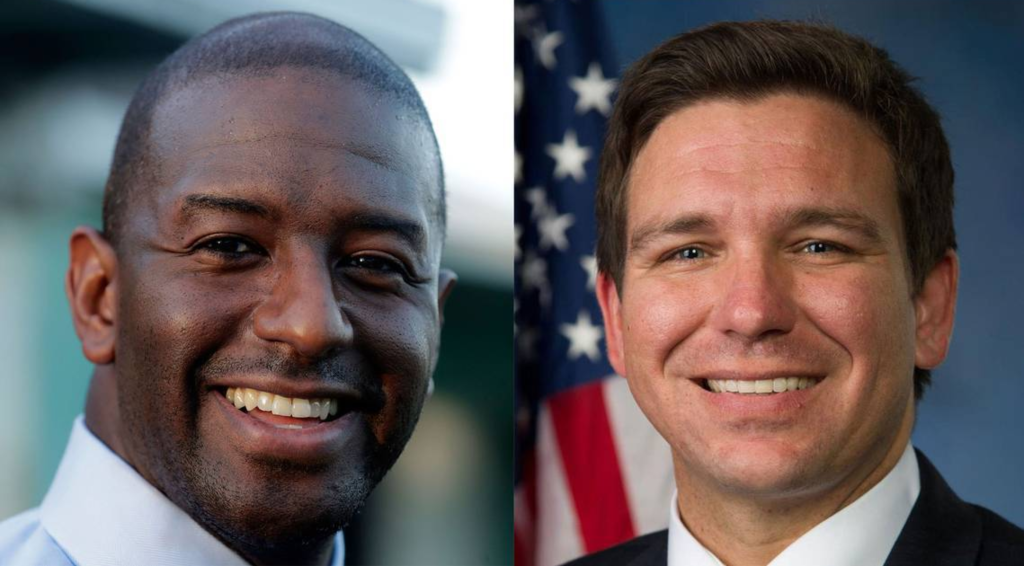 One week ago, Democratic Mayor of Tallahassee Andrew Gillum pulled off a surprise win in the Democratic Primary to win the right to face Republican Congressman Ron DeSantis in the race to succeed Rick Scott as Florida Governor. Yesterday, we got the first poll of that matchup and it shows a race much closer than many may have anticipated:
MIAMI — Democrat Andrew Gillum has a marginal lead over Republican Ron DeSantis in the first major post-primary poll of Florida's race for governor, which looks too close to call for the moment.

Gillum's 50-47 percent advantage over DeSantis is buoyed by solid backing among independents and overwhelming African-American support for the first-ever black nominee for governor, according to the Quinnipiac University poll of 785 likely Florida voters. The poll has an error margin of 4.3 percentage points.

"Mayor Andrew Gillum came out of his upset victory in the Florida Democratic primary with a head of steam," Peter A. Brown, assistant director of the Quinnipiac University Poll, said in a written statement. "That momentum shows itself as Gillum hits 50 percent in a neck-and-neck match-up with Republican U.S. Rep. Ron DeSantis for the four-year lease on the governor's mansion."

The Florida Democratic Party has not won a race for governor in 24 years, when Gillum and DeSantis were both 15 years old.

While the idea of a "too close to call" statewide race is par for the course in Florida, what makes this contest unusual is the polarization of voters. Brown said more than 9 in 10 voters in the poll reported that they wouldn't change their minds by Election Day.

There's a big gender rap in the race, with men supporting DeSantis by 52-45 percent, and women backing Gillum by 55-42 percent.

White voters support DeSantis by 52-45 percent, while black voters back Gillum 93-2 percent. DeSantis has an edge among Hispanic voters, likely due to the strong support of GOP-voting Cuban-Americans, who back him by 56-43 percent over Gillum.

Each candidate draws about the same support — more than 90 percent each — from voters who identify with their party, Gillum right now is winning independents by 55-42 percent. The poll surveyed slightly more Republicans than Democrats, 34 percent to 31 percent, which is in keeping with historic Florida midterm turnout rates.

Overall, 46 percent had a favorable impression of Gillum and 33 percent had a negative impression, giving him a net favorability rating of 13 points. DeSantis' net favorability rating: 2 points, with 45 percent viewing him favorable and 43 percent negatively.
As noted above, Florida's Governor's races have had a history in recent years of being fairly close so it's not surprising that this early poll shows a close race between Gillum and DeSantis. In 2010, for example, Rick Scott eked out a win against Alex Sink by roughly a 60,000 vote margin. Four years later, he was re-elected in a race against former Governor Charlie Crist by the nearly same margin as he had won election four years earlier. We've also seen evidence of the same close Republican-Democratic divide at the Presidential level. In 2016, for example, Donald Trump became the first Republican since 2004 to win the state with a 110,000 vote margin over Hillary Clinton. This came after Barack Obama won the state in 2008 by 240,000 votes and in 2012 by 70,000 votes. Of course, Florida was famously close in 2000 in a race whose outcome some people continue to dispute.
With this recent political history, it isn't entirely surprising that the race between Gillum and DeSantis is so close. What is somewhat surprising, I suppose, is the fact that it is Gillum who appears to be entering the early days of the General Campaign with the early lead. Whether that holds up is something we'll have to see as future polling comes out and, of course, as the campaign evolves. Nonetheless, it does appear that Gillum will be a serious contender going forward and that DeSantis is going to have his hands full if he's going to keep the Florida Governor's Mansion in Republican hands, and Gillum will have his hands full trying to flip it.