Flynn Suggests a Coup
For those wondering what a textbook coup would look like.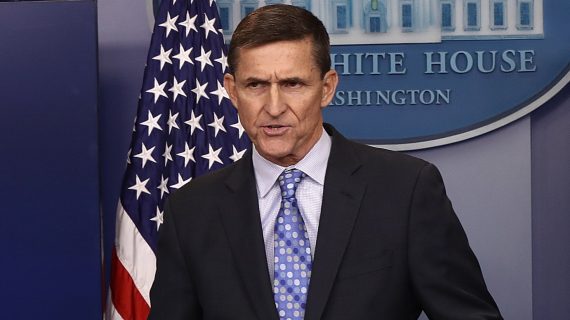 There has been something of an ongoing debate about what a "coup" would look like. Well, here's Michael Flynn on Newsmax suggesting actions that would clearly constitute a coup a couple of days ago:
The video is above, but here is the key portion:
During an appearance on Newsmax's "Greg Kelly Reports," Flynn was asked about the actions the president could take to undo the results of the election.

After Flynn suggested that the president could seize every voting machine across the country, he then suggested deploying the military in swing states that the president lost to President-elect Joe Biden.

"He could order, within the swing states if he wanted to, he could take military capabilities and basically rerun an election each in those states," Flynn said.
So, anyone who wants a textbook example of a military coup, there you have it. This is straight out of examples from Peru and Argentina in 1960s. This would be utterly unacceptable and it is beyond ridiculous that he talks about all of this in sentences adjacent wherein he talks about constitutional principles. There would nothing constitutional about any of the above.
The president has no authority to seize state-owned and run equipment and no legal basis whatsoever to order new elections. The cherry on the sundae of subversion of democracy is the notion that this rerun election would only take place in the swing states.
Moreover, Flynn was remarkably cavalier about martial law:
Flynn added that using the military is "not unprecedented," saying that people talk about it "like it's something that we've never done," but he also said he was "not calling for that."

"Martial law has been instituted 64 times," he said. "So I'm not calling for that. We have a constitutional process, and that has to be followed."
I am not sure as to the exact 64 incidences to which he is referring, but I know that such actions have been limited. Most instances are linked to natural disasters or riots. There have been some examples during the War of 1812 and the Civil War. The notion that any of this should even casually raised in a conversation about election is utterly, totally unacceptable.
That Flynn was an officer, let alone a lieutenant general and head of the DIA, is beyond concerning. It is, in fact, the kind of thing that puts a pit in one's stomach.
Anyone who thinks that the military could be used to seize voting equipment and then force a re-run of an election should never have been anywhere near service in the US armed forces.