Focus Shifts To Senate For Possible Deal On Debt Limit, Shutdown
With the House's proposed deal reaching an impasse, the Senate is now taking center stage.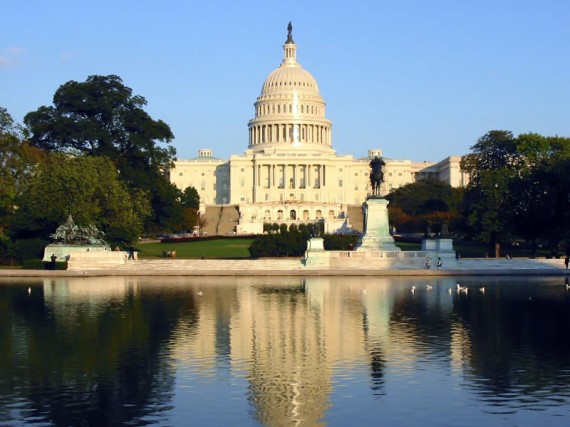 The prospects for a deal to raise the debt ceiling and reopen the government appear to have taken something of a bad turn overnight, but there are signs that Senators on both sides of the aisle are taking it upon themselves to come up with an alternative proposal:
Speaker John Boehner told House Republicans Saturday morning that his efforts to strike a deal with President Barack Obama are at a standstill.

There is no agreement, Boehner said in a room in the Capitol Saturday, and no negotiations between House Republicans and the White House, since Obama rejected the speaker's effort to lift the debt ceiling for six weeks and reopen government while setting up a budget negotiating process.

With that, a familiar dynamic has resurfaced 12 days into the government shutdown, and five days before Treasury says the nation runs out of borrowing authority: the pendulum has swung back to Senate Republicans, who now look more likely to cut a deal with Obama to end the first government shutdown since 1996, and avoid the first default on U.S. debt in history.

House Republicans are, for the first time, acknowledging that reality. House Majority Leader Eric Cantor (R-Va.) told the closed meeting of GOP lawmakers that, "Senate Republicans need to stand strong and fight," according to sources in the room.

"It's all good," Rep. Raul Labrador (R-Idaho) said. "It's now up to the Senate Republicans to stand up."

House Republican leaders met with Senate Minority Leader Mitch McConnell (R-Ky.) Friday to receive a briefing on the state of play in the Senate.

Sens. Susan Collins (R-Maine) and Joe Manchin (D-W.Va.) are circulating a 23-page draft bill that would increase the nation's borrowing limit through January, and reopen government until March.

The bill would also delay Obamacare's tax on medical devices for two years, while replacing the lost revenue by altering the way pensions are calculated. It would give increased autonomy to the heads of federal agencies under the constraints of sequester spending levels and provide funding increases for fire suppression, a key item for Sen. John McCain (R-Ariz.).

But the clock is the biggest enemy for all sides. It's unclear if a deal brokered by the Senate could come together before Thursday, when the $16.7 trillion debt limit must be boosted, according to Treasury Secretary Jack Lew. House Republican leadership sources say their offer of a six-week debt limit increase might regain favor if a Senate-brokered deal does not come together before that deadline.

The House goes out of session Saturday, and will return Monday evening.
Further details from National Journal
Senate Republicans emerged from a more than 90-minute meeting with President Obama on Friday more bullish than they have been in recent days on the chances to end the government shutdown, now in its eleventh day, and avoid breaching the nation's debt limit next week.

In the meeting, lawmakers said that Sen. Susan Collins, the moderate Republican from Maine, presented to Obama a plan that would lift the debt limit until the end of January and keep the government operating for six months. Lawmakers would then use that time to craft a broader fiscal agreement.

"He seems open to some of the suggestions that I made," Collins said.

Her package, as presented, would also include the rolling back of a tax on medical devices that helps fund the president's health care law. Obama did not embrace the package but numerous Republicans, including Collins, said the conversation was "constructive."

Other Republican senators have suggested different lengths of time for both the debt limit and government operations, but they broadly agreed that talks were on track toward a solution, perhaps for the first time since the crisis began.

"I think we're on a pretty good course right now – I do," said Sen. Bob Corker, R-Tenn., after the meeting.

Broadly speaking, multiple Republicans said they were encouraged the negotiations had shifted from dismantling the health care law to addressing fiscal matters.

"He feels very strongly about the Affordable Care Act," said Sen. Mike Johanns, R-Neb, "and he's not going to give on that."

Instead, Republicans hope to use the short-term debt-limit increase to negotiate a broader package of changes to entitlement programs.

Traps remain. Collins noted that Obama – who has declared definitively that he refuses to negotiate over reopening the government and lifting the debt limit – seemed reticent to package those items with anything else.

"It seems to be one of timing for him," Collins said. "The problem is if you don't put it all together in one plan I don't know that we will be able to get sufficient support to reopen government and to extend the debt limit. That's why I think it's better to combine them in one plan."
The bigger question, of course, is whether anything resembling what Collins is working on can make it through the House. It's possible that suspension of the medical device tax will be a sufficient sop to the conservatives in the GOP Caucus that Boehner and Company will be able to get the bill through, but there are still plenty of potential pitfalls going forward. For one thing, there remains a group of Republicans in the House of not inconsiderable size that seems to be insisting that any bill that doesn't include something more substantial when it comes to Obamacare will not get their vote. How large that faction is, and whether it could cause problems for the bill if it does get to the House is a huge unknown. Also unknown is whether a longer term CR/debt ceiling deal has any legs in the House. To date, all of the House proposals have included only a six week extension. Not only does this seem like too short of a period of time to negotiate anything substantial, but, as several commentators noted yesterday, it would put yet another deadline right at the start of the Christmas shopping season. According to several reports, President Obama has stated that he'd be uneasy with a situation like this because of the potential impact it could have on consumer confidence and the economy should Congress prove unable to come to agreement yet again. This argument has a lot of merit, of course, which is why the longer extension being proposed by the Collins plan would seem to make more sense. What's unknown, of course, is whether the House would agree to kick the can down the road that far.
As things stand today, it's unlikely we'll see any resolution of this matter before early next week. As noted, the House is only expected to be in session for a few more hours today and will then be adjourning until Monday evening. While Leadership will reportedly be staying in town to continue trying to work out some kind of an agreement, there will not be an opportunity for a House vote before then and, given procedural issues, it's more likely that we'd see a vote on Tuesday. This means that the Federal Government shutdown will last for at least 14 days, and that we'll be bumping right up against the deadline for raising the debt ceiling. That quite obviously doesn't leave a lot of time for much of anything to get done unless an agreement is reached between all parties over the weekend and legislation is ready to go in the House as soon as they get back in town.  For the moment, though, it appears that the real action has shifted to the Senate. Whether they'll have any better luck than their colleagues across the Rotunda remains to be seen.