Former Defense Secretary Frank Carlucci Dies At 87
Frank Carlucci, who served as President Reagan's last Secretary of Defense, has died at 87.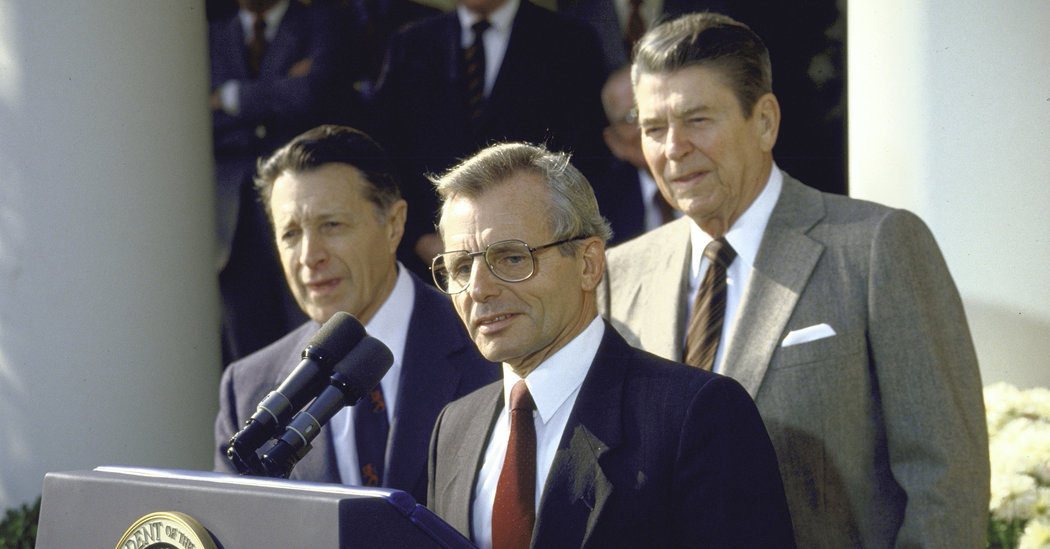 Frank Carlucci, who served as Secretary of Defense in the final years of the Reagan Administration and in a number of diplomatic and national security posts prior to that, has died at the age of 87:
Frank C. Carlucci, a troubleshooting Republican who worked for four presidents in a wide-ranging government career that reached its zenith when he served as national security adviser and secretary of defense in President Ronald Reagan's second term, died on Sunday at his home in McLean, Va. He was 87.

His wife, Marcia Myers Carlucci, said the cause was complications of Parkinson's disease.

In posts that carried him into international controversies, occasional dangers and Washington's highest echelons, Mr. Carlucci was a daredevil diplomat, an expert budget-whacker and, to presidents and cabinet secretaries, the indispensable No. 2 man who ran things: the day-to-day affairs of America's anti-poverty programs; its health, education and welfare systems; its intelligence services; and its military operations.

After years in the administrations of Presidents Richard M. Nixon, Gerald R. Ford and Jimmy Carter, Mr. Carlucci was named national security adviser by President Reagan in 1986, succeeding Rear Adm. John M. Poindexter, who had resigned as the Iran-contra affair, and his role in fostering it, came to light.

The appointment aimed at restoring confidence in an administration shaken by the scandal. Mr. Carlucci, the fixer, soon cleaned house at the National Security Council, abolishing Lt. Col. Oliver North's political-military affairs section, which had hatched the covert plot to sell arms to Iran to finance right-wing guerrillas, known as the contras, fighting Nicaragua's leftist government.

A year later, President Reagan named Mr. Carlucci defense secretary. He succeeded Caspar W. Weinberger, who had resigned for personal reasons but who was also under pressure in the Iran-contra affair.

Mr. Carlucci was cool, experienced and knowledgeable — once more a good fit. He had been deputy defense secretary under Mr. Weinberger in Reagan's first term, and had ably managed the big Pentagon bureaucracy and overseen budgets, procurement, weapons planning and deployment of the nation's global military forces.

Though he was defense secretary for only 14 months, Mr. Carlucci was not a caretaker. He presided over $33 billion in budget cuts, closing domestic bases while maintaining strength abroad as the Cold War wound down. He shared Reagan's faith in space-based missile defenses and mobile missiles on rail cars, which were not developed. But he also backed arms control agreements with Moscow.
More from The Washington Post:
Frank Charles Carlucci III was born Oct. 18, 1930, in Scranton, Pa., where his father was an insurance agent.

The younger Carlucci was only 5-foot-7 but was known as a dedicated athlete. He joined Rumsfeld on the wrestling team at Princeton, where he graduated in 1952 with a degree in international relations.

After two years in the Navy, he spent a year in a two-year MBA program at Harvard and also began an executive training program at the Jantzen swimsuit company before deciding that this, too, was not for him.

He had long been interested in foreign affairs, so in 1956 he joined the Foreign Service. He was sent to Congo in 1960, just at the cusp of its independence from Belgium. That November, he helped save from mob bloodlust a carload of Americans whose vehicle had struck and killed a Congolese bicyclist in the capital of Léopoldville.

Mr. Carlucci once said he remained with the driver "at least until the others could get away." Only later on a bus home did he realize that he had knife wounds in his back. His bravery in that episode and others in Congo's rebellious provinces became the stuff of Foreign Service legend and cemented his friendships with Cyrille Adoula, who became premier of Congo, and with Prime Minister Patrice Lumumba.

He returned to Washington in 1962 and took over the Congo desk at the State Department. Adoula soon arrived on an official visit and, at a White House lunch in his honor, looked around and asked, "Where is Carlucci?" The Congo desk officer was unknown to President John F. Kennedy, who turned to Secretary of State Dean Rusk and asked, "Who's Carlucci?"

The secretary didn't know, either, but Mr. Carlucci was soon tracked down and delivered to the table.

Passing through Washington in 1969 after working at the embassy in Brazil, Mr. Carlucci got together with Rumsfeld, who had just become head of the Office of Economic Opportunity and persuaded his former teammate to join him as deputy director for operations at the anti-poverty agency.

Over the next two years, Mr. Carlucci became the deputy to Weinberger, who led first the Office of Management and Budget and then the old Department of Health, Education and Welfare.

Upon his return from Portugal in 1978, Mr. Carlucci accepted an assignment from President Jimmy Carter to serve as deputy CIA director. The head of the spy agency, Turner, had been expected to clean up shop after revelations at congressional hearings that the CIA was engaged in assassination plots, spying on Americans and other misdeeds.

Turner fired more than 200 experienced spies, some of them station chiefs in Eastern Europe, and was turning his resources and reliance to satellites. Mr. Carlucci took over the day-to-day operational control of the agency while Turner focused on coordinating the larger intelligence community. Mr. Carlucci's willingness to use human operatives as well as satellites for intelligence gathering and covert action was credited with helping ease the tension.

Mr. Carlucci's decision to work for a Democratic president was viewed as an act of betrayal by some hard-line Republicans. But when Reagan, who was now president, tapped Weinberger to run the Pentagon in 1981, the new defense secretary insisted on having Mr. Carlucci as his No. 2. They went on to launch what was then the largest military buildup in U.S. history — with a budget of $1.4 trillion over five years, which Mr. Carlucci directed.

(…)

In 1986, he was lured back into government service amid scandal at the National Security Council, whose staff members had gone into the covert-action business. They were secretly selling arms and spare parts to embargoed Iran and, equally, secretly funneling the profits to the contra rebels fighting the government of Nicaragua. It was all illegal, and Poindexter and North were forced out.

In the search for a new national security adviser, Mr. Carlucci was the unanimous recommendation of Weinberger, Secretary of State George P. Shultz, CIA Director William Casey and Attorney General Edwin Meese III.

Assuming control at the NSC, Mr. Carlucci announced that he was going to get it back to its traditional role as "a staff arm" to coordinate policy formation, and not an action agency. During his year in the job, he fired 24 of the 59 professional staffers, eliminated North's political-military section and appointed a full-time general counsel reporting directly to him.

At the NSC, Mr. Carlucci named as his deputy Colin L. Powell, his former top military assistant at the Pentagon. Powell succeeded him as national security adviser, beginning his own rise to the highest levels of Washington's power structure.

Mr. Carlucci succeeded Weinberger as defense secretary in 1987 and over the next two years instituted painful budget cuts and base closings as the Cold War wound down and the country entered an economic slump. One hurdle he cleared was the noisy resignation of Navy Secretary Jim Webb, who accused him of bad faith and betrayal of an administration goal of building a 600-ship navy.
Perhaps the most notable thing about Carlucci is the fact that he was a Cold War-era diplomat and national security expert who ended up being the Defense Secretary who presided over the beginning of the end of the Cold War War itself and the collapse of the Soviet Union, which would cease to exist within two years after he and President Reagan left office. That was the main reason, of course, that he was able to preside over the partial dismantling of the very military buildup that Reagan himself had mandated when he entered office at the beginning of the 1980s. As Reagan himself had recognized, though, times had changed and America had to change with them.