Four Marines Killed In Shootings At Chattanooga Military Sites
Tragedy in Tennessee.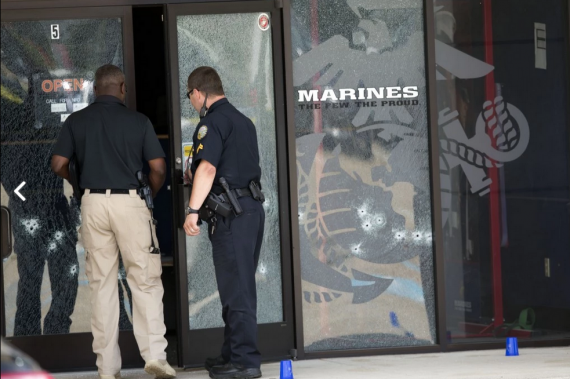 Four members of the U.S. Marines were killed today in two separate shootings at military facilities in Chattanooga, Tennessee:
ATLANTA — A gunman opened fire on two military facilities in Chattanooga, Tenn., on Thursday, leaving four people dead, including members of the military. The gunman was also killed.

Officials said that gunman had numerous weapons, and the police chief, Fred Fletcher, said that among those "brutally and brazenly attacked" were members of the armed services.

"We will treat this like a terrorism investigation until we determine that it is not," Ed Reinhold, an F.B.I. special agent, said during the news conference.

The mayor of Chattanooga, Andy Berke, said during a news conference that in addition to the dead, others had been injured during the episode.

The city's statement came about two hours after the United States Navyconfirmed that a shooting had occurred at a military facility on Amnicola Highway.

Military officials also reported a separate shooting at a recruiting center on Lee Highway in Chattanooga. Kelli Bland, the chief of public affairs for the United States Army Recruiting Command, said four Army recruiters had been in the building at the time but were uninjured.

In a statement, the White House said, "The president has been briefed by his national security staff on the Chattanooga shooting, and will continue to get updates as warranted."

The episode unnerved one of Tennessee's largest cities. The Chattanooga State Community College posted an alert on its website that urged people on its main campus to remain inside and to close doors. Lee University, which is near Chattanooga, temporarily ordered a lockdown, the university said.
More from the Atlanta Journal-Constitution:
CHATTANOOGA, Tenn. — A gunman unleashed a barrage of gunfire at two military facilities Thursday in Tennessee, killing at least four Marines and wounding a soldier and a police officer, officials said. The shooter also was killed.

"Today was a nightmare for the city of Chattanooga," Mayor Andy Berke said. "As a city, we will respond to this with every available resource that we have."

U.S. Attorney Bill Killian said officials were treating the attacks as an "act of domestic terrorism," though FBI Special Agent in Charge Ed Reinhold said authorities were still investigating a motive. The first shooting happened around 10:45 a.m.; the attacks were over within a half-hour.

Berke said five people died in all, including the gunman. A police officer was shot in the ankle, and others were wounded, he said.

Two U.S. officials, speaking on condition of anonymity to discuss an ongoing investigation, told The Associated Press four U.S. Marines were among the dead.

A Marine recruiter was treated at a hospital for a gunshot wound to the leg, the Marine Corps said on its Facebook page.

Lives have been lost from some faithful people who have been serving our country, and I think I join all Tennesseans in being both sickened and saddened by this," Gov. Bill Haslam said.

The shootings began at a recruiting center on Old Lee Highway in Chattanooga where five branches of the military all have adjoining offices. A gunshot rang out around 10:30 or 10:45 a.m., said Sgt. 1st Class Robert Dodge, 36, the center leader for U.S. Army recruiting at the center.

"Shortly after that, just a few seconds, the shooter began shooting more rounds. We realized it was an actual shooting," he said.

He and his colleagues then got on the ground and barricaded themselves in a safe place. Dodge estimated there were 30 to 50 shots fired.

He did not see the shooter or a vehicle. The Army recruiting office was not damaged, but doors and glass were damaged at the neighboring Air Force, Navy and Marine offices, he said.

Law enforcement officials told recruiters that the shooter was in a car, stopped in front of the facility, shot at the building and drove off, said Brian Lepley, a spokesman with the U.S. Army Recruiting Command in Fort Knox, Kentucky.

The recruiting center sits in a short strip between a Cricket Wireless and an Italian restaurant with no apparent additional security. Nearby, Nicholas Donohue heard a blast of gunshots while working at Desktop Solutions. But he had music playing and wasn't quite sure what the noise had been. He turned off the music and seconds later, a second blast thundered. He took shelter in a back room.

"Even though it knew it was most likely gunfire I heard, you also don't want to believe it's happening in the moment," he said. "Since I didn't see anything, I couldn't be sure."

By the time he emerged, police were cordoning off the area.

Within minutes of that attack, the shooter then opened fire at the Navy Operational Support Center and Marine Corps Reserve Center Chattanooga, about 7 miles away. Reinhold said all of the dead were killed there.

The center sits between the highway and a pathway that runs through Tennessee RiverPark, a popular park at a bend in the Tennessee River northeast of downtown Chattanooga. It's in a light industrial area that includes a Coca-Cola bottling plant.

The two entrances to the fenced facility have unmanned gates and concrete barriers that require approaching cars to slow down to drive around them
Law enforcement officials are not ascribing a motive to the attack as of yet and indeed have not officially identified the gunman who carried out the shootings. However, CBS News is reporting that it has two sources who identify the shooter as Muhammad Youssef Abdulazeez. Obviously, if that turns out to be true then the immediate speculation regarding this attack will be whether or not there is a link to international terrorism of any kind. The most plausible theory, of course, is that this person, if he is indeed the shooter, falls into the same category of many of the self-radicalized "lone wolf" attackers and potential that we've encountered over the years, and especially recently in cases such as the Boston Marathon Bombing and the shootings at the Canadian Parliament last October. It's less likely that he has had any real direct contact with groups such as ISIS or al Qaeda outside of possible communication over the Internet. Whatever the reason, though, the shootings are obviously a tragedy that are likely to lead to discussions about security at military facilities that are off base, especially recruitment centers such as the one targeted her which are often located in strip malls and other commercial business developments alongside other businesses such as restaurants and hair salons.
This isn't the first time that a military recruiting center has been the target of an attack. In 2009, Abdulhakim Mujahid Muhammad, an American-born Muslim convert, killed one member of the military and injured another in a drive-by shooting outside a center in Little Rock, Arkansas. Muhammed had spent time in Yemen prior to the attack but there was indication that he had had any contact with terrorist elements while he was there. Ultimately, he plead guilty in the middle of his trial and was sentenced to life in prison. During the trial, his attorneys had attempted to assert a defense that Muhammed was delusional at the time of the attack but there does not seem to have been any real evidence of mental illness. Whether this case turns out to be similar, only time will tell.